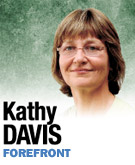 Keep the hope alive, I tell myself, keep the hope alive.
Back on Valentine's Day, I visited the Statehouse. It was a fun day. Legislative chambers and the hallways were happy and friendly. It felt like the people's house. I wrote that the manners of the super-majority approached magnanimous. I was so optimistic that probably no one read the column.
Gov. Pence is charming in meetings. He comes prepared. He has an organized team. He hosts good conversation. My husband is still working at the Department of Natural Resources. I appreciate all of that.
But with respect to Indiana's prosperity, what did the governor and General Assembly do this session?
Part of Indianapolis' plan for prosperity is getting people to where the jobs are, and maybe to and from the airport, without needing a car. The General Assembly is not convinced. Regional authority to fund transit systems was not approved.
Again we study.
This was the year to design broader access to health care for people within the federal Affordable Care Act. The federal law requires coverage and creates incentives for good results in preventive care. And accepts a variety of designs.
Indiana petulantly sat out. Offered plans outside the federal law. I guess in protest.
In the meantime, Community Hospital and Eskenazi Health collaborated on a network of neighborhood services to deliver health care to people where they live. Take advantage of the cost savings from preventing serious illness. Using the opportunities for better results and cost containment within the Affordable Care Act. Noting that, over the last few years, health care costs are growing slower for the first time in decades.
And what about kids? The success of students in school, finishing school with ability to earn, is the top priority I hear from all corners about what makes Indiana prosperous.
The state budget increases funding to public schools a little beyond inflation, in recognition of recession-year cuts. It doesn't replace lost funding from past years.
The state will offer more vouchers—more students will be eligible to redirect a portion of their public school budget allocation to a private school. The mayor of Indianapolis is running the Indianapolis schools taken over by the state, and ever more charters. The General Assembly debated the necessity of core standards for what students need to know when they leave school.
Do we know what we mean by a system of public education? As the largest part of the state budget, do we plan to understand and account for results across the competitive field and expanded marketplace? Do we still own the notion that equal opportunity means reaching everyone?
Child deaths from abuse and neglect in Indiana were 40 last year compared to 25 the year before. A centralized hotline, with central office decisions about local situations, is not working. Even when that is fixed, Indiana government is not going to solve abuse and neglect. Only parents can. To do that, parents need to be ready to be parents.
There is no substitute for people taking responsibility for themselves and parents taking responsibility for their children. We need to orient young people. We need to work together to prevent unintended pregnancies. We need to let doctors follow science.
Hunting behind fences is embarrassing.
We're going to have to turn a few dials—mobility, health and skills, to change Indiana's trajectory toward prosperity. I'm not seeing it happen, but I'm still hoping.•
__________
Davis is a former Indiana lieutenant governor who owns and operates the Indianapolis technology firm Davis Design Group LLC. Send comments on this column to ibjedit@ibj.com.
Please enable JavaScript to view this content.