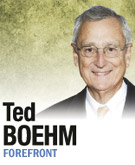 The debate over cutting the state income tax was settled for this year, but the subject isn't put to rest. It needs to be kept on the front burner. Simply put, failing to address infrastructure and educational needs is no less a disservice to future generations than refusing to address the national debt.
Revenue forecasts now support a balanced budget, some catching up with long-deferred underfunded needs, and even support for some new initiatives.
But the debate has now shifted from whether to cut taxes to the amount to cut. It is understandable why elected officials love to cut taxes, but investment is far preferable to yet another trivial tinkering with our state tax structure.
First, although most economists agree the recovery continues, the outlook for future state revenue is less sanguine. When gambling was first authorized in Indiana, it was recognized to be an unreliable funding source, but over time the state has placed more and more reliance on it.
Now the surrounding states whose larger populations flocked to Hoosier casinos have finally tired of seeing their citizens' tax dollars flow to another state. The ultimate effect of this is yet to be seen, but it can't be good.
The bigger issue is the long-term consequence of failure to attend to the human and infrastructure needs of the 21st century. The budgets reportedly will not support even scheduled maintenance of our highways, much less the expansions some feel are needed for growth.
Other less-well-known infrastructure needs abound. Funding of state-maintained dam maintenance and repair has been inadequate for years, not on the ground that it is unnecessary, but that we can't afford it. Now that it is affordable, its budget does not keep pace with projected new needs, much less catch up for past omissions.
Just as our physical assets must be maintained and improved, so also must the human assets that are needed to attract and retain employers in an increasingly complex economy. We understand that well-paying jobs require more and more sophisticated training and skills. And we continue to accumulate evidence that early education is extremely important for development in later years.
Every year that we continue to dither generates another class of kids who enter school without the foundation to reach their potential. Yet we defer investing in our youngest learners in the name of fiscal responsibility.
If that sufficed in tighter times, it doesn't carry the day in the current flusher era.
Deferred maintenance and improvement of our infrastructure imposes costs on future generations no less than borrowing to finance government. Deferring preparing our children for the skills they will need has the same effect.
Either the cost must be borne directly by paying tomorrow for what should have been today, or the state will struggle in the future with the consequences of trying to compete in a global economy with an inadequate work force and antiquated roads and bridges.
Finally, the claim that a state tax cut will significantly spur the economy seems dubious. We are already the lowest tax state in the Great Lakes area, and state taxes are well down the list of concerns voiced by businesses seeking to expand.
Moreover, some of the likely candidates for funding would result in more decent-paying jobs that would have an immediate effect on the economy as great or greater than a tax cut of a size most would not notice.•
__________
Boehm is a retired Indiana Supreme Court justice who previously held senior corporate legal positions and helped launch amateur sports initiatives in Indianapolis. Send comments on this column to ibjedit@ibj.com.
Please enable JavaScript to view this content.