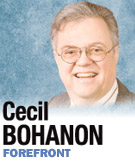 With the Governor's Mansion in tow and a super-majority in both houses of the Legislature, Republicans seemed poised to impose radical change on the state. It was the progressive's nightmare: draconian restrictions on abortion, revoking gay rights, massive cuts to public spending, a war against women, huge tax cuts favoring the rich, blurring the lines between church and state.
A funny thing happened, however, on the way to an unchecked administration. Political realities and interests got in the way of monomaniacal rule.
This is all familiar to me as a native of Oklahoma. I've been a political wonk since around age 5 with my childhood political memories grounded in the 1960s. Back then, Oklahoma was a one-party state with Democratic hegemony since statehood.
But this one-party monopoly did not preclude political competition. At both state and local levels, various factions emerged in the Democratic Party. In the 1962 Democratic gubernatorial primary, presumed to be the race that would determine who would occupy the governor's mansion, one candidate wanted to build more roads and the other wanted to spend more on education.
The fight was so bitter that it paved the way for one of my earliest political memories: Oklahoma's first Republican governor.
A similar dynamic has emerged in Indiana—when Republicans hold all the cards, they split into competing factions representing different perspectives and interests.
No issue is more instructive than Gov. Pence's proposal to cut the Indiana personal income tax 10 percent. Neither the GOP House nor GOP Senate was enthused about the proposal, despite—or perhaps because of—support from Americans for Prosperity. One body wanted to give the governor part of his tax cut; another wanted to give him none of his tax cut. Each body, however, wanted reductions in other taxes.
The compromise provides a 5-percent cut in the income tax—exactly half of what the governor asked for—and grants the Legislature most all of the tax cuts it wanted.
The point to take home is that interests drive political outcomes independent of party rule. Legislators will rarely walk in lock-step with the governor even if they are in the same party.
Put another way, one-party rule need not imply absence of policy conflict or compromise.
There is another component to the equation: the low-key profile of Pence. The legislative proposals that have garnered the most headlines and have gotten the most flak have come from individual legislators, not from the governor's surrogates. The governor has not sought the spotlight, not made fiery speeches to promote an agenda, not talked about controversial social issues, and not tried to foist a "revolution" on Indiana.
Indeed, although Pence got just half of what he asked for on his own signature tax cut, he announced upon the unveiling of the compromise, "Today, Hoosier taxpayers won a great victory."
This is not a confrontational administration. It likes bipartisan policies such as establishing councils to better coordinate work-force-development agendas. Much of Pence's focus has been on issues where there is widespread agreement. The emphasis seems to be gaining trust, not courting controversy. It seems intent on accumulating political capital.
How this will be spent is anyone's guess, but conservative prudence is certainly trumping ideological purity.•
__________
Bohanon is an economics professor at Ball State University. Send comments on this column to ibjedit@ibj.com.
Please enable JavaScript to view this content.