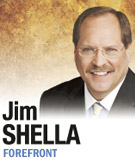 The Boston Marathon bombing is a tragedy that hit close to home. It will continue to hit close to home. Just as the acts of the shoe bomber are the reason I now have to take off my sneakers before I can get on an airplane, just as the box cutters used by the Sept. 11 hijackers have prevented me from carrying a small jackknife on my key chain, I suspect the acts of the Chechen brothers from Massachusetts will lead to new inconveniences in the future.
Seriously, do you think it will still be OK to wear a backpack, or a shoulder bag, in or near crowded events such as the Mini Marathon? How can the Indianapolis Motor Speedway keep allowing us to bring coolers in on race day? The folks at Bankers Life Fieldhouse have already removed garbage cans on the sidewalk. It's just a beginning.
If your thoughts don't regularly include the possibility of new terrorist acts that could disrupt your life, or at least your daily routine, maybe they should.
On Sept. 11, 2001, I was in Glasgow, Scotland, on a vacation planned to follow a business trip that took my wife there. We were driving to Sterling Castle when we stopped at a woolen shop in a peaceful village. While checking out the sweaters, I could hear a radio report, barely audible, telling of an attack on New York City. Attack on New York City? It didn't seem possible.
When we got back into our rented car, I ejected the CD of bagpipe music and turned on the BBC. We soon heard reports of the collapse of the second World Trade Center tower. I couldn't help feeling that on the biggest news day in modern history, I was as far out of position as a newsman could be. Even so, I phoned in a report on foreign reaction.
It was reaction we started getting the next morning at breakfast when my American accent prompted input from locals who had two general responses. The first was sympathy. The second came from folks who said simply, "Welcome to the world of terrorism."
That's where we are now. Terrorism is a part of all our lives. Osama bin Laden is dead, but others—including a newly minted American citizen and his brother—feel the need to punish America and Americans for our place in the world.
I have a nephew who is a graduate student at Northeastern University in Boston. He was a spectator at the Boston Marathon and witnessed the emergency response to the bombing. Later in the week, when the police were pursuing the surviving suspect, the chase went past his house. When that suspect was cornered in a boat, he witnessed 20 to 30 police cars heading toward the scene with lights and sirens blaring.
Concern about my nephew's safety dominated our family email. His mother (my sister) worried that terrorism might touch our lives directly.
It didn't in this case, and I hope it never does. But, in the meantime, I'm preparing to arrive earlier at sporting events, and to submit to more intensive searches and longer lines. I'm also prepared to put up with more rude behavior from the people who always view such inconveniences as unnecessary.
As the people of Scotland knew in 2001, we live in a world of terrorism. We need to quit fighting that notion. At the risk of sounding trite, we need to raise awareness and help one another cope.•
__________
Shella is WISH-TV Channel 8's political reporter as well as host and producer of the Emmy-nominated "Indiana Week in Review." Send comments on this column to ibjedit@ibj.com.
Please enable JavaScript to view this content.