It's sleep-away camp for entrepreneurs.
Instead of taking nature hikes before collapsing on cabin bunk beds, campers attend workshops on business principles and glean one-on-one advice from corporate executives before cozying into king-size beds at a posh Indianapolis estate.
Video cameras will capture it all.

Westfield native Chad Folkening co-founded VentureCamp to boost the Midwest tech industry.
VentureCamp has picked Indianapolis for its inaugural eight-week program starting in June.
Yes, participants get to spend part of their summers living in luxury, and they get to be in a documentary. But organizers emphasize that there will be plenty of work.
VentureCamp describes itself as a "fully immersive incubator," meaning "campers" live and work alongside organizers for eight weeks as they launch businesses.
Twelve people will break into three teams, who participate in lectures and exercises together as they start a company.
Some people have applied as a team while others have done so individually, with the understanding that their business idea might not be the one they work on at the camp. Part of the screening process involves looking for skills and traits that apply well to other leadership roles—chief financial officers, chief operating officers or chief technology officers.
"Your ego can get in the way of success," said Giadha DeCarcer, VentureCamp's CEO and co-founder. "So this is one of the lessons we teach."
Each week, the teams have to meet business development goals, which the experts tailor to the companies' needs.
At the end, each team pitches its company to a group of venture capitalists and angel investors.
Industry players such as Jeff Hoffman, co-founder of travel website Priceline.com, and Mike DeLazzer, co-founder of RedBox movie kiosks, will visit throughout the two months to coach participants.
VentureCamp began accepting applications in March, and organizers have been weeding through hundreds from around the country. Deadline to apply is May 10.
Those accepted into the program will live and work, for free, in the lavish Kessler Mansion, near East 56th Street and Binford Boulevard.
"What better way to breed success than to surround yourself with it?" DeCarcer said.
The 26,000-square-foot estate, assessed at $1.4 million, belongs to camp co-founder Chad Folkening, a Westfield native who began eCorp, an Internet domain development firm.
"I have the estate, and it's a unique estate, and it's sitting there doing nothing," Folkening said.
Easy access to a luxurious locale to host the camp was a big selling point for picking Indianapolis.
But more important, Folkening said, the program intends to bolster the tech industry outside of California and New York, where entrepreneurs already have access to a slew of startup services.
"You can build successful companies around the world," he said.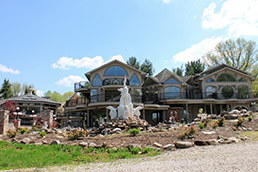 No pup tents will be pitched by the 12 entrepreneurs who will live and work for eight weeks in Indianapolis' Kessler Mansion. Umbaugh Filmworks will document their experience.
From concept to execution
VentureCamp focuses on high-tech startup ideas—anything with a "strong innovative element"—that could have a broader social impact, DeCarcer said.
"The program is structured to enable someone as early as just a concept to come on board and to evolve a concept to a business by week eight," she said.
She later added that applicants should have at least some idea of how they want to monetize their development.
DeCarcer and Folkening emphasized that the camp will take a much more hands-on approach than running a lot of seminars. Only an hour or two each day will be dedicated to classroom-style instruction, they said.
"Having done startups ourselves, a lot of time needs to go into execution," said DeCarcer, who began Washington, D.C.-based consultation firm GNI International LLC.
The camp pledges its support once participants finish the program.
They each receive an Internet domain for their businesses when they leave.
But the help will extend to advice and, in some cases, network connections.
"We want to make sure we give them the type of personal support they need while there is a structure in place," DeCarcer said. "But when they're all ready to launch and go live, we want to make sure it's a nobody-gets-left-behind scenario."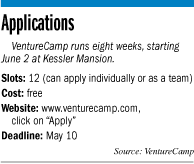 Reality TV stars?
An Indianapolis film company will spend the eight weeks filming the process.
Director Joel Umbaugh, founder of Umbaugh Filmworks, said the "docu-series" he plans to produce will fall in the gray area between documentary and reality TV show.
It won't be a dry dissection of entrepreneurship, but don't expect it to be a bunch of overblown personalities screaming at one another, either.
"We want to try to give a realistic portrayal of the steps and the activities, the trials and tribulations that these entrepreneurs go through to start a business," Umbaugh said. "It's definitely aimed at giving valuable information."
Tentatively, the series will air on VentureCamp's website in 15- to 20-minute segments covering two months at Kessler Mansion.
DeCarcer said the program is looking for revenue-generating commercial contracts to broadcast the episodes.
It's part of an effort for the camp, which is a for-profit startup itself, to financially support itself.
Indianapolis will serve as a pilot for something the founders hope will become a global franchise.
Future camps are already lined up at equally lavish estates in Arizona, Florida, Texas and Washington, D.C., with some prospects in Europe.
Applicants not selected for the Indianapolis camp may be considered for later ones, which do not yet have set dates.•
Please enable JavaScript to view this content.