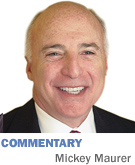 I just finished an article in Town and Country magazine from August 1980. (I have been a little behind on my reading.) According to Town and Country, our city that once appealed only to racing fans and basketball freaks had undergone a miraculous metamorphosis. This puff piece declared that Indianapolis—which Will Rogers once derided as "the only farm I've ever seen with a monument in the center"—was becoming known as the home of the world's largest children's museum; the nation's largest medical school; one of the nation's best repertory theater companies and a symphony that The New Yorker has called "one of the most magnificent orchestras in the country."
I fondly remembered some of the movers and shakers that were profiled in the magazine, including Frank McKinney, Tom Binford and Dr. Frank Lloyd, all of whom have departed, but I was more fascinated with the article's six designated "Young Turks." I took the opportunity to catch up with the five of them who survive. (Ben Mordecai, who co-founded the Indiana Repertory Theater, died in 2005 at age 60.)
• David Frick. In 1980, Frick was deputy mayor under Bill Hudnut. Frick helped develop the amateur sports strategy and was in charge of financing for the Hoosier Dome. He was the chief negotiator for the city when the Pacers decided to stay and when the Colts decided to move to Indianapolis. Although he insists he is a mere observer, he serves on the board of The National Bank of Indianapolis, the Nature Conservancy Indiana Chapter, Methodist Health Foundation and many other institutions. His advice continues to be sought from all corners.
• Fritz Kumb. Kumb was the manager of the symphony in 1980. As part of the effort to revitalize downtown he led the orchestra's move to the circle in 1983. Under his watch, the symphony started Symphony on the Prairie and the Sunday night pop series. Kumb stays in touch with his beloved orchestra by ushering symphony performances. He applauded its sense of optimism, particularly now under the leadership of Krzysztof Urbanski, an electrifying music director with astounding skills.
• Joe Slash. Slash also served Mayor Hudnut in 1980. Slash, considered a municipal finance expert, met his challenge when President Reagan ordered a massive reduction in federal funds allocated to cities, making it difficult to find the money to replace retiring police and firefighters. Slash now is president and CEO of Indianapolis Urban League. He asserted that there has been a big improvement in race relations, from a shoot-first, ask-questions-later attitude in 1980 to one of community cooperation now.
• John Krauss. In 1980, Krauss was executive director of the Greater Indianapolis Progress Committee. According to Krauss, all the movers and shakers were active participants. They planned school desegregation and conceived of the downtown mall and the canal redevelopment. GIPC was chaired by Tom Binford, who Krauss maintained was a leader who hasn't been matched—and probably won't be. Krauss is director of the Indiana University Public Policy Institute. He also teaches mediation and dispute resolution to lawyers and judges.
• Jim Morris. In 1980, Morris was vice president of Lilly Endowment. Under Morris' guidance, the endowment bankrolled many initiatives while maintaining its customary quiet supporting role. He remembered a group of CEOs including Nick Frenzel, Tom Lake, Tom Miller and P.E. McAllister who led discussions of the issues of the day. Morris now serves as president of the Indiana Pacers. He continues his support for the community in countless roles.
The young Turks of 1980 had high aspirations and a driving passion to move Indy forward. They contributed to a strong base from which emerged IUPUI, sports festivals, the Indianapolis Colts, the Brickyard 400 and the relocation of the NCAA. The young Turks each expressed pride in their collective efforts and strong hopes for our future.
Frick said it best, "In 1980 there were dreams of a great city. Today we are a great city."•
__________
Maurer is a shareholder in IBJ Corp., which owns Indianapolis Business Journal.  His column appears every other week. To comment on this column, send e-mail to mmaurer@ibj.com.
Please enable JavaScript to view this content.