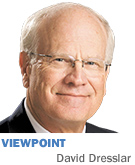 Controversy over education policy is normal for the General Assembly, but this session's pointless rancor over Common Core State Standards has only hindered progress in teaching our children and building our communities.
Rather than providing a reasoned direction for the Common Core, the passage of House Enrolled Act 1427 has resulted in confusion and disappointment for this important educational provision that affects every school, teacher and student in Indiana.
Generally, K-12 standards do not stir passion, but Common Core—already adopted by 45 states, including Indiana—has pitted party members against one another and created odd policy alliances. The competing positions on the Common Core break down with extremes on both sides of the aisle being against it, while opinion polls clearly show the vast majority (relatively silent though they be) support these high-quality global standards.
Those on the far right want to drop Common Core because they consider it a federal takeover of education that will subject children to various imagined harms. Those on the far left believe the standards lack input, and they fear it will lead to increased accountability for schools and teachers.
The fact that Common Core did not come from the federal government, nor would it change the emphasis on student performance, does not seem to have dampened the fervor of these arguments.
Normally, adoption of standards would be the province of the state superintendent and State Board of Education, but because of these passions, legislators decided to impose their will—not because they should, but because they could. The resulting statute is an uncertain compromise leaving both sides of the debate claiming victory.
The new law calls for continued implementation of previously adopted standards and a "pause" on the adoption of additional standards. Such a decision in the third year of a four-year process seems less like a victory for anybody and more like a defeat for students.
This legislation also mandates a Common Core review by a legislative study committee, the Indiana Department of Education and the State Board of Education, despite the fact that the board has already reaffirmed support for the standards. Unfortunately, the time lost to additional hearings will leave students less prepared for future assessments that are Common Core-aligned and are still scheduled for 2015.
Meanwhile, as the nation's textbook publishers and test developers continue to align with Common Core, Indiana schools will face uncertainty when it comes to adopting instructional materials and providing professional development.
Students also will be at a disadvantage on college qualifying tests such as the SAT and ACT because these tests also are already being redesigned to assess students on the Common Core.
The strongest argument for Common Core was nearly drowned out by the charges and countercharges of the legislative process. Dropping Common Core would signal to U.S. and international business and industry that Indiana is not interested in achieving high standards for student performance and the educational progress that produces qualified workers.
The Indiana Chamber of Commerce led support for Common Core because it knows that if Indiana makes the mistake of dropping these nationally agreed-upon standards, business leaders would simply eliminate Indiana as a potential site location. In that regard, perhaps the most significant economic development action taken by the Legislature this session was the decision to at least not withdraw from Common Core.
This may be the only bright spot in this otherwise unsatisfying compromise.•
__________
Dresslar is executive director of the Center of Excellence in Leadership of Learning at the University of Indianapolis. Send comments on this column to ibjedit@ibj.com.
Please enable JavaScript to view this content.