The plethora of frozen-yogurt shops popping up throughout central Indiana have many of the same ingredients: a cutesy, won't-find-it-in-a-dictionary name; bright, boldly decorated space that beckons kids of all ages; and a friendly employee pushing samples with enough enthusiasm to make me wonder if the freezer just broke.

Its name aside, downtown Indy's new PEARings Frozen Yogurt & Beyond ( 6 W. Washington St.) breaks that mold.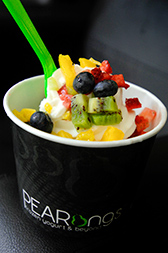 PEARings is a by-the-ounce yogurt shop. (IBJ Photo/ Perry Reichanadter)
From its muted color scheme to its stay-awhile seating options (including a couch and comfy chairs with a Cultural Trail view), PEARings exudes a more sophisticated vibe than some of its competitors. In fact, it took me a minute to even find the self-serve yogurt dispensers, down a hallway of sorts out of sight of the front door. Samples? What samples?

Then there's the "beyond" part of its menu. PEARings also applies the pay-by-the-ounce fro-yo business model to cereal and oatmeal—plus any associated toppings, of course—and offers made-to-order crepes along with grab-and-go wraps and salads for those of us trained to eat "real" food before dessert. Run out of the house this morning before you could slop together a bowl of Wheaties? PEARings has your back.

The Samson and Delilah crepe ($1.99) proved a peanut-butter-packed treat, barely able to contain its bananas. (The sweet crepes are named for famous duos, although it's difficult to see what Batman and Robin have to do with berries and ricotta cheese.)

Locally based Hubbard & Cravens supplies the pre-packaged wraps and salads. The Rustic Chicken Wrap ($6.99) was serviceable enough with arugula, roasted grape tomatoes and Smoking Goose's tasty Applewood bacon. Our Roasted Asparagus salad ($6.49) was a bit stingy with the titular ingredient, but the romaine hearts, mozzarella, tomatoes, aforementioned bacon and tomatoes—served with a house-made lemon garlic aioli dressing—provided a welcome contrast to the potentially decadent main attraction.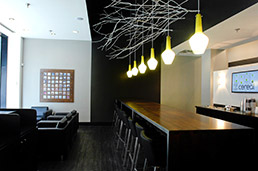 The sleek interior. (IBJ Photo/ Perry Reichanadter)
Frozen yogurt flavors change periodically, and the soft-serve machines offer a handful of "twist" options for the indecisive among us (which is why serve-yourself samples come in handy). A nice touch at PEARings: an optional cardboard divider that fits inside the bowl to prevent unintentional mixing. The haiku on one side of it appealed to my inner literary geek, and the promise that the card's weight, however slight, wouldn't add to the $8-a-pound price satisfied my inner cheapskate.

And it effectively kept my companion's Candy Bar Smash separate from his Tahitian Vanilla.

I tried a combination of Greek Honey Vanilla and Sea Salt Caramel Pretzel, eschewing the buffet of toppings that can overwhelm the subtly flavored frozen treat. My low-fat concoction was good (if a bit light on the promised pretzels), but nothing to rave about. A wide range of fruit and candy toppings (but, to my surprise, no boba balls) are available to supplement and add to the weight.

And you won't find comfier seating at any yogurt joint in town. At least, for now. Who knows what the next wave will bring?•

Second in a month-long series of Indianapolis Cultural Trail restaurant reviews.