The future of Indiana's sprawling health care and life sciences industry might be threatened by an unlikely source: smartphone apps.

Mobile apps designed to help patients live healthier lives might be more effective at battling chronic diseases than the traditional health care approach of drugs, devices and hospital procedures, pieces of emerging evidence suggest.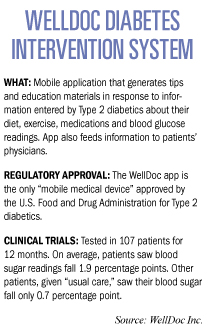 And that's a big deal, because chronic diseases—diabetes, obesity, cardiovascular disease, hypertension, chronic obstructive pulmonary disease, certain types of cancer—account for 75 percent of all health care spending nationally.

That's $1.5 trillion spent on drugs, devices, physician consultations, ER visits and surgeries every year.

If mobile apps do a better job at reducing rates and severity of chronic diseases, it would be a tremendous public health milestone. But it could also be a major hit to such

Indiana stalwarts as drugmaker Eli Lilly and Co., Indianapolis-based Roche Diagnostics Corp., Bloomington-based Cook Medical Inc., the Warsaw-based orthopedic implant makers, the state's 170 hospitals and the companies, such as Batesville-based Hill-Rom Inc., that supply them.

"It's time to be looking at digital health," said Brian Williams, an Indianapolis-based consultant for PricewaterhouseCoopers' global health care strategy group. Otherwise, added Williams, Indiana will be playing a losing game trying to prop up established health care and life sciences institutions as digital health applications steal business from them.

To see videos of the Power Breakfast, click here. To read a transcript, click here.

"You could argue it's happening already," he said.

Not everyone sees the situation so darkly. David Johnson, CEO of the Indianapolis-based life sciences development group BioCrossroads, said mobile health apps—to the extent they make patients more compliant with their treatment regimens, actually could boost sales for health care companies.

"If they stick to their medications more," Johnson said of patients, "then the people that make those medications benefit from that."

Powerful app

Perhaps the most impressive example of a smartphone app that could work better than traditional health care is the WellDoc Diabetes Intervention System.

Baltimore-based WellDoc gave mobile phones and its app to 107 patients with Type 2 diabetes in 2010, then tracked their blood sugar levels for 12 months. Type 2 diabetes is developed by adults and increasingly by kids, typically because of poor diet and lack of exercise.

Compared to a control group of patients who received "usual care" for diabetes—physician consultations, anti-diabetes medicines—the patients using the WellDoc app saw their blood sugar decline 2-1/2 times as much.

Patients using the WellDoc app saw glycated hemoglobin A1c, the best indicator for blood sugar, fall 1.9 percentage points.

That astonishing result was nearly double the reduction achieved by most existing diabetes medicines, including insulin, according to a 2011 meta-analysis of 140 clinical trials published in the Annals of Internal Medicine.

The WellDoc app allowed patients to enter their blood sugar levels, obtained via a blood glucose monitor, as well as their exercise and eating activities and when they took their medications.

In response, the app automatically generated tips and education materials. The app also fed the information to the patients' doctors, who used it to improve their consultations and prescribing for their patients.

Chris Bergstrom, WellDoc's chief strategy and commercial officer, said digital health and mobile health can help existing health care companies boost their businesses—if they embrace the technology.

"This is an opportunity on whether you're going to be a winner and expand your margins or be a loser and see your margins shrink," said Bergstrom, an Indiana University graduate who worked four years at Roche Diagnostics in Indianapolis.

"This is my advice to the establishment," he added. "If you don't connect into the data ecosystem and begin to take advantage of that value, if you're not doing that, you'll get located lower and lower and lower on the value chain."

WellDoc's success is potentially bad news if you're Lilly, which generated $4 billion in sales of anti-diabetes drugs last year, including $3.6 billion in sales of insulin.

It could also be bad news for Zimmer Holdings Inc., DePuy Orthopaedics Inc. and Biomet Inc.—the three big makers of knee and hip implants based in Warsaw. They sell billions of dollars in products each year because obese patients—many of whom also have diabetes—wear out their hips from the strain of their own weight.

Hospitals also derive significant revenue from caring for diabetic patients, who make more ER visits than most patients. Obese patients, many of whom also have diabetes, have increasingly turned to bariatric surgery as a treatment.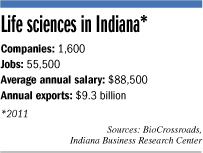 Bariatric surgeries have become so frequent and lucrative that Indianapolis-based hospital system Community Health Network paid one of its bariatric surgeons, RoseMarie Jones, more than $1.1 million in salary and benefits in 2011.

If there are going to be big economic impacts of mobile health apps, they're likely 10 years away, said Kelly Close, president of San Francisco-based Close Concerns Inc., which does market research on diabetes products and companies.

Close also noted that few mobile apps have shown results as good as WellDoc's, and few companies have gone to the trouble or expense of running randomized clinical trials of their apps.

"We're literally dying to see more apps, more things that can actually help us manage our disease better," said Close, who is a Type 1 diabetic.

In the meantime, she said, there's plenty of opportunity for existing health care companies to use digital health to actually boost their businesses.

"This helps everything work better," said Close. "I don't want to sound Pollyannish, but I think it's good for everybody."

Epidemic ahead

Indeed, health care providers and life sciences companies are embracing digital health and mobile health because they know they have to come up with more efficient ways to help patients manage chronic diseases.

Aging populations in developed countries and rising incomes in populous countries like China and India are creating an epidemic of chronic diseases. For example, the number of patients worldwide with diabetes totals 366 million, according to the World Health Organization, which expects that number to grow to 552 million—or one in every 10 adults on the planet—by 2030.

In the United States, an aging population coupled with health finance changes recently passed by Congress are pressuring hospitals, doctors and makers of drugs and devices to move away from their high-cost traditions.

In Indianapolis, Roche Diabetes Care, the U.S. diabetes division of Switzerland-based Roche Diagnostics Corp., has a dedicated digital health division to figure out how to use digital health to help patients manage diabetes better.

Roche's challenge is to act faster than the mobile phone companies. In March, South Korea-based Samsung released the latest version of its Galaxy S4 phone—which has been outselling the iPhone recently. The phone comes with a series of health tools, one of which measures blood glucose.

And in yet another threat to established health care companies, Samsung has committed to spending a whopping $3 billion during this decade to develop new businesses in generic biotech drugs and medical devices.

Lilly, too, has dipped its toes in the waters of mobile health. Last year, it launched a mobile app to teach patients when and how to use its drug Glucagon, which is injected infrequently when a Type 1 diabetic patient suffers a severe hypoglycemic event.

"Whether those tools are provided by Lilly or others, innovations like this are critical pieces of what we feel must be a multi-faceted approach to improving outcomes for people with diabetes," spokeswoman Candace Johnson said in an email.

There are also efforts under way to help hospitals, drugmakers and other health care companies use digital health to solve challenges.

Just this month, the Infuse Accelerator, located in Indianapolis, started accepting applications from digital health entrepreneurs. Infuse hopes to put money and know-how behind teams of digital health entrepreneurs, then let them partner with established health care businesses.

The advent of digital health, including mobile applications, is making health monitoring ubiquitous, which could alter much of what the health care industry "knows" about what really works in treating illnesses, said Kristin Eilenberg, a former Eli Lilly and Co. executive who is now CEO of Infuse.

"This will disrupt everything we know about health care," she said, "and that's a scary proposition for a lot of businesses."•