As 1,500 Cummins Inc. workers marched to the unemployment office last year, the man who authorized the layoffs cost the company $53,842 using its planes for personal travel.

CEO Tom Linebarger was among an elite group of executives who received more in perks than the typical Hoosier earned all year, IBJ found after reviewing Securities and Exchange Commission documents for more than 60 Indiana companies.

In Linebarger's defense, his personal air travel tab was about half what his predecessor spent in 2011.



Other officers at Indiana's publicly traded corporations spent tens of thousands of company dollars on travel, vehicles, golf club memberships and financial advisers.

Senior executives pocketed an average of $69,112 in compensation labeled as "other pay," a category that can include 401(k) contributions and life insurance premium payments in addition to a wide range of perks.

Those extras on top of not-too-shabby salaries, bonuses and awards of restricted stock and stock options helped boost total compensation for senior executives of Indiana public companies to $1.5 million in 2012

CEOs, of course, took home the biggest compensation packages—an average of $2.85 million. (Check out our searchable executive pay database that includes compensation information on 285 executives working for 61 Indiana-based public companies.)

At least 28 senior executives received more than $100,000 in "other pay." The median was a slimmer $24,000, but even that approached the $36,900 that the average Hoosier received last year in total pay.

Charles Elson, a prominent executive compensation expert at the University of Delaware, said he doesn't understand why highly paid executives shouldn't have to dip into their own bank accounts for purchases other Americans make themselves.

"Frankly, as an executive of most of these companies, you're paid enough to have your own car," said Elson, who directs the university's John L. Weinberg Center for Corporate Governance.

Perks aplenty

Many executives last year earned six or seven figures while billing their companies for planes, cars and other perks.

• Jimmy Staton, who oversees Merrillville-based utilities company NiSource's pipeline business, received more than $90,000 in perks: $63,318 for travel; $4,648 for his wife to travel; $10,640 in financial planning and tax services; $8,251 in living expenses; and $4,655 for a physical. He earned $3.5 million in total compensation.

• Mark Lemond, who retired last year as CEO of Shoe Carnival Inc. of Evansville, used the company's aircraft for $52,170 in travel. He earned $2.9 million.

• Bruno Melzi, chairman of Europe, the Middle East and Africa for prosthetics maker Zimmer Holdings Inc. in Warsaw, received $33,147 to cover car payments. He earned $2.7 million.

Mark Foster, chief investment officer for investment adviser Kirr Marbach & Co. in Columbus, defended many of the perks, saying they help recruit executives and keep them motivated.

"The responsibilities on the CEOs are pretty significant and the pressures for short-term performance are as high as they have ever been," he said. "So I don't begrudge CEOs having a certain level of perks."

The stickier situation is when executives hold onto their perks after they retire, he continued.

"To me, that's the bigger issue—sort of these after-retirement perks that are thrown on," he said. "You get paid pretty well as a CEO. If you can't stash a little of it paying for your own services going forward, then something's wrong."

Pleasing shareholders

The release each spring of executive pay tallies continues to generate controversy in an era when many rank-and-file American workers have seen their incomes plateau.

"I think it gets to become a bit offensive to people," Elson said.

Generous perks fan those tensions—especially the outsized extras handed out by some of the nation's biggest companies.

According to The New York Times, the 100 highest-paid CEOs at companies reporting more than $5 billion in revenue received an average of $320,635 in perks—almost five times higher than in Indiana.

Shareholders—who often have a chance to cast advisory votes on pay packages during annual meetings—began scrutinizing the deals during the recession.

But when stocks surge higher, as they have lately, investors are less likely to care when CEOs jettison off on vacation with their families in the company's Gulfstream, Foster said.

Cummins, for instance, generated a 25-percent return for 2012, even as its profit slid 11 percent.

"If you get the right guy in place as the CEO, what he can generate in returns for those investors far exceeds what slight savings there might be from cranking down a compensation plan," Foster said.

Justifiable use?

In Cummins' case, the company's ownership of its own aircraft was justified, company spokesman Jon Mills said. He said the planes "support our company's needs as an increasingly global company."

Mills would not say where Linebarger, the CEO, traveled on the company's dime.

One of the most expensive airfare bills belonged to Richard Sokolov, Simon Property Group's president and chief operating officer, whose charter flights cost the company $357,197 in 2012.

Company spokesman Les Morris said Sokolov's travel expense was entirely for business, but he would not elaborate.

Much of his travel apparently involves commutes from his home in Youngstown, Ohio. His employment agreement specifically bars the company from forcing him to move closer to Indianapolis.

The University of Delaware's Elson balked at the notion of flying executives in private airplanes, even for business.

"There is no logic to it," he said. "It's just because they want it. They'll argue security. That's not a good reason. Try going to an airport today. You can't even walk in with your shoes. I'll argue airports are the safest place in the world."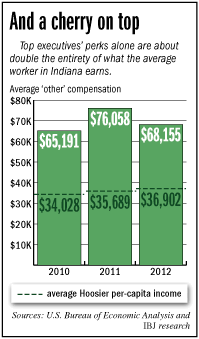 Some companies have tightened spending on perks.

Medical supplier Hill-Rom Holdings Inc. in Batesville shut down its corporate airstrip, sold its three planes, and laid off seven pilots and 11 other staff.

"In terms of impact on the company, the closure of our aviation program is one example of how [we] are continually looking for ways to more efficiently manage our cost structure so that we can deliver increased shareholder value and reinvest in our business," company spokesman Larry Baumann said in an email.

Quitting pays

The biggest earner in 2012 walked away from a job with a hefty care package.

Ousted WellPoint Inc. CEO Angela Braly left with more than $20 million in pay after working eight months of the year. She earned $13.2 million the previous year.

Braly was one of several executives to parlay departures into a big payday.

• Jeffrey Blade, the former chief financial officer at Vera Bradley in Fort Wayne (and a former executive at Steak n Shake in Indianapolis), left the company in January after he was "terminated without cause." He took with him one more year's salary, which was $360,030 last year, and another $62,200 for a one-year non-compete agreement.

• Jesus Sanchez, the former president of Remy Power Products at Pendleton-based Remy International Inc., took home a $1.1 million severance last year, plus another $651,397 in stock with accelerated vesting.

• Kim Korth spent seven months in 2011 as interim CEO of Supreme Industries Inc. in Goshen before accepting the job permanently that September and receiving a $50,000 signing bonus. But she resigned the following March and received a severance totaling three years' salary, or a little more than $300,000.

• Anthony Chilton, the former CEO of Bioanalytical Systems, left the company with a $144,466 severance, boosting his pay for the year to $425,987.•