Angie's List Inc. CEO Bill Oesterle has collected millions of dollars over the years by renting to the company property for its expanding campus along East Washington Street.
Now, the landlord and chief executive is pocketing potentially millions more by selling Angie's the property, at above its assessed value. Henry Amalgamated, the property company in which Oesterle owns a 70-percent stake, last November sold Angie's List about 40 properties it owns, for $6.25 million.

Oesterle
In addition, Henry received $178,000 in fees to prepare the property for reuse, according to Angie's filings in recent months with the Securities and Exchange Commission.
The property bought by Angie's, a publisher of consumer business reviews, ranges from land Henry Amalgamated bought in 2006 to property it recently acquired and fixed up using $4.6 million in incentives from the city.
The incentives came from a downtown tax-increment financing district and were intended to keep Angie's List in Indianapolis. The fast-growing company had looked at possible headquarters space in Fishers and in Lafayette.
For its part, Angie's List/Henry pledged to invest $6.5 million in real estate and $5 million in personal property, and to hire 500 more people by 2015.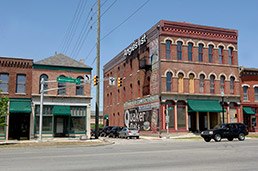 Angie's List has come to dominate East Washington Street, just east of downtown, as the rapidly growing company has added more than 1,000 employees at its corporate campus. (IBJ photo/Perry Reichanadter)
The parcels Henry Amalgamated bought with city incentives, mostly on the western edge of Angie's campus, were not sold to Angie's at a profit, Oesterle told IBJ. He said those parcels were simply transferred to Angie's from Henry Amalgamated, with no money exchanged. Essentially, then, the value of city incentives went to the company itself.
"It was almost four blocks of real estate. I think [Angie's] got a very good deal," said Oesterle, prefacing his comments by saying he was speaking on behalf of Henry Amalgamated and not Angie's List.
Inside the deal
Just how good the deal was for Oesterle's Henry Amalgamated is hard to say.
No one involved in the transaction would say how much Henry paid for older parcels—those bought without city incentives. It's also unclear how much money Henry has invested in renovating buildings, ranging from houses to old trucking firms in and around the campus.
But the $6.25 million Angie's paid for the 40 or so parcels is higher than the roughly $4.6 million value assigned by the Marion County Assessor's Office in its most recent adjustment of 2012 property values, conducted early this year.
The properties consist of about 100,000 square feet of office space spread over several buildings, and a number of parking lots. The parking lots make it difficult to establish a per-square-foot comparison for downtown sales of office space. But the gap between parcels' assessed value and their sale price in the deal can be significant.
For example, parcels in the vicinity of 1002-1038 E. Washington St., which had been assessed at $1.13 million, were sold to Angie's List for $1.9 million.
A commercial real estate broker familiar with the land, who asked not to be identified, said he was surprised by how much the land fetched. He said the actual market value is probably much lower—closer to the county's assessed value.
He said one reason is that some of the parcels are irregularly shaped and aren't necessarily contiguous. A second reason, he added, is that the neighborhood on the eastern fringe of downtown, just east of Interstate 65, is a mix of scruffy light-industrial buildings and lower-priced residential properties.
Oesterle "made a market where there was no demand," the broker said.
An Angie's List director disagreed, saying the company got a good deal on valuable land.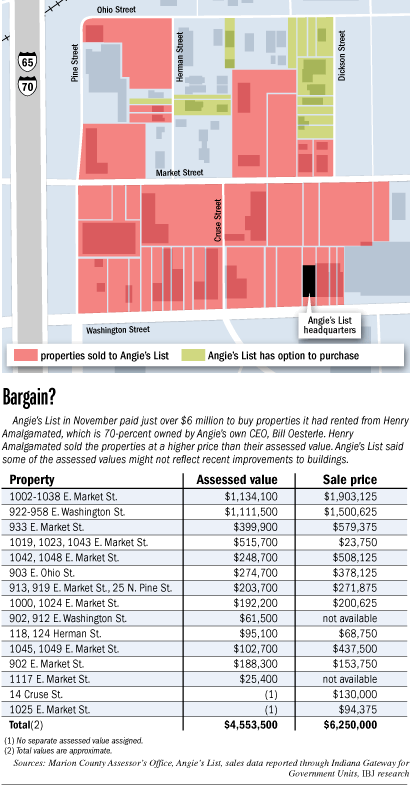 John Biddinger, chairman of the board's audit committee, said Angie's hired outside experts to look at not only land values but also such factors as environmental issues and land-use potential.
Biddinger said the purchase process was deliberative, taking about a year. Over that time, the board received appraisals that were both lower and higher than what Angie's List ultimately paid.
"It's no different if you own a home. If you got an appraisal before 2008, you could have gotten an appraisal for a zillion dollars," Biddinger said.
On the other hand, he added, many appraisers were scared by falling land values immediately after the economic downturn and that taint remains in assessed values.
"This was a price that was negotiated that the board felt comfortable with," Biddinger said.
Awkward arrangement
The whole idea of a CEO's renting to, then selling, land he owns to a company he leads would strike some as uncomfortable.
Indeed, sometimes even when a company complies with its legal obligations to disclose a transaction with insiders—such as the property deal with Oesterle—it may risk alienating shareholders.
A shareholder who subsequently learns that Angie's paid $6.25 million for land the county assessor estimates is worth $4.6 million could be left wondering about the next transaction, said Joshua Perry, an assistant professor of business law and ethics at Indiana University.
"[Eyebrows], I would think, would be justifiably raised at the prospect of a [multimillion-dollar] windfall" for the CEO, said Perry, emphasizing that he has no direct knowledge of the Angie's deal.
It was less awkward before Angie's List conducted its initial public stock offering, two years ago. Back then, it was understood that "Angie's List didn't want to be in the real estate business," Oesterle said.
Rather, it was easier for him to handle the space arrangements and to acquire and fix up buildings that his Henry Amalgamated would simply rent to the company.
According to SEC records, in 2012, Angie's paid Henry about $1 million in rent. Oesterle's take on that rent, with his 70-percent interest in Henry, was $735,590. To put that in perspective, Oesterle's total compensation as CEO of Angie's List last year was $736,149.
In 2011, Angie's List paid Henry Amalgamated $900,000 in rent.
What the company paid Henry in rent in previous years, before the IPO, is not disclosed.
"Once you go public, these kinds of transactions are frowned upon," said Charles Elson, a University of Delaware finance professor and authority on corporate governance issues. "It was a wise move to get out of it."
Since going public, Angie's disclosed that it was renting property from its own CEO. Beyond that, "the only obligation is to ensure the price you got was fair," Elson added.
Angie's List contends there was another consideration—addressing an office-space crunch for its growing Indianapolis work force.
Although the East Washington Street campus currently houses more than 1,000 employees, another 400 to 500 are housed at other locations in town, chiefly at the Disciples Center building at 130 E. Washington St.
Oesterle said that, following the IPO, the property arrangement with Henry became more complicated, requiring Angie's to jump through time-consuming hoops. Angie's finally decided the best thing was to get rid of the conflict.
Given the quickly worsening space crunch, "we just couldn't delay things that long," Oesterle said.
"Now we've removed the brakes on really being able to make some investment there."
Henry Amalgamated is named in honor of Oesterle's friend, Henry Hauser.
Besides Oesterle, Henry Amalgamated also consists of business partner Karl Northern.•
Editor's Note: The story, map and graphic above have been updated to reflect a correction that appeared in the June 3 edition of IBJ. The map incorrectly identified some parcels, and the story and table should have listed the assessed value of the properties as $4.6 million, rather than $2.6 million. The Marion County Assessor's Offices' online database had not been updated to reflect a newer 2012 assessment that took effect in March.
Please enable JavaScript to view this content.