As someone who should know better, I'm ashamed to admit that I thought through much of its existence that Fresco (320 N. New Jersey St., 423-2420) was a Marsh side business. Nestled in the Lockerbie Marsh the way Subway can often be found parked in a Walmart, Fresco doesn't do much to stand out, visually, from its landlord's surroundings.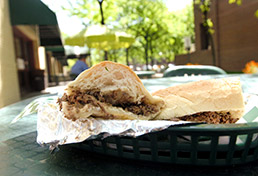 Here's the beef: Fresco sells its meat in sandwiches or by the pound. (IBJ Photo/ Perry Reichanadter)
Until, that is, you take a bite of the Italian Beef sandwich ($4.75/$7.25). Then you know you're in a serious sandwich shop.
My first sign of hope for what I learned was an independent tenant: When I ordered at the counter, I was asked if I wanted my sandwich soaked, wet or dry. That's the question purveyors of Chicago-style beef sandwiches are supposed to ask but rarely do in these parts. For newbies, it's an instruction as to how much broth to douse on the beef. Soaked should guarantee a messy shirt. Wet should still be manageable as a sandwich, with some effort. (We won't even talk about dry—that's like ordering pizza without cheese.)
Fresco's Italian Beef is one of the best of the breed I've encountered here. Parked in a properly supportive roll, accented but not overcome by the broth, and chewy without being fatty, the beef transcended. No surprise that you can also order it by the pound with broth and bread ($19.95 per pound) to upgrade your next party.
That's not all that's on the Fresco menu, but it certainly is where you should start. This and subsequent visits found a hearty, bean-heavy Minestrone Soup ($2.75/$4.25) and a fat Meatball Sandwich ($4.60/$6.95) generously slathered in mozzarella with a few whole pepperoncini on top. (Beware: They squirt.)
An Italian Sub ($4.60/$6.95) possessed a quality difficult to find in Italian food—lightness. Creamy mozzarella and tangy dressing balanced the salty and savory salami, capicola and mortadella. You can get wraps, too, or salads, and there are industrial-size shakers of spices to add to your order.
The only disappointment: an alleged Stromboli ($4.75/$7.25) that arrived not as a baked Italian turnover but as seasoned sausage and mozzarella spilling out of a sandwich roll. Now that's not Italian.•
—Lou Harry
__________
Third in a month-long series of Cultural Trail restaurant reviews.
 
Please enable JavaScript to view this content.