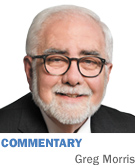 I'm not an anti-government guy. Far from it. However, I have to admit that my optimism for the future has been buoyed by recent events in Washington. It has been worth watching this massive and increasingly intrusive federal government machine finally break down a bit.
Is the Teflon finally wearing off this seemingly untouchable Obama administration? It's taken four and a half years, but it looks like a broader population other than the far right is actually questioning more and more policies and actions of the administration.
Specifically, what am I talking about? This past week President Obama has been on the defensive on three fronts. He's dealing with the IRS scandal where agents targeted conservative groups. We have a lot to learn, but the abuse of power appears to be a lot more widespread than first reported. The acting commissioner of the IRS is out of a job in record time.
The Justice Department's unprecedented action of seizing phone records of Associated Press reporters was a bad move. I'm imagining the conversation deep inside the AP. "Hey, we're on your side. It's OK to do this to others, but you can't do this to us!" It's like that line from the movie Animal House—"They can't do that to our pledges. Only we can do that to our pledges."
And finally, after all these months, facts are being demanded about what actually happened in Benghazi. What does it matter? It matters. There appears to have been a calculated cover up to hide the events that led to this tragedy from the start. Now that the lid is off this one, I don't believe it will be going away anytime soon.
Heck, I even braved turning on Brian Williams on NBC News this past week. I wanted to see if he was being forced to do some actual reporting or whether he was sticking to his role as PR front man for this administration. Out of disgust, I quit watching him a few years ago (along with the "Today Show" and "Meet the Press"). He did do some reporting. I could tell it was painful for him.
Other fights on Obama's plate include the ongoing budget negotiations, where many members of Congress continue to have the audacity to challenge his unyielding demand that more taxes be thrust on all those greedy rich people. Additionally, more and more of even his most faithful disciples are starting to snag a clue that Obamacare is a disaster in waiting. As implementation arrives, folks are figuring out that maybe they should have read and understood the legislation before they signed off on it. The "we'll worry about the details later" approach is blowing up in their faces.
How many doctors have hung it up in the past two years? How many are going to head for retirement or a different career in the next two years?
However, here's the good news for big government fans. We're going to need thousands of new IRS agents to police Obamacare, so there are new jobs on the horizon. But, I doubt there are enough new IRS jobs to take the place of staff reductions companies are planning in response to all the extra expense and regulation that comes with the legislation.
What else is Obama fighting at the moment? The economy is improving slowly, but is still fragile and could reverse in a hurry. Immigration reform is stalling after it looked like there might actually be some agreement. The president vows that the gun control fight will never end, yet all the while he can't even get expanded background checks passed. Why is that? I believe it's because there is an absolute distrust of this administration and the government machine that supports it. Overreach has been a consistent theme.
There's good news, though. It's not all negative. The stock market seems to love this gridlock. There's some comfort in the certainty created when neither party has the numbers to inflict their will on the other side.
The unfettered Obama agenda of his first two years in office was very scary, and slowing that freight train down has been a good thing. Again, I'm not anti-government. I support limited government. And I've learned that gridlock, while highly frustrating, helps keep extreme agendas in check on both sides of the aisle. But is the government here to help me? I'm not convinced.•
__________
Morris is publisher of IBJ. His column appears every other week. To comment on this column, send e-mail to gmorris@ibj.com.
Please enable JavaScript to view this content.