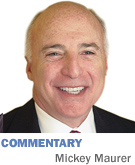 This year I was "honored" as one of Indy's 10 most liberal reporters by an unidentified Tea Party publication. I ranked seventh—behind Matthew Tully, a thought-provoking read at The Indianapolis Star, and fellow IBJ columnist Sheila Suess Kennedy.
I earned that lofty ranking by virtue of my firm support of same-sex marriage. I'm probably going to fall off the chart for the same reason. Acceptance of same-sex marriage has gone mainstream.
Ned Flaherty, a spokesman for Marriage Equality USA, projects 12 states will adopt same-gender civil marriage in 2013-2014, bringing the total to 22. He also boasts that legislation of this sort is supported by most Americans. A recent poll by ABC News and the Washington Post confirming a growing plurality found a 55-percent majority supporting marriage equality.
According to Flaherty, "Among America's many voter types, there are only five demographic groups left where opponents of equality still show up: less educated Caucasians (56 percent), the over-65 crowd (58 percent), Republicans (69 percent), evangelistic Protestant Caucasians (73 percent), and Tea Partyists (100 percent). Those five are the only opponent hideouts left; every other demographic group measured in a major national poll now support same-gender marriage."
President Obama has reversed his position and now supports gay marriage. Last year the Wall Street Journal quoted from Obama's television interview with ABC: "I've been going through an evolution on this issue. I have always been adamant that gay and lesbian Americans should be treated fairly and equally. At a certain point I have just concluded that for me, personally, it is important for me to go ahead and affirm that I think same-sex couples should be able to get married."
Indiana is at the tail end of this parade. Although there is a law on the books outlawing same-sex marriages, a referendum on a state constitutional amendment defining marriage as between one man and one woman—and banning recognition of any type of nontraditional union—is in limbo pending a decision of the U.S. Supreme Court.
Tea Party and other ultra-conservative Republicans in both houses of our Legislature are frothing over the opportunity to embed this hate law into our constitution. They are too late. Fellow Hoosiers aren't going to buy it.
There exists strong corporate support for same-sex marriage. Prominent employers Eli Lilly and Co., Cummins Inc. and Emmis Communications Corp. have made it known on numerous occasions that they want their work forces treated fairly.
We've also heard from economic development experts and other public servants that Indiana would lose convention business and jobs if we were to advertise ourselves as a narrow-minded homophobic state by amending our constitution.
More recently, freshman Indiana Sen. Joe Donnelly, a Democrat, flipped on this issue. Unfortunately the same cannot be said for Republican Sen. Dan Coats, a man with a deep-seated religious bias against same-sex marriage that was undoubtedly inculcated in the nether reaches of his brain as a child in church.
Coats is a bright, engaging man and able leader who I have been proud to support. When engaged in dialogue, he presents logical answers with nuance and sophistication, but when pressed on the issue of gay marriage, his eyes glaze over when he says, "It's a religious issue with me"—end of debate, dialogue over.
Coats knows that contentious debate is an important element of our democracy. No issues should be excluded. Why cede the matter to far right groups who manipulate religion to further their intolerant political agendas? I have deep respect for Sen. Coats. One day he will change his mind on this issue.
I'll miss being on that liberal list next year. Perhaps I'll take a stance on gun control or school vouchers to maintain my position. Meanwhile, Hoosiers will defeat the constitutional amendment initiative if they have that opportunity. We can only hope that someday our Legislature will repeal the current statute so Indiana can be lauded as a state that is open and welcoming regardless of sexual orientation.•
__________
Maurer is a shareholder in IBJ Corp., which owns Indianapolis Business Journal.  His column appears every other week. To comment on this column, send e-mail to mmaurer@ibj.com.
Please enable JavaScript to view this content.