When Justin Moffett was growing up in Carmel's Old Town, his neighborhood may as well have been a ghost town—along with the rest of the city's core.
Now the 33-year-old is helping to rebuild it. Literally.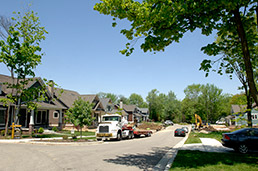 Only a few homes remain available in Old Town's 12-lot Cobblestone on the Monon.(IBJ photo/ Perry Reichanadter)
"It has been fun to watch this come alive," Moffett said as he pulled away from Blackwell Park, the five-acre "pocket" community he and business partner Jeff Langston are developing just a few blocks from the heart of Carmel's Arts & Design District.
All 17 of the small residential lots are sold and construction crews are swarming a newly built leg of Third Avenue Northeast, where Old Town Design Group is planting $450,000 to $700,000 homes that pair classic architecture with modern-day amenities.
But the big draw is the location, Moffett said, citing the neighborhood's walking-distance proximity to downtown restaurants and retailers—and the Monon Trail. Indeed, just a few spots remain in Old Town's 12-lot Cobblestone on the Monon, on the other side of Range Line Road where the path meets 136th Street.

Langston
So-called urban infill is gaining popularity throughout the country as residents seek small-town living and big-city conveniences, said William Fulton, director of policy development and implementation at Washington, D.C.-based Smart Growth America.
"People want a more village-like environment," he said, adding that the trend is catching on with baby boomers looking to downsize as well as younger generations who want to work and play close to home. "It's a very hot market."
Moffett began buying residential property in his old neighborhood about five years ago, as Carmel's ambitious downtown redevelopment began to take shape. Although he studied ministry at Indiana Wesleyan University, his real calling was entrepreneurship.

Moffett
"I figured if the city was investing hundreds of million of dollars in the area, people were going to want to live there," he said.
Moffett learned about construction while working with mentor John Bontreger, who founded the Signature Inns hotel chain. He tested the market for his compact custom homes by building a trio of houses just south of what is now Blackwell Park.
"The response was great," Moffett said.
It didn't hurt that his grandparents, parents and brother still live in the neighborhood—as do Moffett, his wife and their three children.
A mutual friend introduced him to Langston, a 45-year-old Carmel native who also owns more traditional builder Heartwood Custom Homes. They formed Old Town Design in 2009.
Early projects were scattered throughout the neighborhood, as one or more 2,200- to 2,800-square-foot homes replaced the original cracker-box houses. Occasionally, properties with historical or architectural significance were remodeled.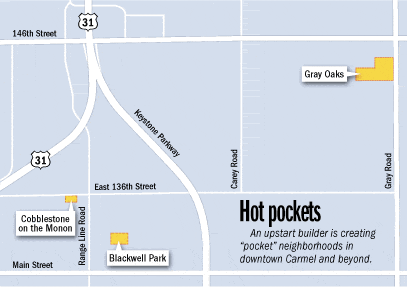 Timing initially was a concern. But the recession and attendant housing collapse ultimately helped change the mind-set of many high-end home buyers who previously might have opted for a $1 million house in a sprawling suburban subdivision.
"Things just took off for us," he said. "In the height of the recession, no less."
The firm's impact on the neighborhood is no less remarkable, said Carmel mayor—and redevelopment mastermind—Jim Brainard. The city hoped its public investment in the Arts & Design District would spur private development of all kinds, he said.
"This was an older area, really rundown, where houses weren't selling," Brainard said. "It is very satisfying to see it turn around."
Downtown housing has been white hot for 18 months, said Keith Albrecht of Re/Max Real Estate Group, who has a tear-down prospect across the street from Old Town Design's Cobblestone project listed for $159,000.
"Ever since they started the revitalization, it has just gotten better and better," he said.
Century 21 Scheetz agent Terry Johnston also has seen interest grow in Carmel's downtown properties. Her son bought Old Town Design's model home in Blackwell Park about a year ago and recently put it on the market. Johnston fielded two offers within a week. Now she's shopping around the area for another client.
"Prices just keep increasing," she said.
That also should prove lucrative for the city, as the more expensive homes add to its tax base. Most of the older homes in the neighborhood now on the market are listed for under $200,000, less than half of Old Town Design's entry-level price. And best of all, such infill projects accomplish that without requiring additional city services.
"It's smart growth," Brainard said, citing the cost of improving roads and providing police and fire protection to far-flung residential developments. "All of that is already in place here. There's not much incremental cost at all."
Next up for the custom builder: Gray Oaks, a 40-home development planned near a burgeoning retail hub at 146th Street and Gray Road. (It's a 10-minute bike ride from downtown on connected trails, Moffett promises.)
The quarter-acre lots are a bit larger than what's available in Old Town, which he said will allow the company to accommodate clients who want bigger-footprint ranch homes or a little more yard.
"There's enough space to have a flower garden or vegetable garden, if they want one," Langston said.
"But they won't have to spend the weekend mowing the lawn," Moffett chimed in.
Design elements like the Craftsman-style architecture and outdoor living areas will be carried over from Old Town, but the partners want their clients to personalize their space.
"We design for a lifestyle," Langston said.
Moffett concurred.
"We didn't want to build 20 of the same home," he said. "No two are the same."
All told, the company has about 20 Old Town houses complete or under construction, and another 25 or so on the books, Moffett said. Once Gray Oaks gets rolling, he'll be able to turn his attention to an unnamed project the firm is eyeing in west Carmel.
But that doesn't mean Old Town Design is done with Old Town.
"Our hope is that we have been an anchor for redevelopment in Old Town and that we will continue to be a major builder in the area," Moffett said.
The company also wants to lend its support to the less fortunate, working with Carmel-based Nicaragua Resource Network to build homes in the impoverished country. For every house it sells here, Old Town Design makes a donation to fund half of a new house there, inviting its clients to match the gift.
Last year, the One for One program paid for five homes in Nicaragua. The partners helped with construction and met the families who would move in.
"It's not just about growing the business and making money," Moffett said. "We want to make a difference."•
Please enable JavaScript to view this content.