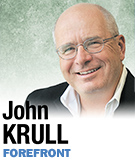 Now that the 2013 General Assembly has wrapped up, a few things about the state's new governor, Republican Mike Pence, have become clear.
That's a good thing, because many Hoosiers didn't know much about him or what he would do as governor when he took office.
Given that Pence has been in public life for nearly a quarter century, this was odd. His campaign for governor didn't help matters.
By the time the votes were counted in November, all most Hoosiers really knew about Pence was that he loved his wife, pickup trucks, roadmaps and a 10-percent personal income tax cut—this last being a kind of cure-all for whatever might ail the state.
He also faced doubts within his own party.
I remember having a drink with a longtime GOP political professional early in the session who spoke about the nervousness Republicans felt in regard to Pence.
"He's never managed anything larger than a congressional staff and now he's got to run the whole state," the guy said. "Worse, he's got to follow Mitch Daniels."
That last sentence summed up Pence's biggest challenge.
In some ways, Pence's dilemma paralleled that of the late Frank O'Bannon. Like Pence, O'Bannon succeeded a high-profile and immensely popular governor—in O'Bannon's case, Evan Bayh—who had won the gratitude of his party by leading them out of the wilderness.
Before Bayh was elected in 1988, Democrats had been out of the Governor's Office for 20 years. Before Daniels was elected in 2004, Republicans had been denied the state's highest office for 16 years.
However, for O'Bannon, being governor culminated a career of service in state government. He had been a member of the Senate and lieutenant governor before he took the oath of office as governor.
Pence came to state government as an outsider—and one who was perceived to have ambitions well beyond the Governor's Office. His first day on the state's payroll was the day he raised his hand and pledged to assume the responsibilities of the state's highest office.
It took people a little while to get to know this new governor, but they have begun to figure some things out about him—much of it good.
Perhaps the most important thing Hoosiers have realized about Pence is that he can adjust. One of the great fears about him coming in was that he would prove to be an unbending ideologue.
He demonstrated, though, during the negotiations over the personal income tax cut that he was willing to accept half a loaf. Instead of 10 percent, he got a 5-percent cut that will be phased in over four years.
On other fronts, though—school vouchers, for example—he showed he is willing to take a determined stand.
There are three camps now in the voucher debate in Indiana—those adamantly opposed; those wanting to improve educational performance but only willing to continue support as long as they prove effective; and those who see them as a new kind of entitlement, an assertion of parental rights rather than an educational experiment.
The governor is in that last group and he fought hard to expand the state's already expansive commitment to vouchers.
So, after these first few months of his governorship, Pence has revealed himself as a man who knows how to pick his spots but also is willing to stand firm for what he believes.
There are worse qualities a governor could have.•
__________
Krull directs Franklin College's Pulliam School of Journalism, hosts the weekly news program "No Limits" on WFYI-FM 90.1, and is executive director of The Statehouse File. Send comments on this column to ibjedit@ibj.com.
Please enable JavaScript to view this content.