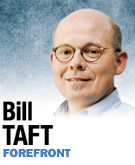 I recently participated in a planning session for downtown Indianapolis that included cultural and civic leaders whom I consider very pro-urban Indianapolis. As the conversation turned toward the urgent need to recruit more taxpayers into city neighborhoods, one of my colleagues stated that it really wasn't practical to raise a middle class family in the city, and many others agreed.
Well, as a father of three young adults raised in urban Indy, this strong sentiment shocked me. I mistakenly thought city living had become popular enough that young parents would now consider an urban lifestyle.
Urban Indy is a great place to raise a family.
Schools are the most obvious barrier to urban family living, with Indianapolis Public Schools' weak academic performance dominating the issue. However, urban Indy now has a growing list of public and private schools at the top of regional academic performance. In fact, a recent analysis showed that downtown was very well-served by its schools compared with other areas of the county.
My children have received an excellent education in urban schools. It just required more parental involvement to find and support these schools.
After schools, the biggest objection to urban child-rearing is safety.
A close examination of real safety in the city reveals that crime must be separated into two catagories: violent crime that largely affects people (or their families) engaged in illegal activity, and property/nuisance crime that isn't dangerous but frustrates a much larger number of people.
These essentially parallel universes almost never intersect. In 21 years of living downtown, none of my children have experienced a violent act.
The perception that urban neighborhoods house only the very poor and small clusters of young singles is another argument made against urban living for children. This argument seems to assume that kids thrive only when surrounded by children and families like theirs, as is often the makeup of newer suburbs.
However, I really believe that the mix of young professionals, empty-nesters, college students and elderly people (and a growing number of like-minded families) have enriched childhood for my kids, equipping them to interact with a wide range of people.
Suburbs are designed around recreational facilities for families, so many assume that the city lacks places for children and young adults to interact. But downtown offers unique world-class sports opportunities like gymnastics, fencing, synchronized swimming and cycling that are unavailable in the suburbs.
These sports are complemented by an array of parks, libraries and museums that provide educational and recreational activities at low cost and can be accessed on a bicycle or a bus.
Finally, kids who grow up immersed in the complex beauty and ugliness of urban culture are more likely to mature quickly and skip the typical anger and alienation from family and surrounding culture experienced by so many teenagers.
After all, it is hard to feel that this year's family vacation or beater car your parents let you drive aren't good enough when you know families that can't even afford one car that could make it to another city. The peer pressure to conform is far less potent at an urban school with so many distinct subcultures that there is no dominant model of conformity.
The experience of growing up in new schools and neighborhoods struggling to revitalize themselves has given my children a big, compelling cause to be part of that, and puts real demands on their intellect and unites them with their parents, neighbors and teachers.
What more could parents want for their children?•
__________
Taft is Indianapolis executive director of Local Initiatives Support Corp., a not-for-profit that invests in neighborhood redevelopment projects. Send comments to ibjedit@ibj.com.
Please enable JavaScript to view this content.