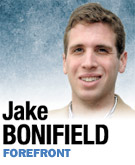 Having graduated from college this past month, I have now joined the ranks of the college-educated work force.
The achievement of which I am most proud is having started a company that found great success, seeing at least one law enacted and dozens of public policy debates affected due to our presence and work we did on behalf of our clients.
This tale is not unprecedented, and it is most often met with pats on the head and the obligatory, "Well wasn't [name your college] so great for you!"
To me, and I would expect for many, this misses the point. Often, it was not because of where I went to school, but in spite of my school's requirements, that I was able to diversify myself and expand my opportunities. Plenty of meetings and lunches were squeezed in between Spanish I and psychology, but with the exception of an unsubsidized semester-long internship, few accommodations were made and, worse yet, no one seemed to take notice.
Don't get me wrong—if you are going to engage in an entrepreneurial venture, it ought to be because you are passionate about your pursuits and, in contrast with Spanish I and psychology, not because you are checking off a box or fulfilling a requirement.
And yet, for all the talk of supporting entrepreneurs in the marketplace, too few measures exist to support them on Indiana campuses.
A renewed focus on encouraging students to develop projects apart from their academic course work is a necessary first step to bridging the increasingly large and perilous divide between the classroom and the workplace. Some skill sets are not easily taught, and while no one can truly teach networking, a college's readiness to connect enterprising undergraduates with well-positioned alumni is an important function that, in my experience, does not receive the attention or resources it deserves.
At the end of the day, career services must be about more than resume spell-checking. The next brand of higher education that, when it is mastered, will dwarf the existing alternatives will be a truly career-centered education that focuses on preparing graduates for a specific path, then setting them on it with the skills and connections to find success.
The closest model to this is emerging now in the trade and for-profit higher education arenas, where, despite some unscrupulous players and a bad rap from many in Congress, the not-for-profit education model is being revised, in many ways for the better.
These changes will foreshadow a revolution in higher ed that will see fewer tenured professors and glossy marketing materials, and less physical expansion on campuses everywhere.
Instead, the next generation of college graduates will begin to demand financial sustainability and cost innovations. One example might be pegging tuition to the median salary of first- or second-year graduates. After all, if I can't expect to make in five years what I spent in four, then the likelihood that the investment will pay off in the long run diminishes, and the argument against lower cost alternatives weakens.
A recent Forbes columnist—himself a successful entrepreneur under 30—offered an eloquent argument for why employers ought to focus more on what students do outside the classroom in their college years. He and others have become convinced that most higher education clings to models of assessment and pedagogy that no longer serve the best interests of students seeking jobs after graduation.
With student loan debt approaching the $1 trillion threshold, both the argument and colleges themselves deserve greater attention and scrutiny.•
__________
Bonifield is a senior political science major at DePauw University and president of Hoosier Youth Advocacy, an organization focused on increasing youth participation in the Indiana General Assembly. Send comments on this column to [email protected].
Please enable JavaScript to view this content.