Indianapolis Department of Metropolitan Development officials hope to ink their first deal this year under a low-interest loan program for affordable housing and business expansion.
The city recently chose Cambridge Capital Management of Indianapolis as underwriter for the $39 million Community and Economic Development Loan Program, which is backed by the U.S. Department of Housing and Urban Development.
Affordable-housing builders are enthusiastic about the new source of low-cost capital, which is targeted at a large swath of the inner city, excepting downtown.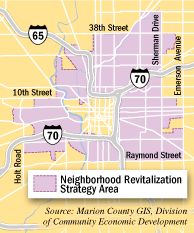 "It's an amazing program," said Janine Betsey, executive director of the King Park Area Development Corp. "We're hopeful we will have some interested parties who will be able to access it in the next six to eight months."
The not-for-profit King Park has developed 22 housing units in the vicinity of the Monon Trail and 22nd Street but would like to do something on a larger scale, Betsey said.
There's plenty of low-rent housing in the neighborhoods that ring downtown, but most of it is poor quality, said Bruce Baird, president of Insight Development Corp., which is the development arm of the Indianapolis Housing Agency.
Insight is nearing completion on 16 Park, a 155-unit project at 16th and Park streets, and it's fully leased, Baird said.
"When we produce a quality affordable housing unit, there's a line out the door," he said.
Insight has its own source of funding so probably wouldn't tap the newly available loan pool, Baird said. He thinks community development corporations and their for-profit development partners would be good candidates.
Federal tax credits are the main subsidy available for new affordable housing, but the competition for those is fierce, and the awards typically go to projects costing $4 million to $6 million, Betsey said.
The city would make smaller loans, preferably $500,000 and up, DMD administrator Jennifer Fults said.
What looks most promising for neighborhood revitalization, Betsey said, is that the loan program targets moderate-income residents, not just those HUD deems to be low-income.
A majority of units have to be rented to people earning 80 percent of the Indianapolis median family income, or $52,080, vs. 60 percent of the median, or $39,060, in tax-credit-funded projects.
That could translate to higher rents and make neighborhoods more attractive for retail and other amenities, which are largely missing from the inner city, Betsey said.
Jobs for inner-city residents are high on the city's priority list. The loans can be used for business expansion, equipment purchases and working capital, but the businesses must locate in the targeted area, or ensure that they hire people who meet the income guidelines.
(The targeted area is like a rough-edged doughnut extending north to 38th Street, east to Emerson Avenue, south to Raymond Street and west to Holt Road.)
The loans are becoming available just as east-side organizations focus on marketing some long-vacant industrial sites, said Tammi Hughes, executive director of the East 10th Street Civic Association. The not-for-profit is working with Indy East Asset Development on a study of the former RCA Corp. plant on Sherman Drive, she said.
East Washington Street, dotted with industrial sites, is another corridor that CDCs are targeting for business attraction.
The loan fund expires in October 2017, but Fults said the Department of Metropolitan Development is in no rush to use all the money, which is the maximum amount available from HUD.
"We're only going to draw down that money when we have a good, solid deal that makes sense for the community and the city," Fults said. Loans also must be vetted by the City-County Council.
Backing the loans are future Community Development Block Grant allocations from HUD to the city of Indianapolis. So if a borrower were to default, the city would have to pay back those loans from its share of the federal program, which funds everything from neighborhood improvement to job training.•
Please enable JavaScript to view this content.