Indiana's world of corporate elites is inarguably a men's club, even though women account for nearly half the work force.
The state has 62 publicly traded companies. Just two had a woman as CEO at the end of 2012 after two female executives—including Angela Braly of WellPoint Inc., the highest-paid executive in Indiana—stepped down midyear.
It's a similar story at private companies. Only two of the 50 largest Indiana firms responding to an IBJ survey had a woman in charge.

Barnes
Taking a small step down the corporate ladder doesn't do much to balance the numbers.
Almost 300 senior executives for Indiana-based public companies earned enough in 2012 to merit a mention in annual proxy statements. Fewer than 10 percent—28, to be exact—were women.
For comparison's sake, women make up 47 percent of Indiana's work force, according to the U.S. Census.
"There is a glaring gap, and it's screaming," said Julie Grice, vice president of entrepreneur services for the Greater Indianapolis Chamber of Commerce. "What is preventing them from getting to the top spots, I'm not sure."
The four Indiana companies with a woman as CEO at the end of 2012—Bioanalytical Systems, Fortune Industries, Defender Direct and HP Products Corp.—were among a tiny group nationwide with women at the helm.
Women ran 4.2 percent of the Fortune 500 companies, according to Catalyst, a New York-based advocacy group for women in business. Despite the low percentage, the figure represents a degree of progress: Fewer than 1 percent of top posts were held by women in the late 1990s.
Theories run the spectrum for explaining the chasm between the number of male and female executives. The issue has so many layers that experts struggle to pinpoint all the reasons behind it, even after decades of research and reports.
"If I were to walk you through all the theories, I still couldn't explain all the various reasons," said Carolyn Wiethoff, a clinical professor of management and entrepreneurship at Indiana University and a former human resources consultant.
Mom, the CEO
Defender Direct CEO Marcia Barnes sees a big reason so few women are at the top of Indiana corporations.
Life gets in the way.
"What I see happen to a lot of women is, the world tells you, 'You have to do it all,'" Barnes said. "You get so caught up in raising a family, the children, and being a wife and a mother and a daughter and community member, you forget to pay attention to what you're becoming."
Becoming a CEO happened "by accident" for her.
A journalism graduate at Indiana University, Barnes planned to work as a librarian. But she first snagged a temporary job as a telemarketer in Cincinnati to pay the bills while she searched for a library job.
It turned out she was good at selling advertisements over the phone—success that led her to rethink her pursuit of a career tapping her knowledge of the Dewey Decimal System.
A couple of years later, she was starting a family and needed work closer to her home in the southeastern Indiana town of Milan. So she launched a call center business that generated sales leads for other businesses.
Her company, Team Associates, grew to 30 employees before Defender Direct, then a customer, bought it.
Barnes was content with the marketing and sales job she took with Defender Direct.
However, her boss, company founder Dave Lindsey, saw more potential in her, and he prodded her into the position she has today.
"I think there are a lot of people—and many women—who are not self-promoters," Barnes said. "They are not reminding their bosses, 'Here is what I've done on your behalf. Here is where I want to go and what I'm willing to do to get there.'"
Conversely, supervisors need to be open-minded when they are considering which employees to promote, looking beyond those who most aggressively press for advancement.
"Don't just lock into thinking you're going to promote people who put their hands in the air," she said. "Look around for people with potential. Dave spoke to me about big dreams and strengths that I have."
Schedules stand in way
Many women opt out of a profession where Barnes pressed on.
Grice said the choice frequently boils down to what is more important: family or career?
"Men have faced this for all of history," she said. "It's a relatively new phenomenon with women. I still believe we are hard-wired differently. It's not that dads don't care about kids or moms don't care about jobs. But they have to understand what is important."
U.S. Department of Labor data show that the percentage of women in the work force, compared with men, dips in women's late 20s and through their 30s.
Women make up about 48 percent of the work force among 20- to 24-year-olds. By the time they reach 30, they account for 45 percent. The few percentage points translates into millions of women leaving jobs.
Indianapolis executive head hunter Patty Prosser said companies often miss out on qualified female job candidates because they're inflexible about schedules and other issues.
"They are working full time, working hard at advancing their careers and most of the time they are running a household and they are raising a family," said Prosser, managing partner at Career Consultants OI Partners Inc. in Indianapolis. "And all of a sudden, the sacrifice is more than they're willing to give."
Some major employers, such as Eli Lilly and Co. and Cummins Inc., are making strides at helping women achieve a balance, she noted, including allowing flexible work schedules.
Entrepreneurship's solace
Rather than combat rigid corporate schedules, many women start their own businesses to gain more control over their work lives, said Billie Dragoo, an Indianapolis entrepreneur recently appointed chairwoman of the National Association of Women Business Owners.
An April report from American Express says the number of women-owned businesses in the United States increased 59 percent since 1997, while total business openings increased at a slower 41 percent.
Eighten years ago, Dragoo started her own, Indianapolis-based health care staffing firm Repucare, largely so she could wrap her work schedule around her personal life.
She still holds onto the management tactic of offering flexible schedules as she runs her mostly female firm.
"This becomes their world most of the time," she said about her employees. "We have that [flexibility] you don't get at a lot of major corporations."
"I don't need to micro-manage," she added. "Typically, if you're a professional, you know if you do the job or not. If they feel like they need to take off for the afternoon and they have children or family issues, they have to send me an email saying 'off' and I don't ask any questions."
C-suite inspirations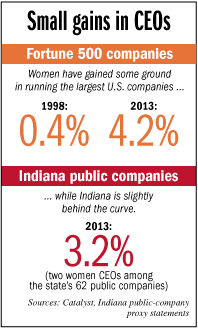 Women in business need more role models if more are going to take risks with their careers, Prosser said.
"Women executives need to think about how they can help other women executives so they can have a path that is smoother," she said.
Indiana University's Wiethoff, who directs the school's Women in Business Initiative and the Kelley Young Women's Institute, said professional encouragement needs to start as early as middle school. That way, girls will consider business as a career option.
She described the need for role models as a "chicken and the egg" situation.
"The more women in those positions, the more role models there will be," she said. "The more role models, the more women will be in those positions."
The effort to reach out more to girls in middle school and high school has yielded some results. Women take up a larger portion of seats in IU Kelley School of Business' classrooms than they did just a few years ago. But male graduates still outnumber female graduates 2-to-1.
Pay divide
All but five of the 28 females in senior management roles at Indiana public companies last year worked at small companies by Wall Street standards—any business with a market value below $2 billion.
Indiana companies reported a median compensation of $673,431 for female senior executives—about 81 cents on the dollar compared with men's median $835,450.
Experts mostly brushed off discrimination as an explanation for the pay gap.
Prosser said more women need to step outside their comfort zones and show they can take on new, higher-paying roles at work if they want to break through the glass ceiling.
"Women who raise their hands for tougher assignments, who step out of their box to take on a role that may or may not have been traditional for a woman in the past, tend to put themselves in a position to earn slightly higher salaries," she said.
She used the example of an HR executive who takes a role running another department. Women have enough general, highly valued leadership skills, such as team building and mentoring, to improve departments, she said.
"Those are just the things that women leaders tend to naturally do," she said. "I do think that women sometimes can be their own worst enemy because they don't raise their hands as often as they could."•
Please enable JavaScript to view this content.