The NCAA is overhauling its event bidding format, and in June will bid out 500 championship events to be played over the next four years.

It's the biggest one-time bid-letting—by far—in college sports history and will have a major impact on not only the NCAA, but also bidding organizations such as the Indiana Sports Corp. The bid will put championship events for almost every sport the NCAA governs up for grabs, including the 2019 men's and women's basketball Final Fours.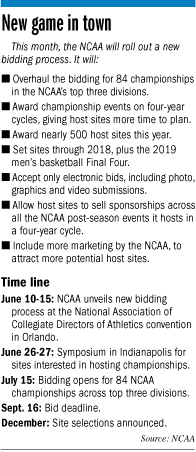 While the overhaul is meant to streamline and consolidate the bid process, it is also likely to draw more cities seeking to replicate Indianapolis' sports hosting success. The NCAA this year is unleashing an unprecedented marketing campaign to increase the number of bidders.

"The rest of the country is catching on to the strategy Indianapolis has employed, and this will only serve to accelerate that," said Larry DeGaris, director of academic sports marketing programs at the University of Indianapolis.

NCAA officials say the process will allow cities more lead time to plan events, and give strong host cities like Indianapolis the opportunity to land multiyear hosting deals and to sell sponsorships and partnerships for all the events it hosts in a quadrennial span. Events held in the same city can also be better cross-marketed, they said.

The additional sponsorship and cross-promotional possibilities should open new revenue streams for the NCAA and host cities, sports business experts said.

Instead of requesting bids for its myriad events on a year-to-year basis, the NCAA will bid almost all its events out during a three-month window every four years.

The first-ever mass bid-letting will open July 15 with the bid deadline Sept. 16. In December, host cities will learn what they've won.

Melangton
"It's going to be a gold rush of sorts," said ISC CEO Allison Melangton.

The ISC plans to "put all hands on deck" for the mass bidding, Melangton said.

The NCAA for the first time is aggregating bid specifications for all its events online to help bidders better understand what it takes to win.

Making more money

Jarnecke
The new process "allows host cities to realize economies and efficiencies and to build partnerships and even fan bases across events," said Jeff Jarnecke, NCAA associate director of championships and alliances.

For instance, Indianapolis could sign a deal with a hotelier or other corporate partners to be the sponsor and/or service provider for both a lacrosse and rowing event, both of which were held here this year.

This year's bidding will include sites for events through 2018, and for the 2019 men's and women's basketball Final Fours. It will include all postseason preliminary rounds and finals sites.

Mark Lewis, who was hired to replace Greg Shaheen as executive vice president of championships and alliances in April 2012, helped lead the bid overhaul initiative.

Lewis previously served as vice president of sponsorship at NBC and president and CEO of Olympic Properties of the U.S., a joint venture between the U.S. Olympic Committee and the Salt Lake Olympic Organizing Committee. He also worked in marketing for the 1996 Summer Olympics in Atlanta. Those experiences, NCAA officials said, helped Lewis shape the overhaul.

The process makes a lot of sense from a sports marketing standpoint, said the University of Indianapolis' DeGaris.

"Some of these smaller events might not have much sponsor value on their own, but the pooled assets could be quite attractive to a variety of potential corporate partners," DeGaris said. "And if a host city can demonstrate their ability to build and carry an audience from one event to the next, that will really give them a powerful message to take to sponsors."

"The NCAA clearly wants to grow these events and to monetize them," he added.

Indy not scared

The riches the new process might yield also will increase competition for NCAA postseason and championship events, sports business experts said. Cities like Indianapolis, which has hosted five NCAA postseason events in the last two months alone, have a lot at stake.

Over the last five years, NCAA events have accounted for more than half of all sporting events Indianapolis has hosted, Melangton said.

While Jarnecke acknowledged that the NCAA has launched an unprecedented marketing campaign to lure more sports commissions and cities as bidders than ever before, that doesn't mean former and current host cities will be left in the lurch.

"We're certainly pleased with the job [Indianapolis] has done," Jarnecke said, "and we're excited to see what strategy Indianapolis employs and what events they go after."

City officials might have to up their ante. And that could cost the ISC and Indianapolis more money and/or other resources.

"We definitely want to see more bids and more quality bids. But we're not trying to depart from our current hosts," Jarnecke said.

Gary Alexander, senior vice president for the Nashville Sports Commission and chairman of the National Association of Sports Commissions, sees no downside.

"This allows all of the entities bidding to look at a long-range plan for events they'd like to host," he said, and allows hosts to ensure they don't take on too much at once.

The NCAA this spring has begun rolling out the bid process to university athletic directors and administrators, sports commissions, and convention and visitor bureaus.

Already, more than 200 representatives from potential host sites have RSVP'd for a June 26-27 seminar at the NCAA headquarters in Indianapolis that will explain the bid process. NCAA officials will meet with 350 potential host organizations, Jarnecke said, before the bidding opens.

Despite the specter of increased competition, Melangton remains confident Indianapolis will remain an NCAA hosting powerhouse.

"We've been around a long time, longer than any other sports commission, and we have the base to do great events," she said. "With the increased lead time this new process gives, we think we can produce even greater events for the NCAA."

Melangton thinks the process could actually give a busy city like Indianapolis an advantage.

"With all of our sporting events and conventions, we have a lot going on here," she said. "Indy's calendar is very busy, and more lead time simply allows us to coordinate better with the hotels and venues we need for each event. This is really an ideal set-up for us."•