This month, we search for darn-good dining and daring dishes in a quartet of columns devoted to restaurants on the D-list—restaurants that begin with "D."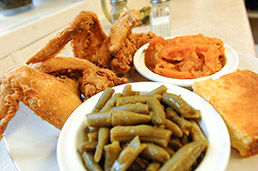 Dee Gusto's Fried Chicken Wing Dinner shows surprising subtlety. (IBJ Photo/ Perry Reichanadter)
First up, Dee Gusto's Southern Cooking (1430 W. Washington St., 423-3553), a mom-and-pop—well, actually a sister-and-brother—operation housed in a former ice cream parlor just west of the Indianapolis Zoo. The restaurant is rooted in the recipes passed to owners Dee Dee Washington and Calvin Davis by their mother, Gustoria. In operation since 2010, Dee Gusto's has room for only six tables, but also caters and serves takeout.

We dined in, missing the signature Breakfast Skillet ($8.99) which, along with Biscuits & Gravy ($4), are the only two dishes on the a.m. portion of the menu. The latter is also available for lunch as part of a $5 menu whose other options include Grilled Cheese, Chicken Drummettes and a Pork Chop Sandwich.

I wanted the full deal, though, so opted for the Pork Chop Dinner ($10). Here, a baked, breaded pair of chops displayed a delicious, crunchy exterior and sizable, meaty interior. When a place outside of the South has "southern" in its name, its kitchen often seems tempted to exaggerate the regional flavors, over-accenting like a bad actor. That's not the case here, where subtlety wins out over excess salt and spices. The Chicken Wing Dinner ($9) similarly satisfied, with five substantial pieces providing plenty of crunch but not at the expense of the hidden fowl.

Each dinner comes with a square of dense cornbread and a pair of sides. If returning, I'd pass on the so-so Home Fried Potatoes and stick to the Greens and Mashed Potatoes. The latter didn't leave us reaching for our water glasses as those in lesser establishments often do. The quality of the rest of the offerings now has me curious about the Basa fish (raved about by other reviewers) and Macaroni & Cheese. And, of course, those Biscuits and Gravy. A return visit—or two—may be in order soon.

Desserts? Of course, since they are made in-house. We sampled the Caramel Cake and Peach Cobbler ($2.99 each), preferring the former's discreet use of the sweet coating on a hearty cake to the latter's canned-fruit-meets-tasty-crust combo. Other optionsinclude Apple Dumplings (alas, all gone by the time of our lunch visit) and, depending on the day you visit, Banana Pudding or Key Lime Cake.

Best of all, the meal was served with the most genuine smiles of any eatery I've visited all year. At the risk of cliché, we felt like we were welcomed into a friend's home. I only wish I had friends who cooked like this.•

—Lou Harry

__________

First in a month-long series of D-restaurant reviews.