While many NBA players and fans are focused on the playoffs, and college players are still exhaling from final exams, Carlos Knox is thinking about a tiny gym on the northwest side of downtown—and what role it will play in getting those players ready for next season.
It's the only place in town and one of few nationwide where basketball fans can find top college and professional hoops stars facing off against one another on the hardwood.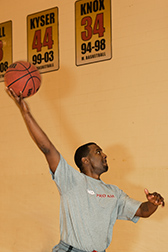 Carlos Knox has attracted a bigger slate of stars to his summer league each year since its founding in 2009. (IBJ photo/ Eric Learned)
The Knox Indy Pro Am Summer League was founded in 2009 and has attracted such players as Indiana University's Victor Oladipo and Jordan Hulls and NBA players ranging from Indiana Pacers George Hill and Paul George to Butler University graduate and UtahJazz forward Gordon Hayward; Purdue University grad and Orlando Magic guard E'Twaun Moore; and Zach Randolph, a Marion native who now plays for the Memphis Grizzlies.
On some steamy summer nights, when the teams squaring off are especially star-studded, the 2,000-seat IUPUI gym, affectionately called The Jungle, has been near capacity.
"There's not a bad seat in the house. It's hard to get closer to the game than this," Knox said of his summer league.
Due to work on the IUPUI gym this year, the league is moving a few blocks northeast to Crispus Attucks High School, at 1140 Dr. Martin Luther King Jr. St. Knox is hopeful he can move his league back to IUPUI in 2014. He doesn't think the temporary venue change will affect his growing league.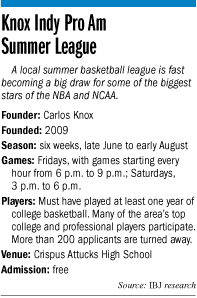 The setting at Crispus Attucks is as intimate as the IUPUI gym, Knox said, and he is confident that, with a few more key sponsors and a little more marketing this year, his six-week league—which runs from mid July through August this summer—can be an even bigger draw.
Spreading the word
Knox is trying to take his league to a new level, moving games from Tuesdays and Thursdays to Fridays and Saturdays and launching an ambitious marketing plan using social media and Internet and cable television advertising.
"If more people knew about this league, I think we'd pack the gym every night," said Knox, who is IUPUI's all-time scoring leader and played professionally overseas. "It's the only place you can see NBA and international professionals and NCAA stars going head-to-head."
While the increased attendance itself wouldn't generate the league any revenue—admission is free—the bigger crowds, Knox said, would help draw more and bigger sponsors to offset operating expenses.
So far, Knox has signed up Adidas, Red Bull, St. Vincent Sports Performance, Core Power and the IUPUI Multicultural Success Center as sponsors.
The league is certified by the NBA and certification is pending with the NCAA. To become certified, Knox's league can't charge for admission, parking or broadcast rights fees.
The Knox Indy Pro Am League is a registered not-for-profit, but he still has expenses—like gym rental, insurance and security. The league runs on a shoestring, about $50,000 annually.
The players aren't paid, and Knox and seven volunteers, many of whom are college interns, handle all operations. To offset expenses and to grow the league, Knox is seeking $25,000 for a title sponsor and $3,000 to $10,000 for smaller sponsorship packages.
For $10,000, a sponsor gets its name on a team. Other packages include logos on team uniforms, league website and marketing material, and signage and announcements at games, Knox said, adding that a title sponsor would score additional benefits.
'A community asset'
As the league grows, Knox hopes to partner with other area not-for-profits and become more involved in community outreach.
"We want this league to be a community asset," he said. "We not only want to provide a unique opportunity for people who might not be able to go to a pro or college game to see these guys play, but also to help further the cause of health and fitness in this community."
As the reputation of the league grows, so has the profile of the players who have played in it, including former University of Kentucky star John Wall, now with the NBA's Washington Wizards.
"I've played in a lot of summer leagues in L.A., [Washington] D.C. and all across the country," Wall said, adding that the Knox-organized games get high marks.
Hill, who, like Knox, is an IUPUI graduate, said a quality summer league is key to professional players and those desiring to be one.
"You can shoot a thousand shots a day, but you have to play to maintain," Hill said. "You can go down the list, and it's a long one, of great players in this league … playing against that competition can only make you better."
Knox takes only individual player applications—not entire self-organized teams like some pro-am summer leagues. He then chooses 80 of the best applicants and composes them into eight 10-man rosters.
"I have to ensure the competitive balance for the best, most realistic game experience and simulation for the players," he said.
The intense competition also helps attracts fans.
"We've had a lot of close games and that really keeps the fans into it," Knox said.
Elite players only
The caliber of players and the demand for spots on teams has gotten so high, Knox this year will turn away about 220 applicants.
The games, which consist of two 20-minute halves, are officiated by NBA Developmental League referees.
"We insist on keeping things structured," Knox said.
While the competition is passionate, Knox said the atmosphere is more relaxed than the typical NBA or college game.
Fans are welcome to talk with and seek autographs from players "as long as they do it respectfully" and not while the players are involved in a game, Knox said.
"We haven't had any problems with that," he said. "The players love the interaction with the fans."
Summer leagues like Knox's offer more than structured play, Wall said.
"It's a great way to give back to the different neighborhoods and communities. … To the people who don't have the opportunity to come to an NBA game, it means a whole lot," he said.
Knox, a 38-year-old Dayton native, didn't set out to be a summer league commissioner.
After graduating from IUPUI and playing one year for the Pacers and four years in Italy, Croatia, Venezuela and Germany, Knox went into coaching, spending time on IUPUI's bench alongside Head Coach Ron Hunter, then as a coach in the minor leagues and overseas.
During his coaching tenure, which ended in 2008, Knox began spending his summers training players.
"I've always been passionate about player development," he said.
Getting game-ready
During that time, Knox worked—and became friends with—NBA players including Hill, Chuck Person and Reggie Miller and WNBA stars such as Indiana Fever's Tamika Catchings.
As his training business grew, Knox discovered something about himself.
"I like the idea of running my own business, being my own boss," Knox said. "The training programs and summer league kept me working with NBA and other high-caliber players, which is what I love to do. Helping those players reach their goals, in some cases, reach new heights and maybe go even higher than they thought they could, is very gratifying to me."
Methodical training is the key to development, Knox said, and part of that is providing players a structured environment to hone their skills during the off-season.
"That's why the summer league made so much sense for me and a lot of my clients," Knox said. "You have to play in games to become game-ready. A summer league, if it's well-run, provides a safer, more competitive environment for a player to improve than just practicing or playing pickup games."•
Please enable JavaScript to view this content.