Warning: The following column contains a critical mass of geeky references. If you don't know your elbow from an Ewok, discretion is advised.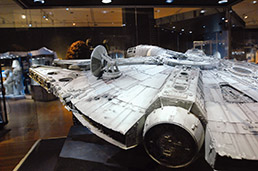 The Millennium Falcon (IBJ Photo/ Perry Reichanadter)
The Star Wars movies spent precious little time on Kashyyyk, home planet of Chewbacca and his Wookiee compadres.
George Lucas' special effects crew eventually got there in the sixth (or third, depending on how you count them) Star Wars film "Revenge of the Sith," but with a battle raging betwixt Droids and natives, there wasn't time to learn much about this rainforest-inspired planet. After all, the fate of the galaxy—and Yoda's life—were at stake.
However, I learned a lot about this exotic fantasy planet—and its real-life inspiration—at "Star Wars: Where Science Meets Imagination," the touring show settling in at the Indiana State Museum through Sept. 2.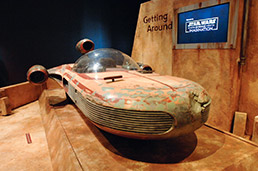 Luke's landspeeder (IBJ Photo/ Perry Reichanadter)
For instance, while I did hear somewhere that their vocalizing was based on the sound of bears, I never realized that Wookiees, because of their limited vocal range, can understand other languages but only speak their own. And I didn't get that their weapons evolved differently than ours, avoiding right angles and corners in favor of curves, giving them a more musical-instrument-like feel.
More important, I learned that there are creatures in our own real-life rainforests that exist only at the tops of the trees. And I learned the very cool ways inflatable laboratories have been developed so that scientists can study such creatures at their home base without damaging their environment.
Granted, some of the kids—and adults—drawn to the exhibition won't take the time to watch the well-crafted videos through which I absorbed the above information. Instead, they'll be too busy running between cases eerily housing the costumes and puppets that personify some of the most beloved pop culture characters in cinematic history. (It's a little disturbing to see the life-like Chewbacca and Yoda behind glass, as frozen as Han Solo in "Return of the Jedi.")
There are plenty of hands-on activities included in the show, with an emphasis on robotics. Stations allow visitors to try to program a basic robot to perform simple functions. Another allows for exploring balance and another for experimenting with different wheels and terrain.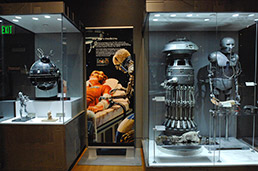 Robots behind glass (IBJ Photo/ Perry Reichanadter)
The prosthetic hands of both Luke and Anakin are used as springboards to explore artificial hearts, retinas and other borderline bionic contemporary realities—although it does get a bit silly with an interactive that asks you to decide if you'd like bionic eyes, ears or data hookup on a date. A ride-able, air-driven vehicle isn't all that thrilling, but it does provide insight into those taking the time to build a floating car out of Lego bricks.
Got an extra $5? That's what it will set you back to take one of four seats for a few minutes in a re-created Millennium Falcon. Don't expect a Disney-esque experience, though. Here, the minimal action occurs on the other side of the front windshield, where the awe-inspiring size of the universe is effectively demonstrated visually. Anthony (C-3PO) Daniels provides the narration.
The exhibition itself costs $19.50 for adults and $15 for children and includes admission to the rest of the museum. Special events during the run include a Galactic Survival Skills program on June 22, Science Nights with speakers from The Rose-Hulman Institute of Technology, and a Science & SciFi Summer Camp June 10-14. The in-house Imax theater will screen science fiction movies as well.
Some advice: Go before the GenCon crowd comes to town.
Details at http://www.indianamuseum.org/visit/exhibit/star-wars/.•
__________
This column appears weekly. Send information on upcoming arts and entertainment events to lharry@ibj.com.
Please enable JavaScript to view this content.