The time was right.
Marc and David Applegate, brothers who spent most of their lives expanding the company their father started in 1965, came to the realization last year that they needed to sell out and retire.
Their father, Donald Applegate, all but raised the boys at Amco Elevator Inc. downtown, then brought them into entry-level jobs and groomed them into executives before stepping into part-time status and then dying in 1997.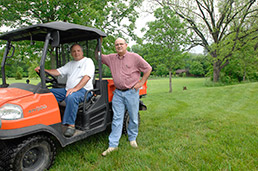 David Applegate, left, and Marc Applegate sold Amco Elevator and shifted into retirement. (IBJ photo/Perry Reichanadter)
Marc and David, now 60 and 57, worried regulations would tighten in a second Obama term, and they anticipated having to train recruits to replace aging managers—a grind lasting as long as five years.
The offer from Germany's ThyssenKrupp AG was too good to refuse. The parties won't disclose the terms of the deal for Amco, which had grown to 50 employees and 2,000 elevators under contract across the state. The transaction closed Dec. 31, a day before capital gains taxes increased.
"I have no regrets," said Marc Applegate, a Boone County commissioner. "If you can't give your whole heart to something, you shouldn't be involved in it. It isn't fair to the organization."
David Applegate said the German company should have no worries about his violating their five-year noncompete agreement. He has transitioned to retirement and isn't looking back.
"I'd rather be mowing golf courses or something," he said.
A tidal wave of business sales like the Applegates' is building as baby boomers, ages 49 to 67, enter the twilight of their careers.
First gradually and then in a flood, mind-boggling assets from the sales will surge to heirs, savings accounts, luxury cars, vacation homes, pet philanthropic pursuits and anything else the generation fancies—reconfiguring the economy.
In some cases, sales will unlock assets tied up in businesses, freeing owners to spend more freely than at any time in their lives.
Business brokers and estate attorneys thought the sales would begin in earnest nearly a decade ago. But the boomers, lulled into complacency by the hot economy, lingered to eke out more profits and keep themselves employed a little while longer.
Then the recession hardly anyone predicted rudely swept away some of the businesses, and the surviving owners fought to keep their doors
open even as they watched values of the businesses dive. Many borrowed heavily to stay afloat.
Today, conditions to spark the long-anticipated wave of sales are turning favorable because:
• Boomers are older, and they're weary of the recession and uncertainty over the economy and health care regulations.
• While the economy still isn't strong, it's better than it was when the recession ended four years ago. Most businesses have recovered a majority of their pre-recession values.
• Private-equity firms that raised funds just before the recession are under pressure to invest the commitments.
• Interest rates remain low.
All that's needed is a stronger economy to inspire confidence of both the boomers and prospective sellers.
"Once we turn this corner, we're going to see a lot of activity," said Christopher Snider, CEO of the Exit Planning Institute, an Algonquin, Ill.-based company that trains business brokers, advisers and others involved in selling businesses. "The owners are sort of coming out of their homes, saying, 'I don't want to miss it this time around.'"
Big numbers
Experts who follow business and demographic trends struggle to pin down the number of boomer-owned companies, which range in size and complexity from major manufacturing concerns to one-person lawn services.
Slightly more than 52 percent of self-employed individuals in 2011 were ages 45 to 65, according to the U.S. Small Business Administration. That amounted to 7.5 million people who described their primary job as self-employment (no moonlighters).
On a per-capita basis, the figure suggests the Indianapolis area is home to about 50,000 owners in the age group.
The value of those businesses is even more difficult to determine.
The 2005 book "The $10 Trillion Opportunity" estimated that $10 trillion of businesses would change hands in the following 20 years. Snider, who now runs the company started by the book's authors, Richard Jackim and Peter Christman, believes the value is about the same today.
Timing of the sales is also speculative, but brokers, attorneys and others familiar with the phenomenon expect it to pick up momentum in the next two to three years and largely run its course within a decade.
Varied intentions
Boomers' plans for the proceeds are about as varied as their businesses.
However, the relatively few sales closed so far expose philosophical differences between company founders and those who carried companies into additional generations of ownership.
Broadly speaking, first-generation owners are keen on leaving a legacy and giving back, and are more likely to attach stipulations to the money. Later generations are quicker to spend it.
First-generation entrepreneurs typically live more conservatively than their wealth allows, said Bob Shortle, senior managing director of Indianapolis-based investment bank Periculum Capital Co. After the sale, they might cut loose for an Audi, Porsche or other luxury car, and maybe a vacation home in the South or on a northern Indiana lake. But they'll never spend outlandishly on themselves, because they're more interested in business and people than in money and luxury.
They also tend to be concerned about the impact of a sale on their community, preferring to transfer the company to managers or otherwise assure the business continues to operate locally, Shortle said.
Dan Yates, an estate planning attorney at Bose McKinney & Evans LLP, sees founders wanting to ensure their money is reinvested constructively. Providing for private schools and college educations is popular.
So is starting family foundations that contribute to the larger social good or that invest in other companies—anything to prevent the founder's hard-earned assets from being squandered on opulent living.
Many entrepreneurs believe charitable pursuits help keep families together and focused on important matters, particularly if family members scatter in pursuit of education or career and the entrepreneur fears the heirs will lose interest in the community where the company was built.
Fear of creating so-called trust fund brats figures so prominently in some entrepreneurs' estate planning, Yates said, that they structure trusts to release money only when heirs complete such milestones as graduation from college, starting a business or buying a home.
Fiscal conservatism figures prominently in Tom Hirons' plans.
Hirons on July 1 will finish a three-year process of transitioning ownership of the namesake Indianapolis-based advertising and public relations firm he started in 1978 to his employees.
Hirons, 61, intends to begin scaling back his hours by his mid-60s, but doesn't intend to spend much of the $4 million-plus from the sale beyond occasional travel.
Echoing the values of his father, who lived through the Great Depression, he said, "I have everything I need. My needs are quite simple."
Where are Hirons' proceeds from the employee stock ownership plan going? To a diversified investment portfolio weighted toward stocks, which is consistent with his philosophy of long-term growth.
The Applegates may have been second-generation owners, but that doesn't mean they're fooling away the proceeds of Amco Elevator.
While the brothers won't disclose the sale price, they say they've spent little of the money. They've always lived conservatively, and while David Applegate said he might consider buying a home in Key West, Fla., someday, he's just as interested in adding to his inventory of farmland.
"It's something I like to own," he said. Tenants "send me a check twice a year."
Values recovering
Boomers are receiving mixed news at the bargaining table.
The good news of recovering values—manufacturers again sell for five to six times earnings before interest, taxes, depreciation and amortization—is tempered by learning that they, themselves, are the main reason potential buyers discount their businesses.
The problem is as old as the art of entrepreneurship: The owners in one way or another have made themselves indispensable.
The controls and professional management prized by buyers are too costly for most companies with less than several million dollars in sales, Shortle notes, so buyers are forced to decide whether to retain the owner and his or her institutional knowledge, or take the company—and a different set of chances—without them.
Factor in entrepreneurs' instincts to plow profits back into their businesses rather than personal savings and then add in the debt accumulated during the recession, and many boomers are discovering their bargaining leverage is thin.
Boomers also face wrenching decisions of when to sell.
Sell now, before profits stabilize with the improved economy, and take a lower price. Or hang on in order to stabilize profits and risk putting their business on the market when a glut of competitors do the same, deflating the value they worked so hard to build.
"It's like the stock market. When do you sell?" said Ed Mysogland, managing director at the state's largest business brokerage, Indiana Business Advisors LLC in Indianapolis. "It's when you're up. The question is, how far up?"
Scott Bushkie, a broker in Green Bay, Wis., and chairman of the marketing committee of Atlanta-based International Business Brokers Association, said the decision is particularly strained when the business is the boomer's identity.
"Sometimes they hold on a little bit longer than they should," Bushkie said. "Sometimes that's OK and sometimes that hurts the value they get."
Anguished decisions
Procrastination is fueled by owners' tendencies to tie their identities to the companies and the nagging question of what they'd do with all the extra time should they sell, observers say.
Most have given their heart and soul to the organization for years and possibly decades. They know little else. The prospect of not talking with customers and employees haunts them.
"It's a mental and an emotional thing," Snider said. "Many owners just don't want to deal with it."
Yet, time is running out to make choices.
Fatigue is driving owners to Shortle's office for the first time in his nearly 30 years of selling businesses.
Age has always been a factor—usually the most important one, Shortle said. But the combination of the recession, ongoing weak economy, Washington gridlock and health care reform have worn many to the bone.
"It is putting an awful lot of intellectual pressure and frustration on company owners," he said. "It's just gotten hard. It's too difficult."
Shortle is skeptical of predictions of such organizations as the Ewing Marion Kaufman Foundation that boomers will spark a new wave of entrepreneurship in their golden years. Starting and managing a serious business simply consumes too much time and energy for all but the fittest bodies and minds, he said.
If boomers dive back into businesses, the pursuits will be driven mostly by fun and personal interests, he said.
"I don't see them running out to borrow $2 million to buy a manufacturing company."
Don Altemeyer certainly isn't. At 66, Altemeyer plans to sell his last stock in BSA LifeStructures to employees this fall and then transition out at 69—exactly 40 years after he founded the architecture firm.
Then what? Maybe do some consulting, he said, asking rhetorically, doesn't everybody?
Leaving the firm will be tough, Altemeyer admitted, adding that he will find something to fill the time.
"It's going to be a real puzzle," he said. "That's the real challenge of baby boomers. Work is one thing. Not working is another."
Neither of the Applegate brothers are looking back on the sale of Amco Elevator with disappointment. Nor do they expect to in the future.
Marc Applegate is busy with politics, Rotary, Community Foundation of Boone County, grandchildren, church and woodworking.
David, who lives next door, tends to his gentleman's farm, gardens and hunts for mushrooms. He's rarely indoors.
Regret? There's no time to think about it.•
 
Please enable JavaScript to view this content.