Joseph Satterfield says he paid twice for his residence at 624 Congress Ave., but he still doesn't have his hands on the deed to the house that was held by the Indy Land Bank.
The property is owned by the Indiana Minority AIDS Coalition, whose director, David Johnson, was indicted May 21 along with land bank director Reggie Walton and three other men in an alleged kickback scheme.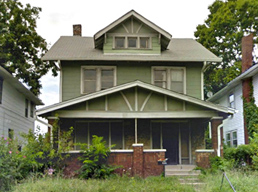 Satterfield has sunk $20,000 of work into the house at 624 Congress Ave., but still doesn't have the deed.
Satterfield says he thought the AIDS coalition was helping him and other victims of convicted fraudster Shela Amos, and he had good reason to believe that. The house was one of six Indy Land Bank properties that Amos had used in her scheme, which affected dozens of people, according to Marion County Prosecutor Terry Curry.
The prosecutor gave the list of properties to Walton, who agreed to arrange a legitimate sale through the land bank's not-for-profit partners.
"I don't understand that part, why the city didn't sell it to us flat-out," Satterfield said.
The prosecutor's office, city and not-for-profit organizations were all represented at a meeting with the victims at Riverside Park Family Center last fall, said Satterfield, whose wife attended the meeting. "That's when they made arrangements to take care of us and this property," he said.
Satterfield said he didn't know that AIDS coalition paid the city $1,000 for 624 Congress Ave. He agreed to buy it for $4,075.
That was after paying $5,500 to Amos in November 2011 for the house she didn't own. Amos was sentenced in May to 34 years in jail.
After Satterfield's wife wrote a $1,000 check to the AIDS coalition, Satterfield says he made three more cash payments, totaling $2,300, to Johnson. He said he hoped to take title to the house after making the final payment, which was due May 21, the day Johnson was arrested.
Johnson's attorney, James Edgar, couldn't be reached for comment. Ruth Lambert, a member of the AIDS coalition board of directors, referred questions to the organization's attorney, who couldn't be reached.
Since the city no longer holds the deed, there's nothing officials can do to intervene, said Marc Lotter, spokesman for Mayor Greg Ballard.
The land bank didn't sell the properties directly to the Amos victims because regulations would have required those individuals to pay the average of two appraisals, Lotter said. Land bank rules allow properties to be sold to not-for-profits for $1,000.
Of the six Land Bank properties identified by the prosecutor's office, none have been transferred to Amos' victims.
Three still belong to the city, land records show. The AIDS coalition sold one, 814 Lincoln St., to a woman who was not involved in the Amos case, for $1,156, the same price the charity paid to the land bank, a sales disclosure shows.
The AIDS coalition sold a second property, 3516 Salem St., for which it paid $1,000, to someone also not involved in the Amos case, for $8,000.
Satterfield has lived at 624 Congress Ave.—a two-story, 1920s Arts and Crafts-style house near Crown Hill Cemetery—since he made his first payment to Amos. A tradesman, he estimates that he's sunk $20,000 into rehabbing the house, which had been stripped of wiring and plumbing.
Please enable JavaScript to view this content.