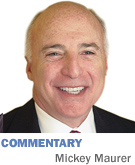 Blessed with an electrifying Indianapolis 500 race last month and the resurgence of the Indiana Pacers, our community is bursting with civic pride. I too am proud of the achievements of our athletes, but professional sports is not high on my list of civic pride motivators.

Public safety tops my list. Is there anything here we can be proud about? Statistics can be tricky, but the numbers are disconcerting. Measuring murders per capita, a recent FBI table of U.S. crime rates ranks Indianapolis sixth-worst out of 33 cities with populations greater than 500,000. According to a current issue of NeighborhoodScout, Indianapolis managed a crime index score of 3 on a scale of 100. That means 97 percent of the cities in America are safer than our backyard.

An overwhelming percentage of violent crimes are committed by perps with a rap sheet. Our judges need the wisdom to know the difference between an ex-offender who is willing to become a member of a civil society and one who intends to wreak havoc. How does one explain the failure of our criminal justice system in the case of Quanardel Wells, as reported in last week's Indianapolis Star? This animal was finally put away, pending appeal, for 100 years—but not before being charged in 22 cases in Marion County since 1987. If allegations are to be believed, Wells skated through the courts while terrorizing a score of Indianapolis women, most recently from his home base in Carmel.

In addition to putting more "beats on the streets" to prevent crime before it happens, a partial solution to the safety problem is to reduce recidivism, a heart-breaking and expensive problem that affects law enforcement, prison administration, social-service agencies and much more. The easy path for ex-offenders is to do what they are proficient at: commit crimes. In order to break that cycle, those who deserve another chance need our full support.

Many concur that a job is the best predictor of whether a person will reoffend. Gregg Keesling, CEO of Indianapolis-based RecycleForce, offers jobs and respect. He claims that he recycles electronics and people, and the not-for-profit's record is exemplary. Its recidivism rate is less than half of the 56 percent for Marion County. But there is a dearth of institutions like RecycleForce that retrain and prepare ex-offenders for entry into society.

Ex-offenders need to be assigned a volunteer in addition to a parole officer. I mentor an ex-offender. Early in our relationship I sought assistance from a number of people in city government and in non-governmental agencies, including faith-based institutions. I concluded that there was little interest in dealing with ex-offenders who have served time for violent crimes. The few mentoring organizations we have need to be adequately funded and held responsible.

Other than a successful program to prevent judges from returning ex-offenders for what I refer to as "foot fault" indiscretions like missing a probation hearing or a drug test, city initiatives have had little effect. Perhaps this is because city managers in this area have had a half life shorter than radioactive Manganese.

Public safety is not an intractable problem. Larger cities, including New York and Chicago, are making progress. It is possible in Indianapolis as well.

Rounding out my top five motivators of civic pride are education, economic development, community leadership, and recreational and cultural opportunities. Many of these items are interdependent. For example, statistics support the conclusion that a lack of reading skills by third grade is a contributing factor in criminal behavior. I look forward to discussing each of these factors in the weeks to come.

Am I bursting with civic pride? Yes, of course. And do I care about our professional sports? I'm a loyal fan. Professional sports support economic development and enrich our culture—important elements of civic pride, but would I rather brag about having the safest streets in America? Think about it.•

__________

Maurer is a shareholder in IBJ Corp., which owns Indianapolis Business Journal. His column appears every other week. To comment on this column, send e-mail to mmaurer@ibj.com.