Call me contrary, but rave reviews usually turn me off.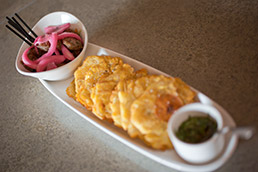 Tostones Con Longaniza pairs tangy grilled sausage bites with crispy fried plantains. (IBJ photo/Aaron P. Bernstein)
After all, the higher my expectations—of a movie, restaurant or whatever—the greater the chance I'll be disappointed. So I typically tune out the hype and allow myself to be surprised.
That's hard to do when a restaurant was the talk of the town for years before it opened, as is the case with new SoBro eatery Delicia. (Turns out the name is a bit of a spoiler, too.)
The long-awaited occupant of a former video rental store, Delicia (5215 N. College Ave., 925-0677) is the latest entry from the ownership group behind Northside Social, Northside Kitchenette and Village Cigar.
The Latin American restaurant opened in March after a protracted legal battle with neighbors over parking, and foodies have been buzzing about it ever since.
Despite the buildup, hubby and I gave it a go. We were pleasantly surprised to find it rave-worthy from start to finish.
We started with the Tostones Con Longaniza ($13), an appetizer that paired tangy grilled sausage bites with crispy fried plantains, or tostones. Each component tickled different taste buds, but the combination—topped with pickled red onions and a garlicky chimichurri sauce—provided a perfectly balanced flavor.
The generously sized starter had me looking for something other than a full entrée. The solution: Peruvian Ceviche Mixto ($11) a light dish featuring assorted seafood chunks marinated in citrus juice. My dad, who hails from neighboring Ecuador, makes the best ceviche I've ever had, but this was a close second. Pieces of avocado and onion married well with the mild fish—and allowed me to camouflage the occasional octopus tentacle. Freshly fried tortilla chips added a nice crunch.
My husband played it a little safer, ordering Tamal Corn Cakes ($17), a pair of masa-based patties piled high with tender beef that had been smoked in banana leaves. The chef topped the concoction with pico de gallo, cilantro cream and queso fresco, giving it additional color and flavor. Four thumbs up.
We'd have to borrow some appendages to do justice to the Tres Leches Cake ($7) we chose for dessert. The sponge cake was moist without being soggy, presumably a testament to the three milks that give the treat its name. Delicia's version was topped with a lime "meringue"—which was closer to whipped cream than the typical pie topper—and a sweet guava compote. Delicioso.•
—Andrea Muirragui Davis
__________
Second in a month-long series of D-restaurant reviews.
Please enable JavaScript to view this content.