In a nondescript manufacturing plant on Indianapolis' east side, workers are producing one of the most unique weapons in the war on skin cancer.

The company that operates the 95,000-square-foot facility with 45 employees at 2855 N. Franklin Road is best known for its Rit line of dyes that brighten and whiten fabric and for its lines of laundry detergents, including Fab and Ajax.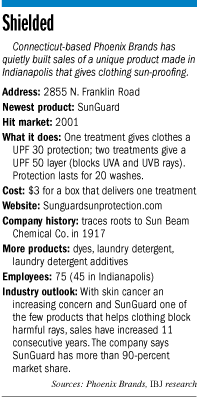 But it is one of its newest products, SunGuard, that is gaining attention this time of year. As the summer sun scorches everything beneath it, Connecticut-based Phoenix Brands Inc. is launching a marketing initiative to boost the profile of a laundry additive that some dermatologists are calling a potential life saver.

"I've been in practice 29 years and we used to see about six cases of skin cancer a year," said Dr. Keeter Sechrist, a Carmel-based dermatologist. "Now we see six cases a month. Skin cancer is becoming an incredible epidemic."

A big part of the problem is the proliferation of tanning booths, Sechrist said, but overexposure to the sun is also a serious concern and SunGuard "is a breakthrough product in skin cancer prevention."

"Sunscreen is helpful, but wearing the right sun-blocking clothing is even better. It's more reliable," Sechrist said, adding that treating clothes with SunGuard "is a lot less expensive" than buying pricey clothes with sun-blocking properties built in.

And, no, a white shirt or pants isn't adequate protection. That has a UPF of only about five to seven, she explained.

A measurement called UPF, or ultraviolet protection factor, is the standard for protective clothing. Developed in 2001 by ASTM International, a product-testing agency, a UPF ranges from 1 to 50, with 50 being the most UV light blocked.

While no government agency monitors sun-protective clothing or laundry additives, the Federal Trade Commission does monitor marketing claims about garments and sun protection.

Showing the potential of the market for products like SunGuard, UV-protective clothing—once the domain of specialty retailers catering to skin cancer patients—is now a hot seller for brands like the Gap, Izod and Lands' End.

Dreyer
SunGuard gives clothing a sunblock rating of UPF 30 with one wash and UPF 50 with two washes, according to Kathy Dreyer, Phoenix Brands senior director of sourcing and manufacturing operations in Indianapolis. The SunGuard protection holds for 20 washings, she added.

SunGuard shields the wearer of the treated clothing from UVA sun rays, which are known to cause short-term damage such as sunburn, and UVB rays, which cause long-term damage such as skin cancer, Dreyer said.

Untreated clothing does block out some rays—with darker, more tightly woven clothes blocking the most. But the most damaging rays, like UVB rays, can penetrate any garment, especially with prolonged sun exposure, dermatologists said.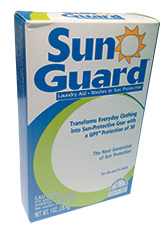 SunGuard is designed to give clothing—even heavier, darker items such as blue jeans—more than four times the blocking power of untreated clothes.

"This product has been one of the best-kept secrets," said Sechrist, who said she learned about SunGuard "through word-of-mouth."

Phoenix Brands is trying to change its low profile. In recent months, company officials have launched a marketing campaign that includes partnering with several Outrun the Sun events nationwide. One of those races attracted several hundred walkers, joggers and runners June 8 to Fort Benjamin Harrison, in Lawrence.

"This is a perfect fit for us," said Anita Day, executive director of Outrun the Sun, which holds a series of outdoor fitness events and educational initiatives aimed at raising awareness of the dangers of sun exposure. "People with skin cancer and melanoma are constantly searching for information and better products to prevent this [disease]."

SunGuard is included in Outrun the Sun promotional materials and event signage. Phoenix Brands officials also hand out free samples at the events.

The reason SunGuard got involved with the organization, Dreyer said, is simple: "They have a great cause, and we have a product that can help."

SunGuard was initially owned by Switzerland-based Ciba Specialty Chemicals, which sold it to Unilever USA in 2001. Uniliver began making the product at the local manufacturing facility.

In 2004, a group of private-equity investors bought the Indianapolis facility and the products made there—including the Rit dyes and SunGuard. It renamed the operation Phoenix Brands. Since then, SunGuard has recorded steady single-digit percentage sales increases every year.

"We have a market share of more than 90 percent," Dreyer said. "As skin care and the awareness of things like skin cancer become more prevalent, sales have grown."

Privately held Phoenix Brands doesn't divulge revenue. But those familiar with the industry said the still relatively unknown SunGuard likely brings in a low-seven-figure annual sum for the company. Rit dyes, company officials admit, is currently a far greater revenue generator for the Indianapolis operation. Industry sources pegged Rit dye sales in the low- to mid-eight-figure range.

Phoenix Brands is well known in the laundry and additive industry, also manufacturing such products as Fab, Ajax and Dynamo laundry detergents and Fresh Start laundry scent booster. Those products are produced outside Indianapolis.

SunGuard appears to have considerable potential.

"This is a new product category," said Sechrist, the dermatologist. "As awareness of it grows, I would think [SunGuard] would have potential for sales growth. This product fills a good niche and I don't know of anything else like it."

The product is sold primarily online but also in some Walmarts, Publix Supermarkets and other retail outlets, especially in the Southeast, Dreyer said

SunGuard sells for $3 a box, with each box containing one treatment.•