Two large downtown office buildings that are both set to lose major tenants are slated to be sold next month at a sheriff's sale.
The troubled Landmark Center at 1099 N. Meridian St. and the historic Century Building at 36 S. Pennsylvania St. are among the properties listed in the July 17 sale.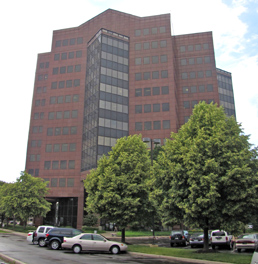 A new owner for Landmark Center must deal with a large chunk of vacant space. (IBJ Photo)
With 312,740 square feet, the Landmark Center is downtown's 11th-largest office complex, according to the most recent IBJ statistics. The Century Building's 115,526 square feet ranks it 19th.  
The Landmark Center, however, seems to need the most help, said Nick Arterburn, a broker with the local office of CBRE.
"Landmark is going to be challenging for any new owner," he said. "There's going to be a lot of leasing to do, and the building is tired."
One of its biggest advantages is that it offers onsite parking, which is quite rare in the downtown market.
"It appeals to tenants who don't have to be in the core but want to be near downtown," said Sam Smith, chairman of Colliers International's Indiana region.
Just 61 percent of the building was occupied in 2011. That rate likely will plunge even lower in a few months with the departure of Baldwin & Lyons.
The trucking and auto fleet insurer said it will vacate 81,000 square feet when its lease expires in August and relocate to Carmel to take about 110,000 square feet in The Congressional at 111 Congressional Blvd.
The company plans to spend $20 million to $30 million to buy the 181,000-square-foot building from local developer Lauth Property Group and build out its space.
Baldwin & Lyons' move is the latest blow for the Landmark Center, which has been hemorrhaging tenants in the last few years, the largest of which was Anthem.
Michigan-based Quantum Investments last owned the 12-story building, paying more than $30 million in 2008.
The Century Building, too, is in receivership and also will enter the market in a precarious position. Major tenant Steak n Shake has purchased the Ober Building on the opposite corner of Pennsylvania and Maryland streets and will be vacating its space.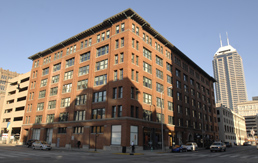 The Century Building is 112 years old and needs an owner with capital to handle deficiencies. (IBJ Photo)
Casting more uncertainty on the building is the June 4 sale of locally based email marketing firm ExactTarget for $2.5 billion to San Francisco-based Salesforce.com. ExactTarget occupies 70,200 square feet within the building.
The seven-story Century Building was built in 1901 and is 89 percent occupied.
"The building has fallen into some disarray," Smith at Colliers said. "It really needs a strong owner who has some capital to address some of the deficiencies."
U.S. Bank filed in February 2012 to foreclose on the building owned by Century Building Investment Group LLC, a unit of California-based Blue Real Estate. The balance on the loan that comes due in 2017 is $8.4 million.
Blue Real Estate last made a payment on its loan from U.S. Bank in June 2011, according to court documents.
The company entered the Indianapolis market as an in investor in 2006 and lost most of its local holdings in 2011 after lenders took control of several properties.
Typically in sheriff's sales the lender of a mortgage will buy the building to protect its investment and attempt to resell the building at a later time.
Please enable JavaScript to view this content.