1. Stonegate Mortgage Corp.
Stonegate returns to the top 10 for a second year thanks to geographic expansion—it now does business in more than 30 states, up from 20 at the end of 2011—and a couple of significant transactions. One was a $30 million infusion of capital from New York-based private investment firm Long Ridge Equity Partners in early 2012.
"That growth capital is what's really allowed us to ramp this up and continue our growth curve," CEO Jim Cutillo said.
The other transaction was the September purchase of warehouse lender NattyMac, which enabled Stonegate to offer more products and services to its commercial customers. The result is that independent mortgage bankers dealing with Stonegate now have access to warehouse financing and liquidity for their agency loans.
"The more we have to offer our customers, the more of their business we get," Cutillo said.
Cutillo said 65 percent of Stonegate's business comes from buying loans from banks, other mortgage companies and mortgage brokers, as well as financial institutions that only originate loans. The remaining 35 percent comes from loans made to consumers.
The U.S. mortgage market in 2012 amounted to more than $1.5 trillion in loans, and Cutillo said Stonegate still has plenty of opportunity to grow. He estimates that more than 46 percent of the market is still untapped by Stonegate because it's not in California, New York and a dozen other states.
"But we will be by the end of the year," he said.
The plan, he said, is to be in all 48 contiguous states by the end of 2013.
2. BidPal Inc.
BidPal automates fundraising for charitable organizations. Its services start months before an event, with save-the-date notices, invitations and even an option for attendees to select the chicken or the fish.
On the night of the event, BidPal offers a handheld device (as well as a smartphone app) that lets those in attendance follow silent auction bids, and it also provides a tote board that shows contributions made to the cause in real time on a screen in front of the audience.
BidPal chief Scott Webber benefitted from more than 30 years in the software business to ramrod the startup to the third-fastest growing company in the area. BidPal revenue soared 476 percent between 2010 and 2012. (IBJ Photo/ Perry Reichanadter)

Chairman and CEO Scott Webber said organizations typically get three times as many bids as they used to when they worked with paper auction sheets. And once the event's over, "They've raised a ton more money, generally."
"It makes the charity more money, it's actually part of the entertainment for the evening, it's a seamless solution where the data is flowing for the charity," he said.
Webber has spent 30-plus years in the software business. In 1994, he took Software Artistry public, making it the first Indiana software company to achieve that status, and went on to create the technology partnership that is now TechPoint. After selling Software Artistry in 1998, Webber became an investor/mentor for technology companies.
BidPal was three to four months old and looking for funding when he came on board, and Webber said the company is on track to become as big or bigger than any Indiana software company ever.
"Nobody has as extensive or as complete a solution as BidPal by a long shot," he said. "We have quickly become the dominant player in the marketplace. We help these non-profit organizations be more successful. We help them put more money in their coffers to benefit their terrific causes. It's a very uplifting role for the employees here."
3. Advanced Technologies in Electrical and Communications Inc.
A kid might dream of catching the winning touchdown pass in the Super Bowl. C. Shane Conner, president of Lebanon-based Advanced Technologies in Electrical and Communications, dreamt of installing the telephone and computer lines for the Super Bowl.
In 2012, his company got the chance. It worked out so well that ATEC was invited to New Orleans for this year's game. And the 2014 game in New York.
"That [game in Indianapolis] gave me the confidence I needed," Conner said. "It was an overwhelming job. We had no hiccups. And then, when the Super Bowl was over and nothing went wrong, I knew we could do anything at that point."
Conner earned his degree in electrical technology from Ivy Tech Community College and went through a five-year apprenticeship program that included 8,000 hours of on-the-job training. Two and a half years later, he started the company, mostly doing small electrical jobs. ATEC still does that—"What got me here are the small jobs and the relationships I built through them"—while also doing work for the new Wishard Hospital and for the military in Mascatatuck.
"I love to work," Conner said. "I work all the time. There's 75 to 120 contractors out there. The person that's going to get the growth—especially during a recession—is the one who's willing to work stronger and harder than any other contractor out there."
He said he measures ATEC's success not by finances but by customer satisfaction.
"All people want in this industry is a fair price and the work done right," he said. "I noticed there was a need for that throughout central Indiana. Once people trust you, you will be the one they call all the time."
4. Direct Connect Logistix
Greg Humrichouser attributes his 4-year-old company's growth in the highly competitive field of trucking logistics to market knowledge and carrier relations. Direct Connect Logistix finds customers—most of whom are shipping food—competitive rates and then does "all the stuff they don't want to do" when it comes to dealing with trucking companies. That is, ensure that the freight is in good hands, is properly insured and gets from point A to point B efficiently.
"Everybody's shipping goods," he said. "That's why it's such a great industry to be in—because the world's only getting more populated. People are buying and selling food. We focus on food because it's not going anywhere. And food is time-sensitive. Most of the stuff is perishable. It's not a load of plastic they can have sit on the dock until they get the price they want. This stuff expires."
Humrichouser studied telecommunications at Butler University and thought he wanted to work in a recording studio. After college, he was working at a gym. He moved in with his girlfriend—now wife—and their next-door neighbor had just left C.H. Robinson—"the Walmart of logistics," Humrichouser said—to start his own company. Impressed by Humrichouser's gift of gab, the neighbor hired him in sales.
Two weeks in, he landed his first customer. He worked there four years before going off on his own. He borrowed $1,000 from his mother to cover expenses and took no salary for six months.
"My wife told me to go for it," he said. "And I'm happy that she did."
Revenue has quadrupled since 2011, the company has 22 employees, and Humrichouser is projecting continued growth.
"We're having a great year," he said.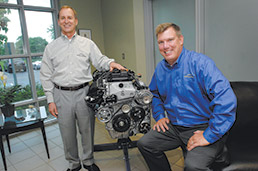 Stratosphere Quality owner Steve Cage, left, and Chief Operating Officer Tom Gray have grown by taking on manufacturing customers in several industries. (IBJ Photo/ Perry Reichanadter)
5. Stratosphere Quality LLC
Fishers-based Stratosphere Quality describes itself as "the leading provider of third-party sorting, containment and inspection services." In other words, it inspects component parts and helps manufacturers ensure that quality makes its way into the final product.
And before he joined the company three years ago, Chief Operating Officer Tom Gray didn't know the industry existed.
"Throughout the hiring process," said Gray, who spent 20 years in the utility industry and 10 in information technology, "it took several iterations of me asking the question, 'Now what is this again?'"
But this service turns out to be a common function in manufacturing because product specifications are so complex and manufacturers don't have warehouses of spare parts to use if something goes wrong.
Now he's running a company that in three years has grown from 200 employees to 1,500, from 10 states to 15 plus Toronto, and has increased revenue from $21 million to $73 million.
Gray said Stratosphere Quality is "a 911 service." Manufacturers call when they're assembling their final product and realize they have a problem with a particular component. For example, an automobile manufacturer might have ordered taillights that turned out to be scratched, the wrong size or have some other defect. Typically, the final assembly plant doesn't have enough spare inventory to continue working.
Stratosphere Quality can have personnel and resources onsite at that manufacturing facility within a couple of hours, Gray said, inspecting incoming materials piece by piece to make sure they are correct in terms of form, fit and function. The company figures out where the problem is in the supply chain and makes sure it's corrected.
Over the past four years, but especially in 2012, Gray said, Stratosphere Quality "began to realize the exponential potential that we have" by going to work for construction equipment, appliance, medical-device and other manufacturers.
6. Sun King Brewing Co.
From the symphony to Indiana Repertory Theatre to the Pacers, it feels like everywhere you go in Indianapolis, Sun King is there, too. The company's strategy to use community partnerships and social media and to stay local has fueled growth that has been "light-years beyond where I thought we'd be," owner and brewer Clay Robinson said.
"Our goal from the beginning was to become Indianapolis' beer," he said. "Most of the growth has been response to demand. People seem to like what we do, and what we do resonates with the people, especially of Indianapolis."
Rather than advertise—"We don't have a traditional advertising budget," Robinson said—Sun King made its name through community involvement. The brewery now boasts more than 180 community partners, and it has a full-time staffer whose sole job is to manage those relationships.
Sun King helps its community partners use beer as a kind of social lubricant that lures people to events. Robinson said the company also gets 20 requests a week for gift bags for silent auctions and fundraisers.
"As long as it's something that's good for the community," Sun King complies, he said.
Robinson and company have used that interaction to build more than 18,000 Facebook fans, 16,000 Twitter followers and several thousand followers on Instagram.
When Robinson wrote the business plan for the now-4-year-old craft brewery, he felt that if Sun King did well in Indianapolis, it could expand statewide. His five-year goal was to be in Indianapolis, Lafayette, Muncie and Bloomington. This year, Sun King signed distribution partnerships with three distributors that cover two-thirds to three-quarters of the state.
And with demand rising—Sun King brewed 15,000 barrels last year—the brewery is in the middle of upgrades that will enable it to produce beer more efficiently and improve productivity.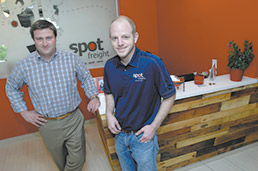 Andrew Elsener, left, and partner Andy Schenck have made a booming business of matching shippers and carriers. Spot Freight revenue shot up 224 percent in the three years ended in 2012. (IBJ Photo/ Perry Reichanadter)
7. Spot Freight
Spot Freight specializes in bringing together shippers and carriers to transport food, beverages, plastics and agricultural products.
"Let's say a shipper has a load moving to Iowa," co-owner Andy Schenck said. "Does he really want to sit there and call 10 different trucking companies to see if they can take that truckload? Or they can call us and it gets done. We'll find someone to do it for them."
Schenck and co-owner Andrew Elsener credit their company's growth to three factors. First is a focus on technology, which makes Spot Freight's systems—and, therefore, their customers' and carriers' systems—more efficient.
"We can find a truck, which results in saving time and money," Elsener said.
Second is the quality of people they hire as employees and to move their customers' goods. And third is their focus on carriers.
"We believe that carriers are our No. 1 customer, so we work hard to build relationships with them and therefore we're able to service our customers in a safe and reliable fashion," Schenck said.
Spot Freight started in 2009 after Schenck and Elsener left the trucking company they worked for to build their own business. They and a tiny team of employees shared 600 square feet of office space. Now, the company is in 8,000 square feet and plans to add 20 salespeople this year.
It's also launching software this year that will enable shippers to get instant quotes on less-than-truckload and full-truckload shipments.
"This allows shippers to make the best decision on each load, whether it's cost or service," Elsener said.
8. Kort Builders Inc.
Robert Kort started painting houses and doing landscaping while at Indiana University in the late '80s and early '90s. He never really stopped.
In 1991, he added carpentry, remodeling and room additions. By 1995, he transitioned the company entirely into commercial jobs because he preferred business-to-business work. Over the past few years, Kort Builders has done, or continues to do, work for Ossip Optometry, Melting Pot restaurants, Dunkin' Donuts, Simon Property Group, Milhaus and Verizon corporate.
Kort Builders is by far the oldest of this year's fastest-growing Indianapolis-area private companies, and Kort said the reason for the new burst of growth is the company's bouncing back from the recession. At the lowest point, Kort's revenue plunged 70 percent.
"So we got small and used a lot of our cash up that we had saved," he said. "We had the cash to survive."
And when the economy began to rebound, Kort was poised and ready.
"We didn't know when," he said. "We just knew it was going to. We made sure systems were good and when we rehired people, we hired the right people. We made sure our culture was prepared and ready, over-served what clients we had left, and made sure the clients that were no longer growing knew they were ready to go."
They also did a lot on the marketing side—sending out newsletters to current and prospective clients, "letting them know we're still here and we survived it. When it starts coming back and you have projects for us, we're going to be eager to do your projects."
"It's humbled us," Kort said, "to give not just great customer service and value, but phenomenal customer service and value."
9. Exacq Technologies Inc.
In the days after the Boston Marathon bombing, Dave Underwood could have trumpeted the importance of video surveillance technology to sell his products. Instead, the president of Fishers-based Exacq Technologies, which develops the software that manages the security cameras that seem to be everywhere, offered a different viewpoint.
"The high-profile things get your attention," he said, "but it's the day-to-day return on investment that people are looking for. When there are kids hitting each other, who threw the first punch? Who stole the coat out of somebody's locker? The reduction of shrinkage in retail, or patient care in a hospital."
Underwood said Exacq, which ranks among the top 10 fastest-growing private companies for the second consecutive year, has continued to grow for two reasons. One is that surveillance technology has made the transition from the early-adopter phase to the mainstream.
The other is that Exacq has changed whom it sells to. Seven years ago, when the company started, it went to the security integrators—the people who hang the cameras, pull the cable, and sell the servers and software that Exacq developed. They did that for several years and built a client base of about 500 integrators.
Once the company was established, it began to call on distributors—the people who sell to integrators. In 2011, Exacq signed on roughly 200 new integrators. In 2012, Underwood said, the company signed on a couple of distributors, and that brought on 1,200 new integrators to sell its products to the end users.
He said Exacq has moved from a direct integrator model to a distribution model.•
——————————
How Indianapolis' fastest-growing companies were selected
Indianapolis Business Journal compiled its annual list of fastest-growing private companies through the following procedures:
Submissions were solicited through announcements in IBJ; letters to bankers, attorneys and accountants; and telephone calls to various companies reported to be experiencing rapid growth.
Companies are ranked based on their revenue growth over a three-year period.
Companies were eligible if:
• revenue increased each fiscal year;
• revenue exceeded $1 million in fiscal year 2010;
• the company was an independent, privately held corporation, proprietorship or partnership (not a subsidiary or division) through Dec. 31, 2012;
• the company was founded before Jan. 1, 2010;
• the company was based in the Indianapolis area (Marion, contiguous and Madison counties).
Accuracy of entries was verified by letters from the companies' outside accountants or through the companies' submitting their tax returns.
To be notified when IBJ begins soliciting submissions for next year's list of fastest-growing private companies, call Barbara Hoffman at 472-5372 or email her at bhoffman@ibj.com.
Please enable JavaScript to view this content.