With its business in higher education reeling, Carmel-based ITT Educational Services Inc. is trying its hand at charter schools.
The for-profit educator won approval last month to start a charter school for 11th- and 12th-graders inside one of its ITT Technical Institutes in Indianapolis. Graduates of the new school, slated to open in August, would earn a Core 40 high school diploma as well as an associate's degree in a technical field.
If the school is successful, ITT executives hope to start more charter schools in Indiana and around the country to complement the company's footprint of 147 college campuses.
ITT Educational has assigned David Catalano, its senior vice president of business development, to work on the charter school initiative full time. Catalano spearheaded the formation of ESI Service Corp., an ITT subsidiary, which will manage the Indianapolis charter school.

Modany
If that school, called the Early Career Academy, or ECA, is successful, ITT officials say they will replicate it inside and outside of Indiana.
"It's something that we're working on right now that we're excited about as a longer-term growth initiative for us," said Kevin Modany, ITT Educational's CEO, during a presentation to investors.
Modany is trying to get more use out of campuses ITT has built around the country. Some of ITT's competitors are closing campuses. Arizona-based Apollo Group Inc. is moving to close half its campuses.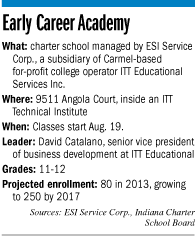 But Modany wants to find daytime programs to fill up its campuses, because most of its higher-education students are working adults who need night classes. It uses just 5 percent of its campus capacity in the mornings and just 25 percent in the afternoons.
The Early Career Academy was the only new charter school board approved this spring by the Indiana Charter School Board. It will offer associate's degrees in two areas: network systems administration and software development.
Board members of the academy include local venture capitalist David Mann, who has for several years led a turnaround at the KIPP-Indianapolis charter school as chairman of its board. Other board members of the Kipp School include Modany and Claire Fiddian-Green, executive director of the Indiana Charter School board.
"There's a need in this community for more high-performing high schools," Fiddian-Green said. "And it's our belief and our intent that this is going to provide a high-performing high school for students that want to get into those fields."
Fiddian-Green did acknowledge that the charter school board had some concern about ITT's long-term commitment to charter schools, particularly if ITT's fortunes in the higher education sector deteriorate further. Enrollment at ITT Educational's colleges plunged 28 percent from 2010 to 2012.
One analyst that covers ITT Educational doesn't think the charter school strategy is a good one. Bradley Safalow, CEO of PAA Research, said the profit margins on charter schools are small.
ITT Educational's application calls for its subsidiary, ESI Service Corp., to receive a management fee equal to 12 percent of state funds that flow to Early Career Academy. With peak enrollment projected at 250 students, and state charter school funding averaging about $7,000 per student, total revenue is likely to peak at $1.75 million.
The management fees in addition to rent, technology and curriculum fees ITT would charge the school, would peak at about $525,000 per year. It would take a lot of schools generating such fees to add substantially to ITT's annual revenue of $1.3 billion.
"Obviously, they want to use it as a feeder," Safalow wrote in an email. But, he added, "Charter schools are a terrible business. Profits here are going to be modest at best, and most likely non-existent."•
__________
Greg Andrews' Behind the News column will return next week.
Please enable JavaScript to view this content.