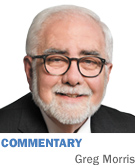 Congratulations to Chancellor Allison Barber and WGU Indiana on celebrating their third anniversary recently. This online university is helping Hoosiers attain advanced degrees in many subject areas, including education, information technology, business, nursing and other health care professions.
And we need WGU now more than ever. Consider these sobering statistics from Indiana Commissioner for Higher Education Teresa Lubbers:
• Indiana ranks 40th nationally in the number of people who have more than a high school education and 41st in per-capita personal income.
• Less than a third of Hoosiers have completed higher education today.
• Four out of five jobs lost during the recent recession were held by individuals with a high school diploma or less, and many of those jobs aren't coming back.
• In the past decade, wages of workers with a high school education have fallen 11 percent.
• Nearly two-thirds of the jobs this decade will require more than a high school diploma.
The Commission for Higher Education is responding with what it's calling its Big Goal: increasing the number of Hoosiers with education beyond high school to 60 percent by 2025. That's a tall order considering where we are today. We're talking about one-year work certificates, two-year associate's degrees, four-year bachelor's degrees and beyond.
This story line isn't breaking news, but it's critical to keep educational achievement at the forefront of discussion. Everyone shares responsibility for improving individual opportunity and success for all residents of the state. Helping more Hoosiers attain an advanced degree is one important component of that success. And like a rising tide that lifts all ships, more individual success benefits the state as a whole.
WGU Indiana offers a non-traditional path to a degree. It is the state's not-for-profit, accredited online university for adults. It doesn't target 18-year-olds. Most programs are available for an affordable $6,000 a year, and federal and financial aid is available. The learning is computer-based, and the decision about where and when you complete your coursework is up to you, within certain time parameters. Transferring credits from prior college coursework is a smooth process, even if those credits are from multiple institutions.
I've heard Chancellor Barber speak on many occasions. She's an engaging speaker, and it's obvious she's passionate about the university's mission. She should be proud of the success that's been achieved in three short years. Barber is a tireless advocate for helping Hoosiers attain their bachelor's and master's degrees and making that process as flexible and affordable as possible.
Since its inception in 2010, WGU's enrollment has grown to more than 3,300 students, representing all 92 Indiana counties, and 799 students have graduated.
Who is the typical WGU student? They're of all ages and come from all walks of life, but the average age is 37, and most have a full-time job and kids. These folks don't have the opportunity to get to a campus and attend a night class. Life gets in the way of doing a lot of important things, which is why many Hoosiers haven't completed their degrees. To that point, about 740,000 adults in Indiana have some college experience but no degree.
The typical time commitment is 15 hours per week. Staying on that schedule, most students can graduate in two to 2-1/2 years. Completing coursework online gives students the flexibility to work within a busy schedule. So it doesn't matter where you live in Indiana, how busy you are, or whether you're 27, 37 or 57—you can get a quality education and earn an accredited degree online from WGU Indiana.
I have a family member working on a degree from WGU, so I hear firsthand about the progress. He loves the experience and is committed to completing his degree. One benefit he receives that I believe will be critical to his success is that he's been assigned a faculty mentor (as are all students).
He talks with his mentor every week and receives advice, counsel and encouragement. When things get tough, he's got one person with whom he's developed a relationship, and that helps keep him on track. Very impressive.
There are a lot of great colleges and universities in the state of Indiana. Let's encourage all Hoosiers, no matter their age, to choose the option that suits them best. Then let's all assume the role of a mentor and encourage them along the way to complete their degree. They win. You win. It's important.•
__________
Morris is publisher of IBJ. His column appears every other week. To comment on this column, send e-mail to gmorris@ibj.com.
Please enable JavaScript to view this content.