Mainstreet Property Group proudly calls itself the largest builder of skilled-nursing facilities in the country—a status achieved in part by tapping local governments in Indiana.
The Carmel-based firm has built 13 nursing homes in Indiana and Illinois since 2008. Six of the dozen Indiana properties benefited from municipal-backed credit or tax breaks, and a seventh received a reduced-impact fee, which covers the cost of extending public services to new development. Mainstreet also received $345,000 in state economic incentives, based on hiring plans and moving its headquarters from Cicero to Carmel.

Turner
Mainstreet continues to look for help, including for a proposed $9.2 million nursing home near 56th Street and Georgetown Road in Indianapolis.
Founder and CEO Zeke Turner said the government support was crucial when Mainstreet started building because banks were unwilling to lend otherwise.
"We started our heavy development in 2007, so that's about as bad a timing as you could've possibly had," he said.
By the end of 2011, Mainstreet had built nine facilities and leased them to third-party operators. That track record allowed the company a year ago to launch an initial public offering for HealthLease, an affiliated real estate investment trust that trades on the Toronto Stock Exchange.
HealthLease told prospective investors in the IPO that Mainstreet had identified more than 10 future projects in the West, Midwest and south-Atlantic regions. The company was targeting states with strong fundamentals for senior housing and care, which include a growing contingent of people 65 and older, as well as a "pro economic-development environment, as demonstrated by the availability of incentives such as tax abatements or credit enhancements."
As a result of new construction and acquisitions, Mainstreet or HealthLease now owns 33 facilities in the United States and Canada.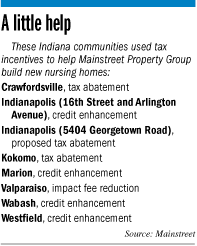 The companies' embrace of nursing homes is unusual. Most publicly traded REITs stopped acquiring or sold nursing homes because of cuts in government reimbursement for care. With revenue streams tied to Medicare and Medicaid, nursing home operators can't afford increases in rent.
Morningstar analyst Todd Lukasik said some large health care REITs are avoiding government reimbursement altogether and are instead buying properties on the coasts, where residents or their children can afford to pay out-of-pocket.
"A lot of these companies will look at them more as apartments for the older generation," Lukasik said.
John Roberts, director of research and REIT analyst at Hilliard Lyons in Louisville, said some smaller REITs are building new properties, but mostly for Alzheimer's disease care or assisted living.
"I think just because of a lot of the REITs' aversion to public pay, you may see a class of skilled-nursing home in the future targeting wealthier people, with access to their own funds, with nicer properties than your typical nursing home," Roberts said.
Mainstreet's business model is a step in that direction. The average age of nursing homes in the United States is 40 years, Turner said. He said Mainstreet has avoided the government-reimbursement squeeze by building upscale facilities that attract a higher percentage of people with private insurance.
Some facilities, such as one under construction at 16th Street and Arlington Avenue on the east side of Indianapolis, may see a higher portion of Medicare users, Turner said, but reimbursement rates under the federal entitlement program are better than under Medicaid, which is for the poor.
Medicaid accounted for 28 percent of rental income in the HealthLease portfolio in 2011, according to the company's prospectus.
Mainstreet builds its facilities, a mix of skilled nursing and assisted living, with a majority of private rooms and includes such amenities as restaurant-style dining, theaters and cafes.
Those amenities are open to the public, and local people will stop in for a cup of coffee, even if they have no one to visit, Turner said.
"They just like being there," he said.
"The greatest infrastructure problem in our country is the property our seniors are being cared for in," Turner said. "We are on the forefront of change in this industry."
Economic development
Crawfordsville Mayor Todd Barton saw Mainstreet's Wellbrooke of Crawfordsville as a true economic development project.
The town gave Mainstreet a six-year tax abatement on its $10.6 million building because it brought new jobs, and it provides post-surgery rehabilitation services that weren't previously available in town, Barton said. That, in turn, makes the local hospital a more attractive place for hip and knee replacements, he said.
"We really felt we had a need for that kind of service here," Barton said.
Other small cities and Indianapolis have helped Mainstreet because it's willing to build in underserved areas. The cities of Marion and Wabash in 2011 set up community development corporations that issued bonds—$15.2 million and $13 million, respectively, for the sole purpose of building new nursing homes.
Cities commonly issue tax-exempt bonds that benefit real estate developers, which are on the hook for repayment. In Mainstreet's case, the municipalities also provided a backstop of tax revenue.
Indianapolis entered a similar credit-enhancement agreement last year for half the value of Mainstreet's $15 million project at 16th and Arlington. Mainstreet brought new services to the neighborhood and paid $961,000 for a city-owned property that had drawn no responses in a previous request for proposals, Deputy Mayor for Economic Development Deron Kintner said.
Kintner recommended a three-year property-tax abatement valued at $468,000 for Mainstreet's proposed facility at 5404 Georgetown Road. The site is not in a distressed neighborhood, but the vacant parcel Mainstreet would buy has lingered on the market for several years, Kintner said. He also hopes the new nursing home will make a long-vacant former Osco drugstore to the north more attractive.
Indianapolis has granted tax abatement for two other nursing-home projects in the past 12 years. Bloomington-based CarDon & Associates received a five-year abatement on $1.5 million in improvements to its Altenheim Community on Hanna Avenue in 2010 and a five-year abatement on a $1.8 million addition to University Heights on County Line Road in 2011.
Financing projects
Publicly traded REITs are awash with investor capital, Lukasik said, but construction in rural and urban areas is still seen as risky.
Turner said that's been Mainstreet's experience with banks.
"The local banks, big banks, they all get the suburbs," he said. "Pretty far rural, pretty far urban, that's where you have a challenge in educating them."
The growing suburb of Westfield seems like a location that would make landing financing easy. Yet the city made a credit-enhancement deal in 2011 for Wellbrooke of Westfield, set to open this month.
"If we hadn't done this, then they wouldn't have constructed here," Chief of Staff Todd Burtron said.
Mainstreet invests a lot of time and expense in trying to locate on sites that are important to local officials' development strategies, spokeswoman Kate Snedeker said. Westfield wanted Mainstreet in Grand Park Village at 186th Street, where it will be the first commercial development.
Westfield's income-tax revenue will back Mainstreet's $13 million project for five years. If it fails in that time, Burtron said there are multiple steps, including selling the property, that Regions Bank would have to take before tapping the city for payment.
Westfield's deal with Mainstreet, which is similar to those in Marion and Wabash, also includes fees that should encourage the company to refinance within four years, taking the city out of the picture.
The city will receive $200,000 a year for four years in credit-enhancement fees, Burtron said. In the fifth year, the fee escalates to $640,000. Burtron said the credit enhancement seemed like a better deal than giving up property-tax revenue through abatement.
Mainstreet did not receive incentives for all its projects. Those launched without government help include one that's under construction in Castleton, as well as facilities in Lafayette, Lawrenceburg and Noblesville that have since been bought by the operator.
That doesn't mean the company didn't try. Avon Town Manager Tom Klein said Mainstreet inquired about tax abatement after it won approval for Wellbrooke of Avon and submitted building-permit applications last year.
Mainstreet's intention to build in Avon was obvious, Klein said, so he declined to recommend the tax break. Mainstreet's facility, which is under construction, will be in a prime location off Ronald Reagan Parkway near IU Health West, he said.
"We're glad they're here," Klein said.•
Please enable JavaScript to view this content.