In an explosive new lawsuit, Tomisue Hilbert has accused hardware store owner John Menard Jr. of pressuring her to have sex with him.
Her refusal, she claims, is the real reason Menard launched a bitter battle to remove her husband, Steve Hilbert, as CEO of the Indianapolis-based private-equity funds the three of them started in 2005.
Menard won a preliminary injunction in a Wisconsin court on Feb. 19, removing Steve Hilbert as CEO of the MH Private Equity funds. Menard and his team have since fired at least four employees of the main company managed by the fund, put another company into bankruptcy liquidation, and initiated a raft of lawsuits against friends of the Hilberts who had some connection to the MH Private Equity companies.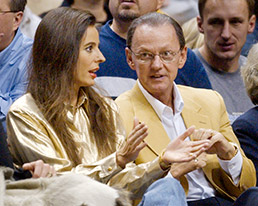 Tomisue and Steve Hilbert, seen here at a 2003 Indiana Pacers game, say their friends and family at New Sunshine LLC were targeted and fired by John Menard. (AP photo)
The rift between Menard, 73, and the Hilberts is a stunning change after nearly two decades of friendship. Their close relationship had spawned multiple business deals, even before the 2005 formation of MH Private Equity, but is now producing nothing but legal strife.
MH Private Equity spent $495 million of Menard's money on eight investments, and the Hilberts were paid management fees based on the purchase price of the investments.
But in August 2011, Menard claimed MH Equity's holdings—which include a now-bankrupt coupon firm and a company that makes skin-care lotions—had lost 70 percent of their value. Menard refused to pay the Hilberts as much in management fees as they claimed they were owed.
That change of attitude from Menard came after nearly three months of rebuffed requests for sex with Tomisue Hilbert, according to her lawsuit, filed May 29 in Hamilton Superior Court.
The suit alleges that Menard's first request for sex came at the Hilberts' home on the Caribbean island of St. Martin, which the Menards had visited numerous times. During a stay in May 2011, Tomisue Hilbert claims, John Menard touched her several times "despite her obvious reluctance."
"On May 30, 2011, Mr. Menard demanded that Mrs. Hilbert join both him and his wife for sex after her husband (Steve Hilbert) went to bed," the lawsuit claims. "Mr. Menard further told Mrs. Hilbert that if she refused there would be serious 'financial consequences.'"
Steve Hilbert, 67, initially chalked up Menard's advances to his being drunk that night, according to the lawsuit. But it alleges Menard repeated his request for sex the next day and in a phone call with Tomisue Hilbert on July 12, 2011.
Tomisue Hilbert, 43, also claims that on two other occasions, Menard's wife, Fay, encouraged Tomisue Hilbert to visit the Menards' homes so they could "carry over from St. Martin."
Kevin Tyra, an Indianapolis attorney representing Menard, said his client "categorically denies the inappropriate conduct that Mrs. Hilbert alleges in her complaint.
"It's because the Hilberts were such poor stewards of what was entrusted to them that a judge had to remove them," he added. "Mrs. Hilbert's complaint appears to be a reaction Mr. Menard's justified actions."
However, Indianapolis attorney Linda Pence, who is representing Tomisue Hilbert, described Menard as a bully who needs to be stopped.
"He has a well-documented history of bullying other people, particularly women," Pence said. "His behavior is degrading to women."
In Trump's crosshairs
Once Menard took full control of the MH Private Equity companies, he quickly made his presence felt.
On March 1, Menard visited the Indianapolis headquarters of New Sunshine LLC, a skin-care products company owned by MH Private Equity, according to Tomisue Hilbert's lawsuit. Menard fired Eric Weber, the president of New Sunshine; Scott Matthews, who had been senior vice president of New Sunshine; and Todd Hilbert, the son of Steve Hilbert, who had also been working for New Sunshine.

Menard
Three days later, the suit alleges, New Sunshine's subsidiary Australian Gold LLC fired Lisa Trudeau, wife of former Indianapolis Colts quarterback Jack Trudeau. The Trudeaus are friends of the Hilberts.
That same day, Australian Gold filed a lawsuit in Hamilton County claiming Trudeau should pay back five years of wages and expense reimbursements for failing to act in the company's "best interests" and for claiming invalid expenses for reimbursement. The lawsuit seeks a total of $1.5 million in damages.
Also on March 4, New Sunshine and Australian Gold sued Trent Decatur, son of the late Dr. David Decatur, a longtime Hilbert friend. Trent Decatur had been paid by New Sunshine to develop sales channels in Asia, but the Menard team claimed Decatur didn't actually do any work. They want him to reimburse New Sunshine for the fees he was paid.
On March 12, another MH Private Equity company, Michigan-based coupon firm Entertainment Publications LLC, filed for Chapter 7 bankruptcy.
On March 13, New Sunshine sent a letter to Melania Trump, wife of real estate investor Donald Trump, canceling a promotional deal for the launch of a new Melania Trump-branded skin-care product. Trump, a former model, filed a lawsuit with an arbitrator, claiming New Sunshine's actions had resulted in $50 million in damages.
Melania Trump had been scheduled to promote the product line on an April 7 appearance on Donald Trump's TV show "The Apprentice," as well as on "The Today Show" and "The View" in the following days. The canceled contract meant she did not have any product samples to help her promotion, her lawsuit states.
The cancellation even scotched a $100,000 initial order from high-end retailer Lord & Taylor, Trump's lawsuit claims.

"Incredibly, although the Licensed Products are ready to be shipped to Lord & Taylor and television audiences as part of the production, [New Sunshine] refused to ship the Licensed Products because it will trigger certain payments under the License Agreements," Trump's suit states, indicating that she would have been paid $750,000 in April after the first shipment of products.
The Menard team has since filed a lawsuit in Marion County, claiming that because the contract with Melania Trump was signed while Steve Hilbert still managed MH Private Equity and New Sunshine, the contract is void. The Menard team claims it sent a letter to Hilbert in June 2012 removing him as CEO of MH Equity, but that Hilbert refused to leave until the Wisconsin judge acted in February.
They also note that the deal was structured with an improper favor for Hilbert: up to $50,000 worth of the skin-care products to use as gifts for friends and family.
Menard: Hilbert was self-dealing
In contrast to Tomisue Hilbert's explanations, Menard claims he turned on Steve Hilbert only when he discovered Hilbert was enriching himself while the value of MH Equity's businesses plummeted.
In an amended complaint filed in Wisconsin last month, the Menard team claimed Hilbert improperly transferred $3.7 million in August 2012 from MH Equity's account into one of his own accounts.
"Hilbert refused to put down his pencil because he still had a few more checks to write—to himself," wrote attorneys for Menard in the court filing. "Hilbert opposed the injunction because if it were granted, the house of cards would collapse. Now it has."
Hilbert's attorneys have countered that Hilbert never paid himself anything not clearly called for in the MH Equity operating agreement. In fact, Hilbert's attorneys claim Menard still owes $5.75 million in unpaid management fees.
If anyone is costing Menard money, the Hilbert attorneys argue, it's Menard himself—which indicates to them that Menard is acting out of personal motivations, not financial ones.
Tomisue Hilbert's lawsuit notes that New Sunshine, which employs about 275 people in Indianapolis, has been recovering after its profits were hit hard during the recession in 2009.
Earnings before interest, taxes, depreciation and amortization fell from $25 million in 2008 to just $5.5 million in 2010, the lawsuit states. But they have been rising since, totaling $14.4 million last year, and are projected to reach $16 million this year.
"With the improvement of the economy and the expansion of the new brands within the beauty industry, greater world-wide distribution, and other changes implemented by Mr. Hilbert, New Sunshine was expected to recover over the next three years," the lawsuit claims.
Before Menard's alleged sexual advances started, it asserts, "Mr. Menard was not concerned about [MH] Equity Fund and recognized it was recovering."•
Please enable JavaScript to view this content.