The $525,000 that businessman Minda Balcius shelled out for his family's dream home might seem excessive considering its outdated, disco-era decorum of orange countertops, linoleum floors and shag carpeting.
"Nothing has been updated," Balcius, 38, lamented. "It's been preserved from the 1970s."
But the 3,000-square-foot house is no ordinary abode. It's on Grandview Lake in scenic Brown County and will serve as the Balcius' summer home.
 
Minda and Amy Balcius (IBJ Photo/ Aaron P. Bernstein)
The Lithuanian native, who operates Carmel-based shipping and logistics company USA InterCargo LLC, decided to pull the trigger amid a housing recovery that's even experiencing an upsurge within a relative obscurity in Indiana—the second-home submarket.
Yes, it really does exist.
Brown and Monroe counties in southern Indiana and lake-rich Kosciusko County in the northern part of the state are havens for Hoosiers searching for second homes.
No real estate association in the state tracks summer-home sales. Anecdotally, though, agents say demand is beginning to increase, mirroring the trend in the larger residential market.
"If the seller prices it at a fair-market price, it's moving," said Daniel Harstine, who operates a Century 21 affiliate in Warsaw along with his wife, Amanda.
The county seat of Kosciusko County is surrounded by dozens of lakes, including Syracuse, Tippecanoe and Wawasee, where much of the county's more expensive lake homes are located.
Last year, at $3.85 million, the Harstines sold the priciest house on Wawasee. And the couple has sold more second homes through May this year than all of last year combined.
"It's still a buyer's market," Amanda Harstine said, "but we're certainly seeing more activity."
So who's buying these homes, anyway?
Real estate agents say the demographic runs the gamut, from executives and wealthy retirees with cash to modest earners who can afford cheaper property on Indiana's less-assuming lakes.
In Kosciusko County, for instance, homes along Lake Barbee are priced as low as $129,000, and several are in the $200,000 range.
The Harstines say sellers typically are getting more than 90 percent of their asking prices, much more than they would have a few years ago. At the same time, the median price for second homes in their county increased about 12 percent from 2011 to last year.
In Brown County, second homes mostly range from small cabins to large farmhouses fetching about $180,000, said Re/Max broker/owner Marge DeGlandon.
"If you list a property that has not been on the market for four or five years, it's getting picked up pretty quick," she said.
Prices for second homes in Brown County have remained steady and have yet to show significant increases. But what's important, DeGlandon said, is that sellers no longer have to settle for the first offer and are getting a larger percentage of the listing price.
Sales also are strong in neighboring Monroe County, where Lake Monroe is a popular draw. Less apparent, downtown Bloomington is slowly building an inventory of second-home properties, whether purposely or not.
The four-level Lockerbie Court is the only condominium building in Bloomington higher than a few stories, and it's becoming attractive for folks looking for an alternative home, said Tracee Lutes, another Re/Max broker owner.
Among the factors: convenience for Indiana University alumni wanting to spend long weekends in town, especially during football season, or for parents purchasing a condo for their college student and planning to keep it for retirement.
"It's a great place to live if you sell real estate," Lutes said of Bloomington. "Even when the market was bad, we still had business, just not as much."
Passed on through generations
So if executives and retirees are purchasing most of the homes, who's selling them?
Many are families that owned homes for years but turn them over because the children of elderly or deceased parents don't want to be saddled with the responsibilities.
Barbara Coles, president of Coles Marketing Communications LLC in Indianapolis, and her seven brothers and sisters sold a home on Lake Maxinkuckee near Culver in northern Indiana in November after having it on the market for several years.
Sadly for Coles, the 1920s-era home needed a lot of work and is no longer standing. Neighbors on each side of the house bought it and tore it down to give them more lakefront property, thus increasing their values.
"It just got to be impossible to manage it," she said. "But we sure had a blast for the many, many years that we were there."
Lisa Coleman of Indianapolis has unloaded two second homes since November.
The first, on Lake Tippecanoe in Kosciusko County, also was a family-owned house that Coleman's mother could no longer manage. It sold after just two months for the entire asking price, which Coleman declined to divulge.
The other, on Adams Lake in northeastern Indiana near Angola, sold in May after being on the market since October.
Coleman bought it in 2006 for $70,000, less than half the $150,000 asking price.
With the sale of her permanent and second homes, she's consolidated and bought a house on Geist Reservoir—still near water but without the travel.
"I'm tired of making round trips on weekends," Coleman said.
Connecting to nature
Balcius, the Carmel businessman, relishes the drives. He and his family can be at their home on Grandview Lake in about an hour, a big factor in their choice of the location over farther destinations in northern Indiana.
Balcius and his wife, Amy, began thinking about purchasing another home about five years ago to give their now 11-year-old daughter and 8-year-old son a connection to nature.
Amy works in sales and marketing, mostly from the New York office of national accounting firm PricewaterhouseCoopers.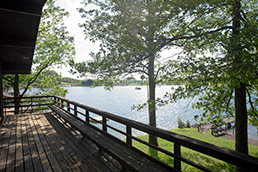 Minda and Amy Balcius paid $525,000 for a Grandview Lake home—significantly less than the original $599,000 asking price. Still, Minda Balcius thinks he could have gotten a better deal had they bought earlier. (IBJ Photo/ Aaron P. Bernstein)
Looking south, they zeroed in on not only Grandview but also Lamb Lake, a 500-acre private lake south of Trafalgar in southern Johnson County. Checking residential listings at both lakes, the couple decided last summer that they would begin making offers.
That's about the time Balcius began noticing that listing prices were rising. The previous owner of their home originally listed it for $599,000. The price fell to $549,000 and Balcius finally negotiated the $525,000. Even so, he thinks he could have gotten a far better bargain a few years ago.
"I would have expected to buy this house for $450,000 or $400,000," he said, "because they were just sitting on the market."
The 3,000-square-foot home, built in the 1970s, is considered middle of the road for the lake, where many homes sell closer to the million-dollar-mark, Balcius said.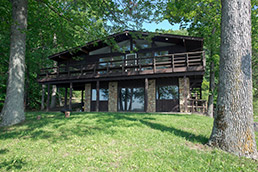 (IBJ Photo/ Aaron P. Bernstein)
He bought the home from the daughter of the original owners, who had passed away. Living in Florida, the daughter had no use for the home.
But Balcius and his family "fell in love with it," despite the décor.
"We intend to spend a season in it the way it is," he said, "and then remodel it."•
Please enable JavaScript to view this content.