Dave Wortman wants to help health care catch up with the rest of the world.
The founder and CEO of Diagnotes Inc. thinks his company's mobile app can help doctors run their office from their iPhones—just as many other professionals have been doing for years.

Wortman
More broadly, Wortman, who in the 1990s led the business software company Made2Manage Systems Inc., thinks health care is going through the same kind of IT revolution the rest of the business world went through in the 1980s and 1990s.
"We really believe we've got an opportunity to reduce the cost of health care in a really significant way," said Wortman, 61.
For now, Diagnotes is trying to revolutionize a small part of health care—daily emergencies and after-hours calls doctors must deal with—usually with little information about the patients they have to diagnose.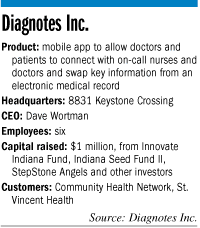 Diagnotes has created a mobile app for smartphones that allows doctors to send notes and key parts of an electronic medical record to another physician.
Of course, doctors can text one another now—but sending private patient info over the phone would violate federal laws.
Diagnotes' app keeps all patient information in a cloud of computer servers, so it's not stored on the phone, then uses text messages to alert doctors that there is something a colleague wants them to review.
The app also automatically documents patient encounters handled via phone.
"We're essentially allowing them to run their office from their mobile device, which all the rest of us already do," Wortman said while demonstrating the app on his iPhone.
The lack of up-to-date communication tools is costing each hospital about $1 million per year, according to a study released by the Ponemon Institute in May. By using only pagers and the voice features of phones, each doctor and nurse wastes about 45 minutes or more each day that could be cut out with the use of smartphones, the Michigan-based Ponemon Institute claimed.
"These technologies remain, for the most part, unused in hospitals because of the restrictive nature of security policies and challenging regulatory compliance requirements," said Dr. Larry Ponemon, chairman and founder of the institute.
Wortman also thinks Diagnotes can help hospitals reduce the number of patients readmitted to the hospital within 30 days of a previous stay.
Hospitals are desperately trying to eliminate such occurrences because, beginning this year, the federal Medicare program will reduce its payments to hospitals with "excess" numbers of readmissions.
Wortman cited a study by the Journal of Hospital Medicine, which concluded that half of all patients discharged from a hospital experience an error in communications—and that those who do are six times more likely to be readmitted to the hospital.
Wortman, a Purdue University-trained engineer, worked for 20 years for Indianapolis-based Pritsker Corp., which used computer simulations to help industrial companies solve problems. Then in 1993, he became CEO of Indianapolis-based Made2Manage Systems Inc., which made enterprise resource planning systems for industrial businesses.
Wortman took the company public in 1997, then sold it in 2003 to Boston-based Battery Ventures for $30 million. Two years ago, he co-founded Diagnotes.
He was drawn to the health care industry because he sensed it needed to save money and serve patients better—both tasks in which IT could help.
His timing was good. The 2009 stimulus bill effectively required all health care providers to start using electronic medical record systems, and introduced rules of standardization that made it far more economical for Diagnotes to program its app to work with different systems.
And last year, health IT companies attracted $1.2 billion in venture capital—more than double what they attracted the year before, according to a report by Texas-based Mercom Capital Group Inc.
Diagnotes itself raised $1 million in April. It has signed up one customer so far—Indianapolis-based hospital system Community Health Network—and is doing a pilot project with St. Vincent Health.
"This is happening," said David Johnson, CEO of BioCrossroads, a life sciences development group in Indianapolis. "You can really see that in our marketplace here."•
Please enable JavaScript to view this content.