Many office buildings have their own cafeterias, devoted to feeding the semi-captive audience conveniently and efficiently (and without the added cost of tipping). Most of these, in my experience, are functional, at best. They provide plenty of choices but little excitement.
There are exceptions, of course. And Duos Cafe (2960 N. Meridian St., 508-8614) is certainly one of them.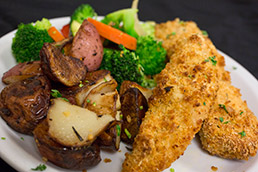 Oven Fried Chicken sided by Duos' Killer Roasted Potatoes may or may not be available when you visit this menu-in-flux cafeteria. (IBJ Photo/ Aaron P. Bernstein)
Housed in the International Medical Group building just south of The Children's Museum of Indianapolis, Duos Cafe is the brick-and-mortar, less-gregarious sibling of the popular Duos food truck. But where the mobile version might have a pair of sandwiches, a couple of soups, a salad and a few desserts, the version without a steering wheel has an entire counter devoted to sandwiches, another to main courses, a soup and salad bar, plus an array of desserts to tempt you as you wait to pay at the register. Remember the beloved Essential Edibles restaurant from years back? Same folks.

Just about everything we sampled on our visit worked just fine, from a surprisingly subtle Spinach Lentil Soup (a bit steep at $4.50) to the decadently dense Coconut Macaroons ($2). A Ham Sandwich ($7.50) transcended thanks to a smart combo of tart cherries and Manchego cheese ($7.50). Duos has a habit—a good one—of flavoring sandwiches with stuff you won't find at Subway. Don't be surprised to find pickled blueberry or smoked paprika aioli in the mix. You might even find a sandwich or two packed with good stuff from local favorite Goose The Market.

The Chicken Marbella ($7) couldn't have been juicier or more potently flavored, dressed with salty olives, tangy plums and a whiff of outdoor grilling. Baked chicken usually tends to be on the dry side, but the Oven Fried Chicken ($6.50) here featured a plump breast pleasingly crisp outside and surprisingly moist inside.

Collard Greens on the side maintained a firm texture while offering a substantial kick, while the Duos Killer Roasted Potatoes were a superior substitute for French fries or a baked potato.

Truth be told, though, one of my guests insisted that the highlight of his lunch was the dark-chocolate-chili fudge bar ($3), a strange-but-wonderful concoction from Indianapolis-based Nicey Frozen Treats, made at Duos Kitchen.

Warning: Figuring out how to get to Duos Cafe is a bit tricky. While the cafe faces 30th Street, you have to enter the relatively unmarked parking lot on either Meridian or Illinois streets, then make sure not to park in any of the many reserved spaces.•

—Lou Harry

__________

Last in a month-long series of D-restaurant reviews.