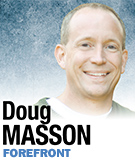 "Privacy" comes from a Latin word meaning "separated from the rest," initially thought of in negative terms, mostly having to do with deprivation of the ability to participate in government.
As a political science student, I was taken aback by my professor's observation that privacy is a fairly recent notion in human society.
In tribal society, everyone knows basically everything about everybody—like a prehistoric game of "Survivor." It was only as society became more complicated and communication could be effectively hidden from observation that privacy became a concern.
It might come to pass that privacy was only a temporary phenomenon in human history. Cameras are everywhere. Databases are becoming more sophisticated, and storage capacity is trending toward infinity.
Worse, the competing incentives between privacy and data collection are asymmetrical.
Take, for example, Indiana's DNA collection laws. Indiana code section IC 10-13-6-10 requires that DNA be collected from individuals convicted of certain felonies.
Last session, Sen. Joe Zakas unsuccessfully introduced bills that would have expanded DNA collection to all individuals arrested for a felony and to juveniles found to have committed certain acts of delinquency. Rep. Ed Soliday introduced a bill that would have facilitated using traffic cameras on school buses to detect motorists who disregard school bus traffic arms.
What is a DNA sample when compared with catching felons? How much do I really care if there is video of me driving my car? Can that really compare to our interest in protecting the safety of schoolchildren? How much can I honestly complain about government intrusion when I voluntarily disclose the details of my family's eating habits to Kroger for 10 cents off milk? To say nothing about the disturbing things Google knows about all of us.
I enjoy my privacy and even the illusion of privacy. Blissful ignorance notwithstanding, it appears we might all be entering a virtual Panopticon.
In the 17th century, utilitarian philosopher Jeremy Benthem theorized about an ideal structure for a prison. It would consist of backlit cells set in a sort of doughnut around a central courtyard. In the courtyard, would be a guard tower. The prisoners would be observable at all times, but would not know at any given time whether they were, in fact, being observed.
Benthem speculated that this would improve the behavior of prisoners who would act under the assumption that a guard was watching them at all times.
Given modern technology, it might be that we live in the functional equivalent of backlit cells. But, the power of the Panopticon comes from the disparity of information as between guards and inmates. If the flow of information from citizens is inevitable, the way to attack the disparity is to ensure the flow of information to citizens.
The old Latin phrase is quis custodiet ipsos custodes. "Who watches the watchmen?" This is hardly a problem unique to our time. Indiana has well-intentioned open-door and public-records laws, designed to keep government in the open.
But, they are not terribly well structured; for example, it is easy for paranoid crackpots to make demands for records that are burdensome and expensive for units of government to identify, review for non-disclosable information (e.g., Social Security numbers), and produce to the requester.
Meanwhile, these laws are riddled with exceptions that make it difficult for reasonable citizens to keep a meaningful eye on governmental entities of which they become suspicious.
We need to design sunshine laws that discourage unreasonable requests while encouraging citizen participation and government compliance.•
__________
Masson is a Lafayette attorney, author of Masson's Blog, and former counsel for the Legislative Services Agency. Send comments on this column to ibjedit@ibj.com.
Please enable JavaScript to view this content.