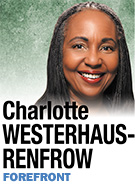 Everyone knows the old real estate adage about location, location, location. But these days, for revenue-hungry Indianapolis communities, you can add another priority—development, development, development.
IBJ recently reported how Fishers and Noblesville are moving to ensure that prime commercial land is not used by tax-exempt organizations like churches, charities and hospitals. (In Noblesville, such institutions could build on targeted sites if they agree on special payments in lieu of taxes to local government).
Such tactics will keep attractive sites along corridors like I-69 and 96th Street free for taxpaying businesses, feeding the economic base and helping the municipalities keep pace.
It's hard to blame them. Infrastructure has been built and other public funds have been allocated toward getting these sites ready for lucrative development. The leaders just want to realize the payoff.
But this story again illustrates the fundamental divide between suburban development and the challenges of the declining urban core. While suburbs maintain their economic vitality with the luxury of thoughtful planning and available acreage, urbanized Indianapolis confronts more limited opportunities for growth.
Indianapolis is home to a vast portfolio of government buildings, hospital complexes and not-for-profit headquarters. Many aptly serve the region, indeed the state—but crowd out commercial and taxable development in Indianapolis. That is why tax-increment financing districts for certain downtown amenities and potential projects in areas like Broad Ripple and Mass Ave serve a purpose.
But truth be told, these initiatives further limit the tax base shared by struggling urban neighborhoods just outside the Mile Square.
While the suburbs try to preserve their investment, Indianapolis people are voting with their feet. At the same time the overall metro area is adding population faster than most of its Midwestern peers, Marion County's growth is less than half that of the region; Center and Washington townships have actually shrunk over the last decade. When residents and businesses flee, the costs of public services rise even faster for those who remain.
As a result, between a thriving downtown hub and the circle of prosperous suburbs sits a plethora of socio-economically deprived neighborhoods whose residents do not have the same voice in dictating how the land in their communities is developed.
Frankly, the face of certain areas of Indianapolis' inner city with shrinking tax bases and attendant problems—crumbling infrastructure, crime and poor transit connectivity—is not appealing and drives away residents, workers and companies that are critical in creating high-paying jobs and enhancing property values.
Indianapolis officials and business leaders obviously don't have the same options as their suburban counterparts. The state office buildings along the Central Canal are not going to relocate in favor of mixed-use condos and retail, after all. But we can find our own solutions.
City leaders need to work in a bipartisan effort to replicate progress, create tax increment financing districts, implement more citywide financing mechanisms like RebuildIndy, and enhance public-private development partnerships like CityWay and 16 Tech to link Avondale Meadow, Martindale-Brightwood and the MLK Corridor to an ever-prosperous downtown.
"Development, development, development" has got to be more than mere economic jargon for neighborhoods in and adjacent to Center Township. All economically strapped communities in the urban core need attention.•
__________
Westerhaus-Renfrow is a visiting lecturer at the Kelley School of Business at IUPUI, president of Higher Ed Consultants LLC, and a former vice president of diversity and inclusion at the NCAA. Send comments on this column to [email protected].
Please enable JavaScript to view this content.