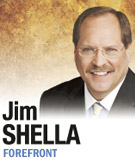 General Assembly, 1; Mike Pence, 0.
That's how the scorecard reads from the recent one-day meeting of the Legislature. The only item of business was the override of a governor's veto. It's a political setback for a Republican delivered by GOP majorities in the House and Senate.
It was delivered convincingly. In Indiana, it takes only a majority vote in each house to override a veto. The 68-23 vote in the House and the 34-12 vote in the Senate, however, put two-thirds of the lawmakers on record in opposing the governor. Only one Republican in the House, Milo Smith of Columbus, backed Pence.
So, is it a lasting defeat or a story that will soon be forgotten?
Pence will tell you it was an "honest disagreement" and he looks forward to working with lawmakers in the future. To say that he downplayed the whole matter would be an understatement.
He saw this coming. The governor made almost no use of his bully pulpit in the days leading up to the override. He sent lawmakers a letter urging a vote to sustain his veto and released it to media. That's it.
After the vote, he didn't even issue a statement. Instead, his office issued a statement quoting his communications director.
Legislative leaders also downplayed conflict with the governor, but were in a position to show humility. They were careful to point out that they sought a "pragmatic" solution to a problem that would still exist if the veto were sustained. That means they were calling Pence an ideologue.
House Enrolled Act 1546 called for retroactive authorization of local tax collection in two counties, Jackson and Pulaski. Both counties originally won approval for the taxes but failed to renew it on time and, therefore, were collecting taxes illegally to pay for local jails.
Pence said he was standing up for taxpayers with his veto.
Lawmakers, however, pointed out that those taxpayers would, in fact, be hit harder if the veto were sustained. The counties would take out loans, refund the money, renew the taxes next year, and encounter interest and other bills in the process. Jail costs would not go away.
Plus, several lawmakers argued, no taxpayer complained. Not one illegally taxed citizen of the two counties did so much as call, or even throw a bag of tea into a nearby stream.
(As an aside, it's worth noting that the mistake creating the problem taxes can be laid at the feet of local officials in the two counties, but the Department of Revenue also gets the blame. That's the same department that lost track of millions of dollars during the Daniels administration.)
Here are some lessons to learn from all this:
• Pence could have avoided this veto if he had worked with the Legislature to solve differences during the session. By all accounts, he didn't decide to veto the bill until after lawmakers had gone home—after he ran it through the ideological filter, that is.
• The General Assembly is, and wants to be treated like, an equal branch of government. Lawmakers felt they took a back seat to Mitch Daniels and wanted to flex some muscle. This is the first time they used Technical Correction Day to come in and vote on an override petition. Rep. Pat Bauer said he always thought it was an option that would be used only if a budget were vetoed.
• GOP unity might be an oxymoron.•
__________
Shella is WISH-TV Channel 8's political reporter as well as host and producer of the Emmy-nominated "Indiana Week in Review." Send comments on this column to ibjedit@ibj.com.
Please enable JavaScript to view this content.