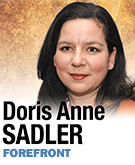 Gov. Mike Pence has borne the brunt of unfair criticism from politicos around the state of late. Not even six months into his term, he has been described as lackluster, lacking vision and as having a dearth of ideas.
Some have even rhetorically asked where he is, citing a lack of news stories about his administration.
These criticisms just go to show how the Mitch Daniels style of government became ingrained in our collective political psyche. The point, of course, is that at this early date, it is just a matter of style, and not a matter of substance.
The differences in the two governors are obvious. Daniels, the big-idea guy, who believes he is the smartest man in the room (and usually is), attracted controversy from the day he took office. Pence, far more a man of the people, has a softer and more deliberate approach to garnering executive experience.
Neither style is correct or incorrect, and that is what the politicos throwing these arrows are missing.
Let's think back to a time before Daniels was sanctified as the Best Governor Indiana Has Ever Had. It is certainly true that he shepherded Indiana through the recession, leaving us in far better condition than our neighbors. Largely a result of tough belt-tightening and an emphasis on job growth, he kept the budget in line, setting Indiana up to weather the nasty consequences of the national recession.
Blunt speech and aggressive action kept him on the front page constantly. The lease of the Indiana Toll Road, both innovative and controversial, was enough to keep the barrels of ink flowing for months. Although the subsequent downturn in the economy ensured the state was the ultimate beneficiary of so many millions, lucky timing certainly played a role in the success of the plan.
But the Daniels administration wasn't all glory. His seeming lack of interest in the day-to-day of administration left him with a slew of scandals caused by staffers whose ethics were at best tepid. Administrators in the criminal justice institute and the lottery gave us tantalizing tabloid fodder. And the minutiae of service delivery put a halt to the privatization of FSSA benefits, the financial fallout of which the state is still sorting through.
Politically, Daniels had a few misses, too. His handpicked state treasurer ended up being wacky enough to bite the hand that fed him, running against Daniels' mentor, Dick Lugar, leaving the state with a Democratic U.S. senator.
Pence is a totally different kind of governor. Although he has stated that, like Daniels, job creation is his No. 1 priority, his method is different. His big ideas are not necessarily innovative; the concept of tax reduction to create economic growth is not new.
But most Republicans at least recognize in his ideas the kind of policies that create growth and thereby create jobs.
Another not so innovative, but big, idea is to run government as efficiently and effectively as possible. Holding agencies accountable and employees to extremely high standards are not front-page material. Talk of cost per transactions at the Bureau of Motor Vehicles and employment matrices at the Department of Veterans Affairs is enough to put anyone to sleep.
But good government is good government whether it's sexy enough to make a headline or not.
As I drove past the governor's residence a while back and saw Pence sitting on the front porch, I thought that I am really just fine with good government.•
__________
Sadler is a lawyer and former Marion County clerk. Send comments on this column to ibjedit@ibj.com.
Please enable JavaScript to view this content.