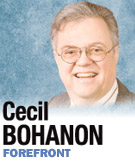 I write this column from my hotel room in Kabul, Afghanistan. I am part of a curriculum development project at Kandahar University sponsored by Ball State University.
The chants from the local mosque drift through the window as the local people are called to prayer. The Afghans I have met are gracious, brave and dignified, yet their story is tragic. A young Afghani colleague related that he could not travel to many parts of his country—too many anti-government militias, terrorists and roadside bombs.
Violence and murder are part of political conflict in Afghanistan. I weep for my Afghan friends and thank God for the relative civility that characterizes Indiana political conflict. The nasty words and partisan bickering that come from Indianapolis or even Washington, D.C., are pretty tame by comparison.
Another young Afghan business professor asked my opinion as to why my country is so rich and his country so poor. My one-word answer: freedom.
Freedom is not everyone doing whatever they want to do or feel like. Rather, freedom is a willingness on the part of an overwhelming majority of people to follow established rules of social order as embedded in law.
It also entails a general commitment to interacting with others on a voluntary and non-coercive basis. Russian novelist Alexander Solzhenitsyn, who vigorously condemned the Soviet invasion of Afghanistan in 1979, put it best: Freedom is self-control.
In a free society, it is not only the people who have self-control, but also the government that has self-control. In a free society, government confines itself to the task of protecting individual rights. It also pursues other limited and enumerated tasks, but is guarded in its interference with voluntary choices of individual citizens.
A government that is limited in its scope but nevertheless effective in its central tasks is essential to a free and prosperous society.
Over the last decade or so, economists and political scientists have developed a number of indexes that attempt to measure economic and political freedom. There are, understandably, issues and problems in developing these indexes, and reasonable scholars have legitimate differences on the relevant components of freedom.
But the general conclusion is uniform: The freer the society, the more prosperous the society.
Unfortunately, the security status of Afghanistan implies it is rarely even rated in the international rankings on freedom. The nation has a long way to go. Or as my grandfather would have said, a hard row of stumps to hoe.
Indiana, on the other hand, generally ranks rather well on interstate comparisons of freedom. In the past month, two have come to light.
The Laffer-Moore Rich States Poor States index measures economic freedom by looking at various tax-fiscal and regulatory policies of state and local governments. In this index, Indiana ranks 14th.
An alternative measure is the Rugers-Sorens index published by the Mercatus Center. In addition to economic variables, it also includes various measures of personal freedom in its formulation. In that index, Indiana ranks 16th.
Indiana gets high marks for its commitment to fiscal prudence, and its flat income tax, functional regulatory system and rule-based system of justice. It is penalized for its corporate tax structure and its tendency to indulge in state-directed economic development plans that too often degenerate into "crony capitalism."
Legislators are well advised to study these and other reports as they consider future policy choices. And this is true in both Indianapolis and Kabul.•
__________
Bohanon is an economics professor at Ball State University. Send comments on this column to ibjedit@ibj.com.
Please enable JavaScript to view this content.