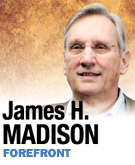 It was the best of times, it was the worst of times.
It's a tale of two Indianas—one rich, one poor.
The ring around Marion County rolls happily forward, joined recently by parts of downtown.
The other Indiana is outside and leftover.
Long lists of numbers show stark differences between the two Indianas in health care, median household income, high school graduation rates, obesity, and other indicators of well-being.
One Indiana has museums, restaurants, art walks, libraries. The other has boarded-up stores and homes.
There are exceptions, of course. Islands of prosperity include Bloomington and Newburgh in the south and Valparaiso and Warsaw to the north, with a few others scattered about.
Southern Indiana lags badly.
What was once the state's most prosperous region (the magnificent Reuben Wells locomotive at The Children's Museum of Indianapolis was made there) is now its poorest, even with a few Japanese auto factories and a new interstate.
No one in Frank Bill's southern Indiana novels is thinking about a new BMW.
So, too, the once-booming gas belt of east-central Indiana, where the bright lights are dim.
There weren't always two Indianas.
A century ago, Hoosiers professed to be pretty much alike.
One could travel from Fort Wayne to Evansville and feel at home, as Theodore Dreiser observed in 1915. Indianapolis then was just a bigger version of the small towns sprinkled across the state. Hoosiers liked it that way.
There is justifiable pride in the recent transformation of the Indianapolis downtown and its suburbs. That transformation did not lift all boats, however. Some rose, others fell.
Saddest is the state of many county courthouse towns. Once 92 jewels of the Hoosier crown, some are empty shells.
In parts of the state, the only whiff of a life sciences initiative is from the methadone cooking. One meth corridor runs from Terre Haute to the Ohio River.
A few government initiatives have addressed the two Indianas. And there are the wonderful community foundations in all counties, thanks to Lilly Endowment Inc.
Some proposed gambling for the other Indiana, but casinos look more and more like cheap, short-term Band-Aids.
Orange County in southern Indiana won a gambling boat (that never floated) but still ranks 85th of 92 counties in percentage of high school graduates and 86th in overall health of residents.
Hamilton County has no casinos, but ranks first in health and first in high school graduates.
It's now possible to sit in a meeting in Indianapolis, eat in a fine restaurant, or attend a sporting event and not think about the rest of Indiana.
It is what it is, some would say. Looking out from Carmel or Massachusetts Avenue, why give a darn about Paoli, Rising Sun or even Marion?
Does it matter that we're all Hoosiers?
Well, yes, it does matter.
We're all connected to the Statehouse, to the taxes we pay, to the services we expect, even to the imagined community of Hoosiers, a people of distinctiveness and pride.
We're connected by our shared commitment to democracy and to justice and equality for all in Crawford County as well as Hendricks County.
Perhaps even in health care for all.
And, to be more selfish, perhaps the well-being of the rich Indiana depends to some degree on the well-being of the poor.
Can we celebrate our bicentennial with one-half thinking, "We had everything before us," the other fearing, "We had nothing before us."?•
__________
Madison, an Indiana University historian, is author of the forthcoming book "Hoosiers: A History of Indiana." Send comments on this column to ibjedit@ibj.com.
Please enable JavaScript to view this content.