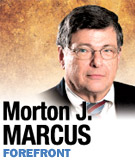 A good friend has come up with a good idea. I know it is a good idea because, when he presented it to me and another friend, both of us were skeptical. Such is the inevitable fate of good ideas among friends.
So listen to this, and feel free to be skeptical. By the end, you might see this idea as a good one that deserves attention.
According to the 2014 budget submitted by Gov. Mike Pence, the Indiana Arts Commission would receive $3.7 million from the General Fund. That's about 57 cents each for our state's 6.5 million people.
You and I might well disagree about the wisdom of government support for the arts, but we should be able to agree that 57 cents per capita is a small amount.
If we could agree museums, live theater, symphonies, galleries and other arts organizations should receive more funding (not necessarily from government), we could ask, "How might that be accomplished?"
Today, the private sector (businesses, households and foundations) supports the arts through admission fees and grants of various sorts. My mailbox receives regular appeals from the symphony, art museums, the state museum, the opera, the ballet, public radio and TV, plus other worthy arts organizations. All of them offer me membership cards or some token of recognition and appreciation.
How delightfully simple it would be to give to one private agency that would dispense funds to them all!
We already have the local United Way for allocating funds to a variety of social services. Why not a statewide United Arts Fund to distribute our personal contributions widely to organizations that serve our communities? Individual agencies of this sort already exist in a few Hoosier cities.
The mechanisms are simple and already in use. Thousands of us pay for our newspapers and/or our public radio via a routine debit to our checking accounts. Other thousands have authorized regular deductions from our paychecks for the United Way and/or other worthy causes. The programs are in place; they need only simple modifications to start working.
What we do not have is a statewide United Arts Fund where the monies could be collected together and allocated to arts organizations.
Imagine an Indiana where half our population gave one dollar per week to the United Arts Fund. That would sum to more than $150 million per year for distribution. No government involvement. No political pressure on arts agencies.
Some people would not support this proposal because they disapprove of any centralized activity. Others would not support the arts because they don't include NASCAR, roller derby or cage fighting.
No one would be prevented from giving more to his or her favorite organization, and a broad base of support for the arts could be obtained with minimal organizational expense and no involvement from the General Assembly.
Now, as skeptical as you are of simplicity, you will grant this is an interesting possibility for a better Indiana.•
__________
Marcus taught economics for more than 30 years at Indiana University and is the former director of the university's Indiana Business Research Center. Send comments on this column to ibjedit@ibj.com.
Please enable JavaScript to view this content.