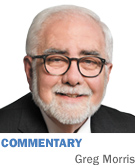 This week's issue of IBJ includes our popular Forefront publication. I hope you take the time to read it. Forefront is published monthly, and I thought the week of July 4 would be an appropriate time to highlight this informative read. Providing a forum for debate of divergent views is an American tradition. However, admittedly, finding balanced opinion in the media today can prove to be a difficult task.
Forefront offers diversity of opinion on local, state and national issues not found anywhere else. No matter the viewpoint on the issue—right, left or center—you'll find it well-represented in Forefront. We're committed to promoting lively debate on the key issues of the day. Forefront features policy and civic-issue perspectives from local and state leaders, with some national viewpoints thrown in for good measure. Forefront continues to be one of the most-read and most-talked-about sections in IBJ.
In this issue, you'll find:
• On the topic of privacy
"And you thought the feds were secretive," written by Gerry Lanosga. Lanosga is an assistant professor of journalism at Indiana University and president of the Indiana Coalition for Open Government.
"We're all becoming Panopticon prisoners," written by Doug Masson. Masson is a Lafayette attorney, author of Masson's Blog, and former counsel for the Legislative Services Agency.
• Indianapolis City-County Council matters
"Battle over council is unnecessary," written by Ted Boehm. Boehm is a retired Indiana Supreme Court justice who helped launch amateur sports initiatives in Indianapolis.
• Monthly debate question
Indianapolis Mayor Greg Ballard and Terre Haute Mayor Duke Bennett respond to the question—"Does Indianapolis get more than its fair share from the General Assembly?"
"Contrary to perceptions, Indy gives more than it gets," written by Indianapolis Mayor Greg Ballard.
"Indianapolis is treated differently than other cities," written by Terre Haute Mayor Duke Bennett.
• Indianapolis topics of interest
"Indianapolis might get what it asks for," written by Greg Garrison. Garrison is a partner in Garrison Law Firm LLC in Indianapolis and a talk show host on WIBC-FM 93.1.
"Some solid ways to move Indy forward," written by Kathy Davis. Davis is a former Indiana lieutenant governor who owns local tech firm Davis Design Group LLC.
"Many ways to weed gardens of despair," written by Sam Odle. Odle is the former chief operating officer of Indiana University Health and CEO of Methodist and University hospitals.
"Older neighborhoods need attention," written by Charlotte Westerhaus-Renfrow. She is a visiting lecturer at the Kelley School of Business at IUPUI, president of Higher Ed Consultants LLC, and a former NCAA executive.
• Mike Pence
"Override could have been avoided," written by Jim Shella. Shella is WISH-TV Channel 8's political reporter as well as host and producer of the Emmy-nominated "Indiana Week in Review."
"This governor's style feels comfortable," written by Doris Anne Sadler. Sadler is a lawyer and former Marion County clerk.
• Other topics of interest
"GOP ideology fights are nothing new," written by Mark Souder. Souder, a former business owner and Republican representative of the 4th Congressional District, is a political commentator living in Fort Wayne.
"Contrasting Indiana and Afghanistan," written by Cecil Bohanon. Bohanon is an economics professor at Ball State University.
"A depressing tale of two Indianas," written by James H. Madison. Madison, an Indiana University historian, wrote the forthcoming book "Hoosiers: A History of Indiana."
"United funding for the arts in Indiana," written by Morton Marcus. Marcus taught economics for more than 30 years at Indiana University and is the former director of the university's Indiana Business Research Center.
"Political correctness diminishes military," written by Thomas Sowell. Sowell is a senior fellow at the Hoover Institution.
"If not income redistribution, then what?"—written by Paul Krugman. Krugman is a New York Times columnist.
"The humanities have lost their heart, soul," written by David Brooks. Brooks is a New York Times columnist.
That's a lot of reading! Pull out the section and read it as you have time. You'll find a variety of columnists in each issue. Recent issues featured the likes of P.E. MacAllister, Deborah Daniels and Randall Shephard.
So, thanks for staying informed about the important topics of the day by reading Forefront. And thank you for reading and supporting IBJ.•
__________
Morris is publisher of IBJ. His column appears every other week. To comment on this column, send email to gmorris@ibj.com.
Please enable JavaScript to view this content.