This is not what the doctor ordered.

Physicians employed by Indianapolis-area hospitals are likely to see their pay cut in the next few years unless the hospitals find new ways to be significantly more efficient.

That's what the CEOs of two of the four largest hospitals operating in Indianapolis say.

Evans
"They're going to have to sign contracts and kind of hold their nose," said Dan Evans, CEO of the Indiana University Health hospital system, which employs more than 1,000 physicians.

Kevin Leahy, CEO of Franciscan Alliance, agreed.

"As third-party payers, such as Medicare and Medicaid, reduce physician payments, our system and all others will be forced to pass these cuts along to physicians, but also will do all we can to compensate physicians at current market levels," said Leahy, whose organization operates three hospitals and employs more than 200 physicians in the Indianapolis area.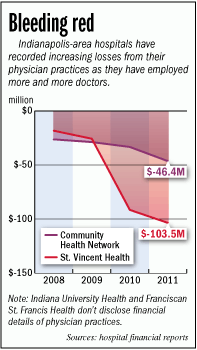 Hospitals acquired and employed physicians with abandon over the past five years, as independent specialists saw their reimbursement rates stagnate and hospitals worried they would lose the streams of physician referrals that keep their beds and operating rooms filled.

President Obama's 2010 health reform law added to the trend, as it pushes in various ways to get physicians and hospitals to work together to keep patients healthy.

But hospitals are losing millions of dollars on their employed physicians. St. Vincent Health, for example, lost more than $103 million on its physician practices in the 2011-2012 fiscal year, the most recent available. Community Health Network lost $46 million in 2011, the most recent year available.

And to make matters worse, Obamacare and budget battles in Congress are now sucking money away from hospitals, sparking a desperate search for cost savings inside hospital operations. Nearly all hospitals have launched plans to cut 15 percent to 25 percent of their annual expenses.

If physicians are unable to find ways to contribute to those expense reductions, their pay will likely take a hit, said Indianapolis hospital attorney Bill Thompson.

"Reductions in reimbursement may in fact be passed on to physician compensation," said Thompson, who is chairman of the law firm Hall Render Killian Heath & Lyman.

But any pay cuts won't be across the board, Thompson added. Hospital systems and physicians that successfully adapt to new kinds of reimbursement that pay bonuses for keeping patients healthy actually could see pay increases.

The federal Medicare program and most private health insurers typically have paid health care providers for every procedure and test they perform, giving hospitals and doctors incentives to provide as much care as they can justify.

But now Medicare and insurers are asking doctors to care for a set group of patients and, if they reduce their need for expensive care, they can earn a bonus from the cost savings.

"The reimbursement system is changing from one of volume to value," Thompson said. "Those physicians that can make that transition successfully will do well."

Fischer
Tom Fischer, the chief financial officer of Indianapolis-based Community Health Network, said his hospital system is doing exactly that with the 500 physicians it employs.

"In the future, our physician colleagues must direct teams of health care providers towards common patient goals if they are to maintain current compensation levels," he wrote in an email.

Setting pay

Most physician contracts run three to five years, so there will be a wave of renegotiations with physicians over the next several years, in which hospitals and doctors will have to settle on acceptable terms.

Figuring physician pay is a complex matter. Hospitals can run afoul of federal laws and regulations if they directly pay physicians for referrals or pay them outlandish salaries in order to recruit them. Hospitals hire consultants and accountants to conduct fair-market-value studies to justify what they pay physicians.

Hospitals base their fair market value analyses not just on what other physicians in the same specialty make, but also on how much reimbursement a physician's work is generating under a system used by the federal Medicare program called relative value units, or RVUs.

Johnny Smith, a spokesman for the St. Vincent hospital system, said it will continue to pay "fair market value" to its more than 750 employed physicians in the future.

Likewise, Fischer said Community would always keep its physician compensation within industry ranges reported by the Medical Group Management Association, a trade group of physician practice business officers.

Those ranges show what doctors are paid, by specialty, in the 25th percentile nationally and the 75th percentile nationally. But even that approach, which excludes the extremes on both ends, produces a wide range.

For example, pay for family doctors ranges from $170,000 to $263,000, according to 2012 survey data from MGMA. Compensation for orthopedic surgeons—some of the most valuable doctors in any hospital—ranges from $408,000 to $704,000.

Many Indianapolis-area hospitals signed compensation packages with doctors that paid them at the high end of those ranges. But they could shave $100,000 or more off a doctor's pay and still be within the current market ranges.

Employed doctors have decreased negotiating leverage because their staff, patient records and office equipment all belong to the hospital systems.

Doctors' pay levels are also not stable over time. Average pay for hiring an invasive cardiologist reached as much as $1 million in 2008, according to a separate survey conducted by Texas-based Merritt Hawkins, a physician recruiting firm.

But last year, the highest offers for invasive cardiologists were just $650,000.

Indeed, any physician pay cuts will vary based on specialty, said Thompson. Cardiologists of all kinds will be under particular financial pressure, he predicted, while primary care and orthopedics could actually see pay rise.

Hemorrhaging red ink

The losses hospitals are recording on physician practices are alarming—but they may be unavoidable.

"It is a huge loss," said Community's Fischer. "But you have to have physicians to run a hospital."

Last year, Community spent an average of $106,000 to subsidize each of its family doctors; nearly $237,000 to subsidize each of its OBGYN physicians; and a whopping $339,000 to subsidize each of its ear, nose and throat doctors.

It sustains those losses for a variety of reasons. Reimbursement rates for seeing patients are low and generally unprofitable for doctors. The money in health care is in the imaging procedures, blood tests and surgeries.

And there, hospitals do quite well from physicians. Referrals from primary care doctors like those above generate an average of $1.57 million in revenue for hospitals, according to a May report from Merritt Hawkins. For specialists, the average revenue generated is $1.42 million.

But it's those downstream revenues that are under pressure from government and private health plans.

Hospitals also tend to lose money on physicians because the productivity of employed physicians is about 25 percent lower than physicians who are part-owners of their own practice.

In addition, pay and benefits levels tend to be higher at larger organizations like hospitals than they are at independent physician practices. And there is a tendency to have more administrative employees.

Dr. Ben Park noted that his physician practice, American Health Network, was losing $25 million a year when it was owned by Indianapolis-based health insurance giant Anthem Blue Cross & Blue Shield in the 1990s.

When it was spun out, the practice slashed its central office staff by two-thirds and boosted productivity among physicians, and has been making profits ever since.

"We know that the hospitals are losing quite a bit of money on their employed physicians," Park said. "That has to get better. I don't know how it gets better, but one way is to reduce the doctors' pay."•