The good news is, universities in the state crank out lots of patents that find their way to Indiana-based pharmaceutical, prosthetics and surgery technology companies.

The bad news is that the universities also generate reams of patents in such areas as radiant energy that have little if anything to do with Indiana industry—and that are so irrelevant they create little in the way of royalty streams to the universities.



More bad news: The universities aren't generating royalties from hot fields like semiconductors, transistors, telecommunications and computer-graphics processing—because they do little research in the areas.

Add it all up, and there is a gaping disconnect between the private sector and the major centers of inquiry.

"Think of them like a car dealer," said Indianapolis patent expert Mike Pellegrino. "The patent that they want to license is a car selling on their lot. They've got a bunch of cars that nobody wants to buy."

Universities produce only about 6 percent of all patents, but the patents pack an economic punch.

Between 1991 and 2011, at least 167 startups sprung from research patented by universities in Indiana, according to the Association of University Technology Managers, based in Deerfield, Ill.

"When it comes to university patenting, it's a great source of revenue for the university, which is a good thing, and it leads to valuable technologies that will create jobs and create economic growth," said Jonathan Rothwell, who in February co-authored a Brookings Institution report tracking patents and regions.

The study said a lot of patent activity appears to tie into cities that have both strong research universities and prominent industry clusters.

San Jose, Calif., has Stanford University and the Boston-Cambridge area of Massachusetts has Harvard University, for instance. Both cities lead in rankings throughout the report on various economic measures.

"In recent decades, patenting is associated with higher productivity growth, lower unemployment rates, and the creation of more publicly traded companies," the researchers wrote.

In an interview, Rothwell added that the University of Wisconsin appears to be accomplishing the same in biotech; in Detroit, the University of Michigan is contributing to auto research.

If any state could use help with its economy, it's Indiana, which has the 39th-lowest per-capita income and 10th-highest unemployment rate.

The engineering hub of Purdue University dominates academically based patents in Indiana, but doesn't stack up particularly well against peers.

Purdue produced 485 patents from 1991 to 2011, according to the Association of University Technology Managers. That compares with 254 at Indiana University, 46 from the University of Notre Dame, and six from Ball State University.

However, Purdue ranked eighth and IU was at the bottom of the 12 schools in the Big Ten conference, which is dominated by the deep-pocketed research powerhouses of Wisconsin and Michigan.

Nationwide—the University of California, based on its sheer size and resources—leads. The school, with 165,000 students scattered across 10 campuses, has a research budget 10 times larger than Purdue's and has generated almost 10 times as many patents, according to AUTM.

Purdue Research Foundation, which handles the school's patent matters, isn't so much concerned with the numbers as with the greater societal impact, Elizabeth Hart-Wells, assistant vice president of the Office of Technology Commercialization at the foundation, said in an email.

"Our goal is to increase the number of innovations coming out of Purdue and providing life-changing technologies for the public," Hart-Wells said. "Startups, granted patents, jobs are favorable consequences to increasing Purdue's efforts in technology transfer and commercialization. Revenue generation has always been second to that primary mission."

Purdue and IU are not complete mismatches for the state.

Purdue has received more patents in molecular biology and microbiology than any other category in the past 20 years. The class is also the second most popular area for patents at all levels worldwide—academic, corporate and government, according to data provided by Pellegrino, who runs Pellegrino & Associates LLC and IP Software Inc., which provides the database ipAnalytx.

Purdue and IU also crank out large amounts of intellectual property related to drugs, prosthesis and surgical technologies, all of which rank in the top 10 for most patents produced.

However, Purdue has yielded only three patents for dispensers—anything that treats or handles fluent material—even though it's the third most prolific area for patent activity in the state, according to ipAnalytx. IU has produced no patents in the category.

No university-produced patents have been granted in electrical generators or motor structures, the fifth-biggest area in Indiana.

Pellegrino described the situation as "a lot of opportunities" for the universities, which generally gauge research success on how often professors publish their work and not on how many patents they obtain.

"It's an opportunity to more entrench themselves with some of the local players," he said. "You get a really tight coupling then with the research arm and the commercial sector."

Underperformer?

Former Gov. Mitch Daniels, in his new role as Purdue's president, preached the need for patents as a way to generate revenue for the university as he cuts costs.

But he changed his attitude in April, believing in them as more of a tool for innovation and economic development.

Patents create little direct financial gain for universities.

Purdue grossed $5.8 million in 2011, the most recent year for which data was available. The royalties supported a university with an annual budget of more than $1 billion for its four campuses.

Medically focused IU, despite having fewer patents than Purdue, generated $11.1 million in royalties to support its $3 billion budget covering eight campuses.

Still, both universities are encouraging faculty to patent their work more than they used to.

At Purdue, Dan Hasler, who was secretary of commerce when Daniels was governor and is now president of Purdue Research Foundation, said in April the university would make it easier for faculty to patent inventions. Researchers can now recollect intellectual property rights they sign over to the university if the school did not pursue patents.

Indiana University Research and Technology Corp. has been reaching out more to faculty members, but the focus will always remain on publishing research, said Marie Kerbeshian, the office's vice president of technology commercialization.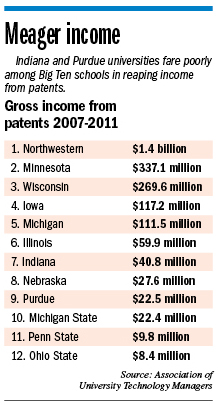 "You can get a patent on something but then never find any company interested in marketing and selling it, in which case the patent isn't much good," Kerbeshian said. "I think that's the struggle academics have, is that the patent is the means to the end of making the product available, where as the publication is the means to the end of making the knowledge available."

Social focus

Few patents emerge from universities in areas that would interest fee-paying companies because academia is much more concerned about the knowledge than the actual invention, said life sciences industry adviser Jack Pincus, president of BioStrat Consulting LLC.

Trying to protect innovations and collect royalties on them is usually seen as icing on the cake.

Universities are much better at basic research—generating conclusions and theories that could ultimately lead to an invention.

Companies are usually the ones that take the ideas and conduct the applied research that results in patented products, Pincus said.

"University faculty pursue their interests and pursue something that they consider interesting, novel, innovative," he said. "But corporations have specific needs."

He added, "Faculty are promoted for publications and get tenure for the same reasons. They are promoted for coming up with novel ideas. Their standing in the academic field is based on how exciting other academics think their research is, not on whether it's relevant to industry."

Also, companies don't usually publicly indicate what their research needs are, he said, which makes it hard for university researchers to know what the business world is interested in R&D-wise.

But the expensive research equipment that universities already have and the wealth of knowledge among the faculty could be more of a resource for corporations, Pellegrino said.

"What you do is, you set up research collectives or collaborations with those companies," he said. "They have remarkable R&D budgets. The R&D budgets of a Biomet or a Zimmer or a DePuy are large. So the amount of dollars they can commit to a university to solve a really snarky problem for them is not a lot in the grand scheme of things."

Collaborations

Research collaborations between universities and corporations are far from new.

"Companies definitely need that early research" that universities do, the IURTC's Kerbeshian said.

An Eli Lilly and Co. spokeswoman, when asked about the pharmaceutical companies' relationship with universities, referred to a $12.7 million grant program the National Institutes of Health announced in June.

Eight pharmaceutical companies, including Lilly, will work with university professors from around the United States to study treatments for eight types of diseases.

Lilly will work with an IU doctor to study the effectiveness and safety of selective estrogen receptor beta agonists.

Universities, Pellegrino said, need to find more ways to set up these types of partnerships.

"What we do is, we enable a greater potential exchange of ideas between somebody that's got a lot of bench strength in core science, basic research—the university systems—with the applied research, which are the product companies," he said. "[Companies] need to say, 'Hey, I know you've got a really good thing over here.' We need that help."•