Much has been made about the health benefits of the city's ban on smoking in bars and restaurants. Less, if anything, has been made about the benefit to diners who once avoided then-cloudy joints and now can sample some of Indy's best bar food without self-consciously fake-coughing to let others know their position on the subject.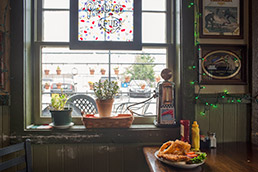 The Pawn Shop Pub is just west of Keystone Avenue on 54th Street.(IBJ photos/Aaron P. Bernstein)
While I'm looking forward to exploring other examples, I'm specifically writing here of The Pawn Shop Pub (2222 E. 54th St, 255-5430). The just-off-Keystone-Avenue drinkery—look for the building that can't hide its roots as a Long John Silver's—could be a quiet neighborhood bar or a boisterous party zone, depending on how enthusiastic the players are at the expansive corn-hole arena in the back. Food and drink service is available on the patio, with its parking lot view, or inside, where Christmas lights and bar signs make the place indistinguishable from others of its ilk.

The food is the difference. At most establishments, the choice of a side item usually comes after your main selection. At the Pawn Shop, though, the Onion Rings ($2.50 for a sizable half order) are essential.

Large enough to allow a game of ring toss, these hand-cut loops demonstrate quality control I wish some far fancier restaurants would employ. And they are even better dipped in Mama Selita's Jalapeño Ketchup, an underappreciated gem from Red Gold, available on every table.

Man cannot live by side dish alone, though. Thank goodness the Pawn Shop knows what it's doing elsewhere on the menu. The Breaded Tenderloin ($6.95, with chips) is a near-perfect example of the Hoosier staple. Again, the cutting is done by hand and the pork itself is pounded thin without turning it to paper. The breading is crisp and flavorful without dominating the meat. And the bun has enough give to allow proper handling without needing to resort to knife and fork.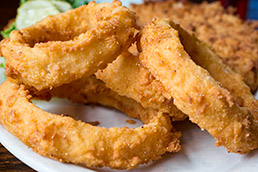 The onion rings are mandatory.
While the tenderloin and onion rings is the prime lunch pairing, there are other worthy options. The Chili ($2.50/cup) keeps beans to a minimum, stressing tomato and meat and leaving little room for an ample supply of sided cheese, onions and crackers (mixing them in after every few spoonfuls worked for me). If you miss the beans, stick with the no-nonsense Bean Soup ($2.25), flecked with bits of ham.

My only Pawn Shop complaint? While I enjoyed the Patty Melt Burger ($5.75) for its component parts, it should go without saying that a melt should be, well, melted: Still-solid cheese kept the innards from cohering with the rye bread. A Vegetarian Melt ($6.95) also had trouble keeping its act together, despite an ample supply of roasted veggies within.•

—Lou Harry

__________

Second in a month-long series of reviews of game-piece restaurants.