Cindy Dunston Quirk was a dog lover with a problem:
Her two canine companions loved to chew, but beef allergies kept them from gnawing on bones or rawhide—the most common alternatives to Mom's favorite pair of shoes. The Anderson resident searched for other options, to no avail.
Then her veterinarian suggested Quirk design her own product, offering to invest if she came up with something. She spent a decade experimenting until she found her answer: elk antlers.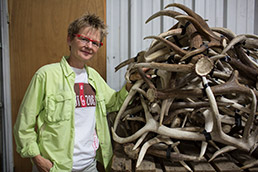 Cindy Dunston Quirk's products are sold online and in 460 stores in the United States and China. (IBJ photo/Aaron P. Bernstein)
Male elk shed their nutrient-rich antlers each spring, leaving behind a natural source of rugged, splinter-proof bone that's surprisingly versatile and infinitely chew-worthy.
Quirk came up with the idea in January 2010, mere days before she turned 52. Within two weeks, she had a product packaged and ready to sell.
"I was on a mission," she said.
Today, Scout & Zoe's Natural Antler Dog Chews are available in 460 stores in the United States and China. Named for Quirk's dogs, the company doubled its revenue each of the past two years and is on track to do it again in 2013.
Although Quirk declined to share specifics, there's plenty of kibble at stake. U.S. pet owners are expected to spend more than $55 billion on their animals this year, according to the American Pet Products Association, including over $21 billion on food and treats.
"We endear our pets to us in ways people in other countries do not," Quirk said, explaining a growing demand for products made in the United States. "My dogs are my kids. I'm not going to feed them something I wouldn't eat myself. … I don't think I'm the only person on the planet who feels that way."
Far from it. Despite its decidedly "premium" price point (chews cost $12-$40 each online), response to Scout & Zoe's has been strong since the start.
The company scored its first significant retail placement at Indianapolis' trio of Three Dog Bakery stores in mid-2010 and within a year was shipping products overseas.
By 2012, production had shifted from Quirk's garage—where her husband, Steve, cut antlers for her to clean, package and ship—to an Anderson firm hired to handle fabrication and fulfillment. Outsourcing that work freed up Quirk to focus on sales and marketing.
"It's an entrepreneur's dream," she said, recalling the first day she "felt like a CEO" by taking orders she didn't have to fill herself.
Local Three Dog Bakery operator Stacey Petcu said Quirk's enthusiasm is contagious.
"She really is a go-getter," Petcu said. "She believes in her product so much, it carries over to us. It's easy to sell that way."
Scout & Zoe's offers a range of products that make use of every inch of the naturally shed antlers it buys from brokers. The company sells dog chews in seven sizes, plus bird perches and so-called niblets for small animals (think rabbits and gerbils).
This year, human-grade chicken jerky and sweet potato treats joined the lineup after Quirk had a hard time finding snacks for her dogs that weren't made in China, where recent pet food recalls have originated.
"It just kind of evolved," she said.
She always has been a dog lover, but running a pet-products company wasn't Quirk's lifelong ambition. She studied marketing and advertising at Georgia State University and built a wide-ranging resume, including stints at a payroll processor, an insurance company, working as an event planner and a magazine publisher.
"I have a fairly large personality, and I got fired from a lot of jobs because of it," she said.
In hindsight, Quirk said her circuitous career path makes perfect sense.
"All my jobs taught me something: organization, time management, what kind of boss to be, what kind of boss not to be," she said, ticking off examples. "Lots of good, teachable moments."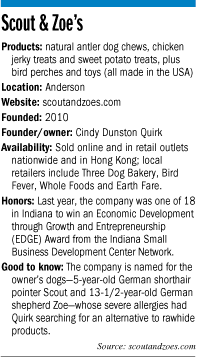 Those lessons helped Quirk shape the company, and Scout & Zoe's helped her discover the passion that was missing from her previous professions. She's having a ball working her tail off.
"It started out of a need to find something for my dogs, but I also had been searching for something for me," she said. "Whether I have great success or not, I don't want to be one of those people who say, 'I wonder what would have happened if I'd done that.'"
Although Quirk said the company is profitable, she still has a part-time job as a safety net. That's an improvement from the three she juggled at one point. And she's hoping this is the year she can finally quit and devote herself to broadening Scout & Zoe's reach.
To that end, Quirk will make a one-minute business pitch at the Innovation Showcase, an annual gathering attended by entrepreneurs and investors. More than 60 companies are set to compete for more than $60,000 in cash and prizes at the July 11 event. Then there are the connections to be made.
"I'm so ready to make this [enterprise] soar," Quirk said. "It is my life. If a day ends in 'y,' I work on Scout & Zoe's. There's a lot of gratification in having a dream and bringing it to fruition."
Quirk has invested more than $120,000 in the startup so far, bootstrapping operations until last year, when she took out a small loan from the Flagship Enterprise Center in Anderson to add inventory.
Business advisers there, at Purdue Research Park and at the Indiana Small Business Development Centers office in Muncie also have been invaluable sounding boards, she said.
"It's great to have people who can help me find my path," Quirk said. "They're all very willing to provide insight, to listen to my logic and make sure it's solid."
ISBDC business coach Tom Steiner guided Quirk through the export process and helped put together company financial statements for outside review. He's been impressed by her energy and intelligence.
"I have never seen a more dynamic businessperson," he said, and the company is one of the most successful he has worked with in his five years at the ISBDC. "Keep an eye on her. She's going to go places."
Quirk expects to continue tweaking operations as needed. She already has several new ideas in the "incubation stage" and is weighing the possibility of launching another company.
"The only limit is my imagination," Quirk said, then corrected herself. "And capital. With the right partner or partners, there really is no limit."
So what about her vet—the guy who said he would back Quirk's allergy-free innovation? He didn't invest, but give the guy credit for pointing her in the right direction, anyway.•
Please enable JavaScript to view this content.